The Importance of Digital Marketing on Cyber Monday (and Beyond)
I bet the holiday shopping season is going to be a little different this year.
Every November, you see the same news story on Black Friday: hundreds of people crowding outside of Walmarts and Targets around the country, waiting to grab as many deals as they can. It's the biggest shopping day of the year with sales galore. COVID-19, however, has changed all that.
I suspect that we won't see the insane crowds as usual outside of stores this Friday, November 27th. As large indoor gatherings are prohibited, stores won't allow a borderline mob to roar in, grabbing everything in sight. These restrictions will put a cramp on Black Friday sales, but you know what's going to be extra big this year? Cyber Monday!
Cyber Monday?
The Monday following Thanksgiving in the US is known as Cyber Monday. Coined in 2005, it's the largest online sale day of the year. Primarily digital sales outlets like Amazon tend to save their best deals for Cyber Monday, encouraging people to stay at home for Black Friday and enjoy the comfort of their computer chair instead of braving cold weather and giant crowds.
In 2019, Cyber Monday set a sales record of $9.4 billion, and many expect that number will grow by leaps and bounds in 2020 thanks to the pandemic. I certainly know that I'm waiting for Cyber Monday for my holiday shopping, and I'm sure that many of you are too!
Whether you're an entirely online business or simply have a web presence, you should be taking advantage of the sales bonanza that comes with Cyber Monday. It could end up being your biggest sales day of the year!
What Can You Do for Cyber Monday?
Over the years, I've seen a lot of online businesses dismiss Cyber Monday as a fad and not worth the effort. Trust me, it's going to be worth the effort this year! Sales have been dismal throughout 2020 in almost every industry, so this digital holiday offers businesses an opportunity to make up some lost revenue. This goes for big businesses, as well as small.
Offer Some Deals
On Cyber Monday, everyone will be offering discounts on their products and services, and you should consider doing the same. Your strategy could be either site-wide or for a specific range of products. Personally, I believe that a site-wide sale is far more attractive to the average customers than the items you would usually discount.
It doesn't need to be a massive cut; even 10% would do the trick. But seeing that they can score an excellent, one-day-only deal will drive customers to your website and your product and offerings.
Freebies
As you know, I'm a big believer in freebies, giveaways, and lead magnets. They are fantastic ways to provide your customers with high-quality content for free, often in exchange for their email address.
In the case of Cyber Monday, you can't just offer them the same old freebies. Rather, you either need something new to put on the table or something you previously sold for money. Say that you have a great product that hasn't been selling well in the last few months. Giving it away for one day only could be a fantastic strategy to get people to your site.
If you don't wish to use Cyber Monday as a tool to build your email list, you could bundle a new special freebie as a gift with any purchase. That will give your customers even more value for their money!
Product Bundles
If you usually sell your products and services separately, why not create some Cyber Monday bundles to boost your sales?
For example, let's say that you offer two coaching courses on your website. Normally, they cost $150 each, but you could bundle them together for $250. It's a great way to push your products ahead of the holiday season!
Special Events
Cyber Monday can also be a great time to break out some limited-time offers and products. For example, what about a Cyber Monday webinar?
The webinar topic doesn't need to focus on Cyber Monday, but it should be exclusively for those customers who sign up on Monday, November 30th. As with every webinar, it should be offering your customers high-quality content while also upselling some of your paid offerings.
You could also give your Cyber-Monday-only webinar attendees a special discount for attending on TOP of your already existing Cyber Monday sale. They will already be in the buying mood, so why not take advantage?

How Digital Marketing and Cyber Monday Go Hand-in-Hand
Many retail businesses spend millions of dollars promoting their Black Friday sales with banners, newspaper ads, posters, TV commercials, and more.
Thankfully, you don't need to do any of that to celebrate Cyber Monday. After all, it's a digital-only sales day! To make it a success, you should be focusing all of your marketing efforts online. With that being the case, here is an example of a simple Cyber Monday digital sales funnel that you can rapidly put into place to celebrate the "holiday."
When it comes to promoting a sale, your email newsletter is your business' first line of offense!
Unlike social media, you OWN your email list, giving you a direct connection between you and your customers. The folks who signed up for your lastest freebies want to know about your Cyber Monday offerings, so be sure to create something compelling, full of calls-to-action, and will excite them for the possibility of nabbing some great deals!
First, your Cyber Monday newsletter should not look like your usual one. You don't want it to get it lost in the mix! You could use a graphic designer (wink, wink) to spruce things up a bit, creating a custom graphic for your logo that incorporates Cyber Monday. (FYI, this is also a good strategy for every other holiday. Maybe we can create a graphic template for you to fill in whichever holiday you want?)
Second, this newsletter should dispense with the usual content, instead focusing entirely on Cyber Monday. Think of it as a special edition rather than the next issue! Emphasize the sales, teasing how your products and services can help them, along with the money they'll save by buying them on Cyber Monday.
You could also add an additional incentive to those on your email list, as they are your loyal customers. This doesn't need to be a huge savings; even an extra 10% off could entice them to head to your website ASAP and see what you're offering.
The first part of your Cyber Monday funnel is your social media.
Hopefully, you already have a robust online presence that includes Facebook, Twitter, Instagram, LinkedIn, and all other usual suspects. You should be using every one of them to get the word out about your Cyber Monday sales.
The big question becomes, how much lead time should you build into your Cyber Monday social media campaign? Personally, I would do it in stages.
Today, I would start sprinkling a few posts here and there, reminding your customers that Cyber Monday is coming up soon. It shouldn't disrupt your usual social media posts; simply augment them.
This is the time to start getting your customers excited about what's to come. You don't even need to tell them which products or services will be on sale yet. Tease them along for a few days!
One week before (and on) Cyber Monday, you want to go all out using social media. I would have a Facebook ad running that promotes your specials too!
And, of course, all of your social media posts should be designed to get them clicking on the link to the next big part of your Cyber Monday sales funnel…
While you could send your customers to your usual store page to purchase their Cyber Monday deals, it's far more effective to create a dedicated landing page where you can put a spotlight on them instead!
By doing this, you'll have a space where you can mention the unique advantages and savings that they'll get by buying on Cyber Monday. While you should be using the same design language as the rest of your website, you could also have some custom graphics so visitors can't mistake this sale as anything but Cyber Monday.
Even if your email newsletter and social media are doing their job, you will still likely get customers in your website's "front door". In other words, from a Google search to your homepage.
With that in mind, it could be a great idea to create some Cyber Monday specific graphics to inform them what is happening. Maybe replace the usual banner at the top of your homepage to feature the products you have on sale. When the visitor clicks on it, they'll head to your dedicated landing page.
Mind you, it's important to remember to take down all of these "decorations" the following day (or whenever the sale is over). You don't want to accidentally mislead visitors into thinking the deal is still available when everything goes back to normal.
Post-Cyber Monday
Alas, Cyber Monday comes but once a year.
On the other hand, soon after Cyber Monday comes the holiday season in full force! Most small businesses experience a sales bump between December 1st and the new year, so you need to be prepared.
Thankfully, all of the strategies that I mentioned above can be adapted to work for the holiday season (and just about any holiday period, come to think of it). You only need to change the details of the sales to fit with the spirit of the season. The structure of the funnel (email, social media, landing page) can remain pretty much in place.
You can also repurpose parts of your Cyber Monday sales funnel to work with other holidays. Your Landing Page, for example. With a little bit of work, you can replace the graphics, do some tweaking of the webcopy, and end up with a landing page that works perfectly for Christmas or the New Year!
So, What Did We Learn?
Let's review what we learned:
Black Friday might be a little underwhelming this year due to COVID-19.
Cyber Monday, on the other hand, is going to be huge!
You should be offering some deals and sales on Cyber Monday to your customers.
Freebies and giveaways could be great ways to celebrate Cyber Monday.
You could also bundle some of your products together for a Cyber Monday discount.
Try holding an exclusive event (like a webinar) that customers can only sign up for on Cyber Monday.
Email newsletters are the best way to connect with your current customers looking for Cyber Monday deals.
You should roll out Cyber Monday social media posts a few weeks before the big day.
A dedicated landing page and your website should have Cyber Monday graphics throughout.
You can adapt all of the strategies listed above for other holidays, including Christmas and New Years!
Incidentally, your Cyber Monday marketing strategy will likely take up a huge chunk of your time, as you will need to write tons of copy and create a bunch of graphics! And the social media strategy will take some work as well! That's why I've written this free download, Making the Most of Social Media: Workbook. Inside, you'll learn everything you need to know to maximize the potential of Facebook, Twitter, Instagram, and more!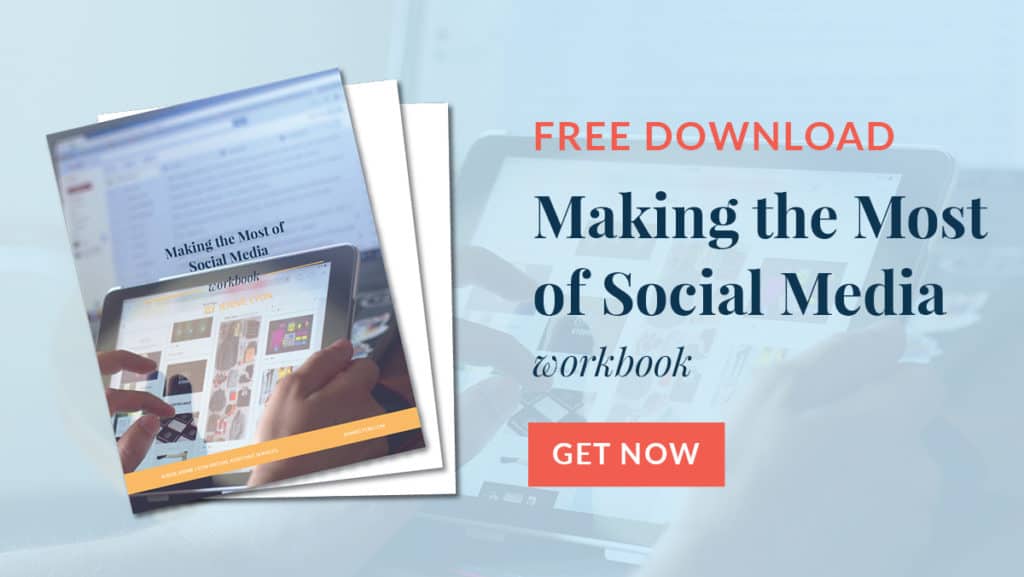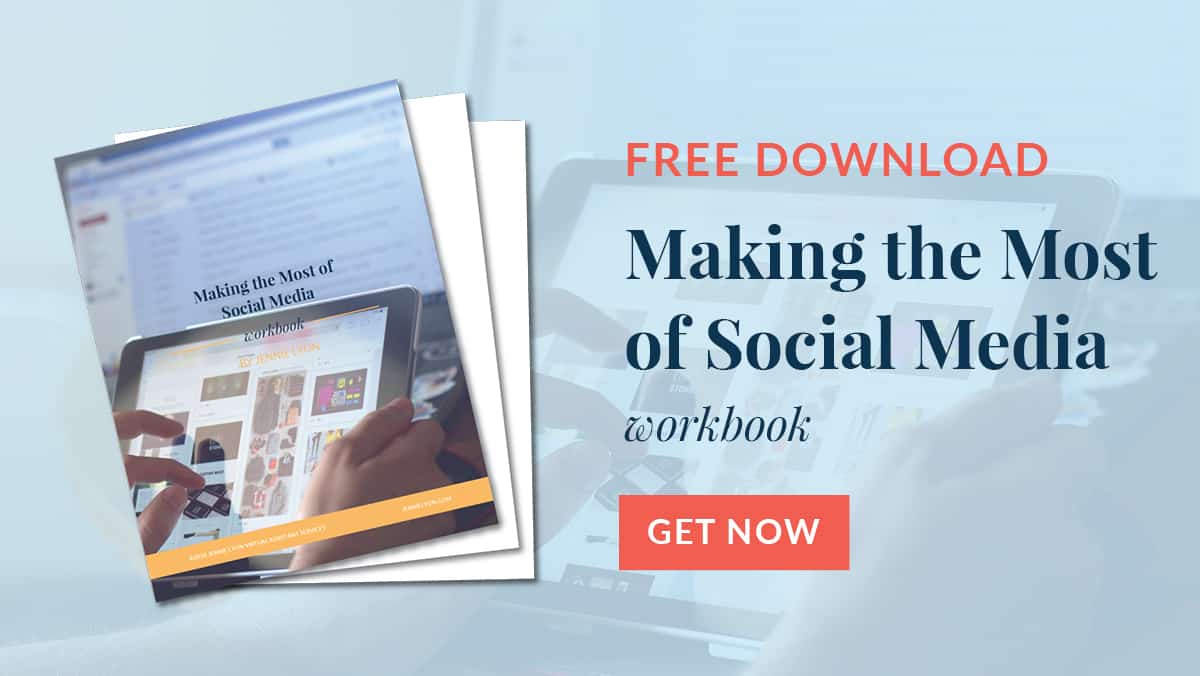 Running a Cyber Monday sale (and working throughout the holidays) can be an incredible strain on small business owners. They need to do everything, but there is only so much time in the day. That's why hiring a virtual assistant during the holiday season is such a great idea. I could take care of all your Cyber Monday digital marketing so you can instead focus on your products and customer care! If you'd like to learn more, I invite you to book a FREE consultation with me today! Let's make this upcoming Cyber Monday a record one for your small business!
Links For This Episode:
Rate, Review, & Subscribe on Apple Podcasts
If you like what you hear on the podcast, please consider rating and reviewing my show! Woo Hoo! Click here, scroll to the bottom, tap to rate with five stars, and select "Write a Review." I would love to hear what episodes you enjoy the most!If you haven't done so already, please subscribe to the podcast. I'll be adding new content weekly, if you're not subscribed, there's a good chance you'll miss out. Subscribe now!