How to Find and Work with a Virtual Assistant
Wouldn't it be great to have an assistant at your beck and call? All you'd need to do is hit the intercom on your desk, and like a flash, they appear!
Unfortunately, that's beyond the means of most small business owners. Many of them work out of their home. Unless they draft their kids into the role, (take it from me, this isn't a great idea! haha!) having an assistant might seem like it simply isn't possible.
Or is it?
The Internet Created Countless Jobs
The internet has created countless brand-new types of jobs over the last twenty years, including my own! Back in 2000, the idea of a virtual assistant was niche, at best. But only one year later, in 2001, I struck out to create my own small business: Jennie Lyon Digital Marketing & Virtual Assistant Services.
Why? Because I saw what was coming. The internet wasn't just going to connect us with cat photos, music, and countless memes. It was going to allow remote work to become a real possibility for countless people around the world. And I wanted in on the ground floor!
But the real reason I started my business was because of my son! He was born in 2001 and has Asperger's. I knew pretty early on that doctor's appointments, teacher meetings and therapy were going to eat up a big chunk of my time and working a traditional job wasn't going to cut it!
Fast forward 19 years and he is thriving! He is working on a Bachelor's Degree and looking at law schools. And during these last 19 years, I've had the pleasure of working with hundreds of clients from dozens of different industries. And almost every relationship started with the same question: So… How does partnering with a virtual assistant work?
What Is a Virtual Assistant?
Something that I tell all of my clients is that they can't do everything themselves. No matter what stage your business is in, there will always be projects and tasks that eat up time and sabotage your day.
For example, if you are just getting your small business up and running, you might not have the skills required to build a website. And a professional-looking website is a must for every small business. I've had consultations with clients who were on the verge of tears, having spent countless hours banging their head against the "easy to use" tools. Eventually, they realized that the best return on investment they could make is to hire me to create their entire website for them.
On the other end of the spectrum, I work with long-standing, already successful small business owners who are doing massive webinars for hundreds of people every week. They know their energy needs to be directed at their presentation. So they hire me to handle all of the graphic design, copywriting, and technical aspects of the webinar. It saves them a ton of time and stress. Trying to do everything themselves while they're also focusing on putting on the best webinar possible is too much.
Why Hire a Virtual Assistant?
By hiring a virtual assistant, you are bringing someone into your business who can provide professional services at a fraction of the cost of a full-time (or even part-time) employee. You don't need to pay for benefits, sick days, or training. Rather, you get experts who provide high-level services to businesses in countless industries. Do you need creative assistance? Graphic design chops? Tech assistance? Then contact a virtual assistant experienced in these areas (FYI, we're experienced in all three and many, many more)!
One of the biggest challenges with running a small business is making an impact in your market.
Unless you work in a very specialized field, you're going to have a ton of competition out there. Sometimes that competition is bigger firms. As long-established and successful businesses, they have resources that we smaller businesses don't. Such as an extensive staff, money in the bank, and an established customer base. With all of that in mind, we need every edge to breakthrough.
Keep in mind that larger companies' big bosses don't do things like maintaining their social media presence, writing blogs, or personally launching products. They have people to do that for them, allowing the boss to focus on the bigger picture. If you are at the head of a new small business, you likely don't have those kinds of resources, but they are easily accessible by hiring a virtual assistant.
Grow Your Company and Free Up Time
With the extra help, you can make a much bigger impact on your business. You will be working less, but you will also be working much smarter! Not only will you be freeing up space to do the things that you love in your personal life, but you will also have the time to do the things that will genuinely grow your company. This is especially important right now when "COVID-19 Brain" is such a threat.
To figure out if you're in the first place to hire a virtual assistant, ask yourself these questions:
Do you have a viable business plan? If not, you can grab my free business planner workbook at:
Do you make a few thousand dollars each month?
Do you have non-essential but still important tasks that consume a ton of your time?
Are you ready to grow your business, but you can't afford new staff?
Are there areas of your business where you need an expert "running the show?"
If you answered yes to any of these, then hiring a virtual assistant might be an outstanding idea!
What Can a Virtual Assistant Do?
Well, that all depends on who you hire.
Virtual assistants come in all shapes and sizes online. Some of them specialize solely in the administrative aspects of running a business, like answering phones, taking messages, and responding to emails. Others focus on the social media side of things, maintaining an online presence for their clients. And don't forget about the VAs who provide creative assistance for firms that need content to post online.
In the case of my own digital marketing and virtual assistant agency, I've gone out of my way to build a team experienced in all of these areas and much more. For example…
Launching a new product can be astoundingly time consuming and stressful. We write a pre-sell strategy, create an online course or webinar content, design side decks, edit videos, or handle the tech side of things to ensure your product launch goes off without a hitch. Oh yes, and the marketing part too!
Webinars are becoming more and more popular, especially due to the new "at-home" focus for many small businesses. We can research for you, build your side deck, write your script, and even handle tech support in the background while you present. Again, we do all of the marketing!
How many hours a week does your personal social media eat up? It's not surprising that your business' social media can consume almost the same amount of time. Rather than put it on the back burner, we can handle it all for you, writing posts and creating content to increase engagement with your brand online. And if you aren't an expert in social media advertising, we can help with that too!
Most small business owners aren't experienced writers. Coming up with an 800 to 1000-word blog could take hours and hours of their week. When you hire a virtual assistant who specializes in content creation, they can have a blog in your inbox in no time. All you need to do is read it over, and you're all set.
Whether you're revamping your website, creating new content for social media, or need a new logo for your business, graphic design can get pricey fast. Hiring a virtual assistant with some serious graphic design chops can save you big bucks while also delivering a product of equal quality.
My Personal Experience with Virtual Assistants
Ready to hear something funny?
For years and years, I went at it alone in my business. I believed that I could handle everything myself. This "strategy" left me stressed beyond belief and damaged my relationships with my family and friends. Even though I WAS a virtual assistant, I was reluctant to bring on a virtual assistant of my own.
I'm not going to mince words here: that was just Dumb with a capital D. I was telling my clients how they could save countless hours and stress by hiring me, but I wasn't taking my own advice. And then when I did, WOW. I doubled my income in that year. Rather than do everything myself, I could hire VAs who specialized in content creation, graphic design, and more. I wasn't a slave to my own marketing anymore and could focus on the important parts of my business. It changed everything for me and saved my relationships with my son and husband (They gave me a little heart to heart one night when I blew off dinner and a movie with them to work on a last minute project). Hiring a VA allowed me to focus on the most important things in my life: THEM.
Better Serve Your Clients
If you want a great example of someone I helped do the same thing, I invite you to meet Jennifer Brown of Successful Culture International:
"Before working with Jennie, I had no social media presence or internet marketing strategy to speak of. Thanks to her, now I do! She has helped me to exponentially grow my social media presence, develop an email subscriber list, create marketing launches, update/maintain my website, and write regular social media posts. Today, my social media and online marketing are on autopilot as she handles all of the details and timelines so that I don't have too!
Jennie also helps me in many other aspects of my business including administration and client relations. She is a dream to work with – proactive, responsive, and diligent! Her work is top-notch and I'm grateful to her for all the help she gives me! Thanks to her contributions to my business, I have been able to double my revenue and better serve my clients."
How to Find a VA
Now comes the tricky part, actually finding a virtual assistant you can trust.
As a VA myself, it drives me crazy to see the amateurs out there who create a snappy website and claim that they can do EVERYTHING for their clients. They promise the moon, but don't end up delivering the cheese.
The most important thing to do when contacting a virtual assistant for the first time is to interview them. If they are charging you for that first consultation, don't walk, RUN away from them. That first conversation is the key to a smooth and productive working relationship. I give free consultations to everyone considering working with me. It's not just polite; it's a necessary step. And it's one that NO ONE should charge for!
In your free consultation, the virtual assistant should explain what it's like working with a VA team, how often you meet, what you should work on first, and details about their payment structure.
It would help if you also were doing some independent research on the VA firm. Go to Yelp, Google Reviews, and other online review outlets to get third-party testimonials. If they have testimonials on their official website, it might not be a bad idea to contact some of those clients.
You Could Always Use Us!
This is an area that I'm not shy about!
Over my years in business, I've assembled a crack team of experts in various fields (Geez, I sound like I'm about to rob a casino). Whatever your virtual assistant needs, I'm sure that I can handle them. And if you need a service that I don't offer on my website, give me a call for a free consult anyway. I might be able to help you, or at the very least, direct you to someone who can (and who I trust).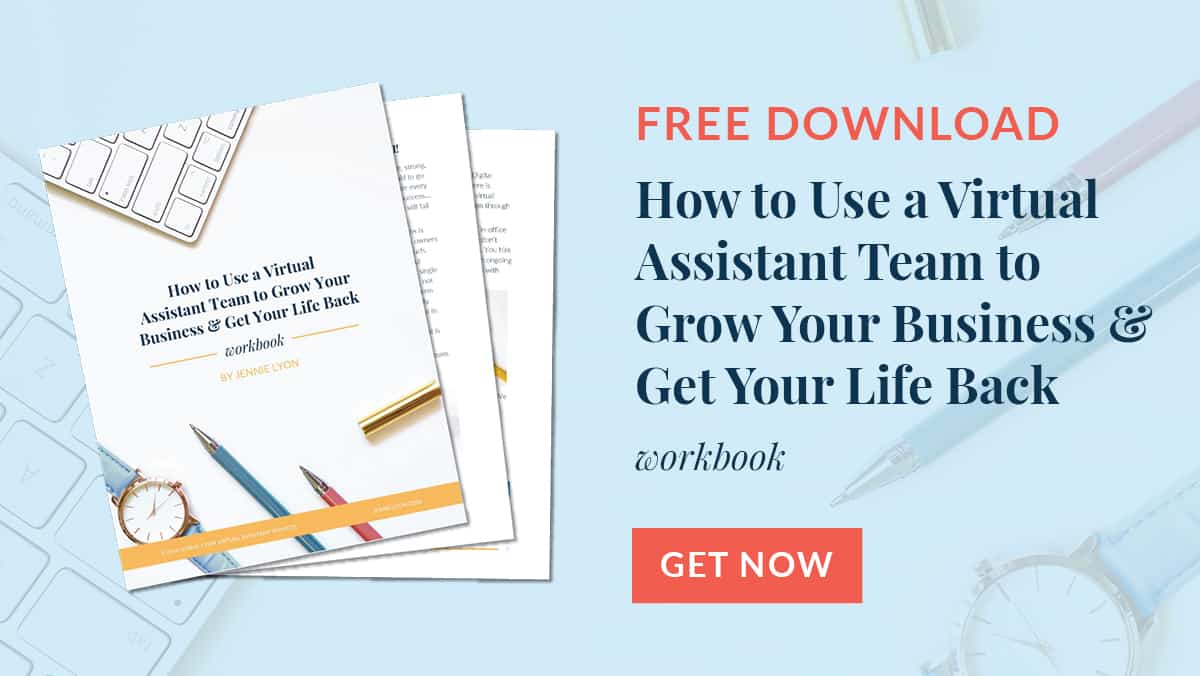 To learn more about what it's like working with a virtual assistant, I've created this free guide: How to Use a Virtual Team to Grow Your Business and Get Your Life Back: Workbook. It will detail how a virtual assistant can help you finally grow your business and give you the boost you need to reach your next level of success!
So, What Did We Learn?
Let's review what we learned:
A virtual assistant is a professional "hired gun" who can replace or augment a full staff.
VAs can specialize in many fields, including content creation, admin, tech support, and more.
VAs can free up a remarkable amount of free time, both professionally and personally.
It took me years to hire my own VA, and I've never regretted it!
Never hire a VA who charged you for a first consultation.
Make sure potential VAs know exactly what you need from them, and confirm they can do it.
Check online reviews to confirm their reputations.
A single VA can't do it all. Hire a VA firm who have a team of specialists.
To learn more about how a virtual assistant can change the way you run your business for the better, I invite you to book a FREE consultation with me today! We can talk about everything I and my team can do to free up time and help you grow your small business!
Links For This Episode:
Rate, Review, & Subscribe on Apple Podcasts
If you like what you hear on the podcast, please consider rating and reviewing my show! Woo Hoo! Click here, scroll to the bottom, tap to rate with five stars, and select "Write a Review." I would love to hear what episodes you enjoy the most!If you haven't done so already, please subscribe to the podcast. I'll be adding new content weekly, if you're not subscribed, there's a good chance you'll miss out. Subscribe now!