5 Surprising Reasons to Hire a Digital Marketing Virtual Team
When most people contact me for a free consultation, they usually ask about the usual digital marketing services: copywriting, social media, and website development.
And that's great! That's my bread and butter. Writing blogs, creating social media posts, and building beautiful websites are three cornerstones of a comprehensive digital marketing strategy. But as we continue to talk, these potential customers are often surprised by the sheer number of services we offer here at Jennie Lyon Digital Marketing and Virtual Assistant Services!
You'd be stunned at how many different things an experienced virtual team can do for your small business. Podcasting, webinars, online courses, the sky is often the limit. And if there is something that you need that I don't offer, there is no reason not to ask about it! I might be able to take care of the problem or connect you with someone else who can help.
So, here are some of the most surprising ways you can use a virtual team. They might not be at the top of your list. But believe me, these five ideas can make a massive difference at your small business!
Take a Vacation!
I remember back when I first started Jennie Lyon Digital Marketing and Virtual Assistant Services. I felt like I could NEVER take a vacation. Now, mind you, I live in Florida. Which means beautiful weather all year round and some of the most amazing beaches in the world. And even with that temptation, I STILL resisted the urge to take some well-deserved time off. Why? Because I was going at it alone.
Many small business owners don't have any support staff behind them. That means, if they aren't minding the store, then NO ONE is minding the store. They feel like they always need to be there to take care of their clients, no matter what. That leads to insane hours, high levels of stress, and no vacations!
But if you're a small business owner, you can use a virtual team to take care of things while you're taking care of yourself. If you need someone to respond to emails for you, I'd be delighted to help. If you are worried about no one posting to your social media while you're gone, I can write and schedule your posts for you. The list goes on and on! I can take care of many of your daily tasks so you can rest easy on the beach!
FYI, nowadays when I need time off, I know for a fact that everything will be fine in my absence. My virtual assistant team can handle just about anything that comes in. Often, they do such a good job that I don't even have much catching up to do when the vacation is over. That's one of the reasons why I highly recommend using my team with your own small business. I know firsthand how good they are at keeping a business going!
Need a Sounding Board?
I love my husband. But I have to admit. I sometimes suspect that he gets a little tired of me using him as a sounding board for all of my ideas!
I'm sure that all you small business owners know what I'm talking about. Your spouse or significant other can be a great sounding board. But the reality is that they likely aren't a small business owner. They may be aware of the unique pressures you face, but they don't know them firsthand. That's one of the reasons why I love speaking with other small business owners.
They know what it's like to have everything riding on your shoulders. Their advice tends to come from a place of experience. And that's one of the reasons why I offer my services as a sounding board and coach to small business owners.
If you have any ideas that you want to bounce off someone, I'd be delighted to hear them. I might even be able to provide some perspectives you haven't thought of. As an experienced small business owner, I might have already gone through the challenges you are now facing, and can give you some advice to help you get through to the other side.
I can also help you out with goal planning. Coming up with an annual business plan can be tricky, but it gives me something to aim at as I continue to grow my business throughout the year. If you'd like some help with yours, I'd be delighted to give you a hand (or you could also check out my free Write Your Own Business Plan: Workbook)!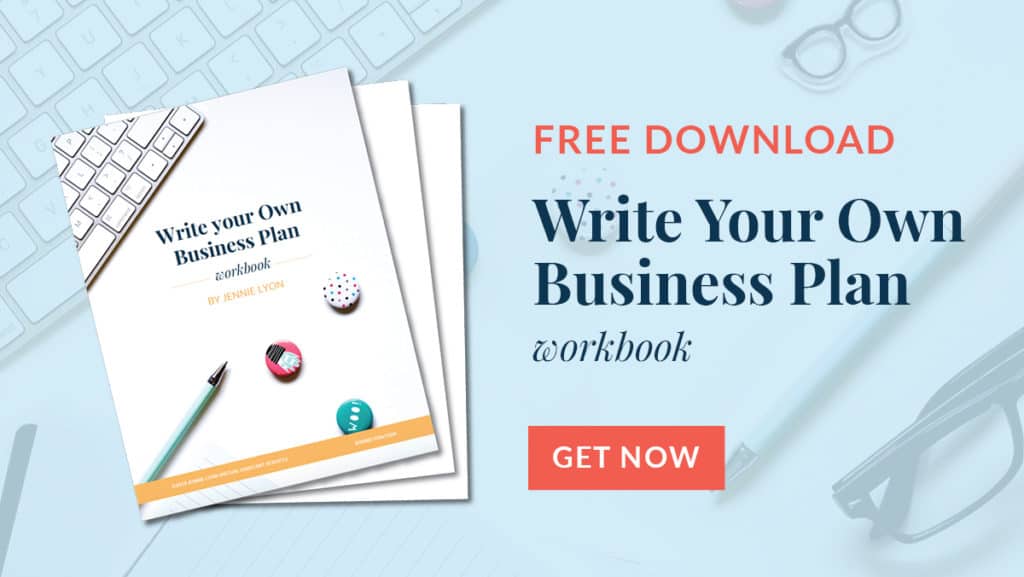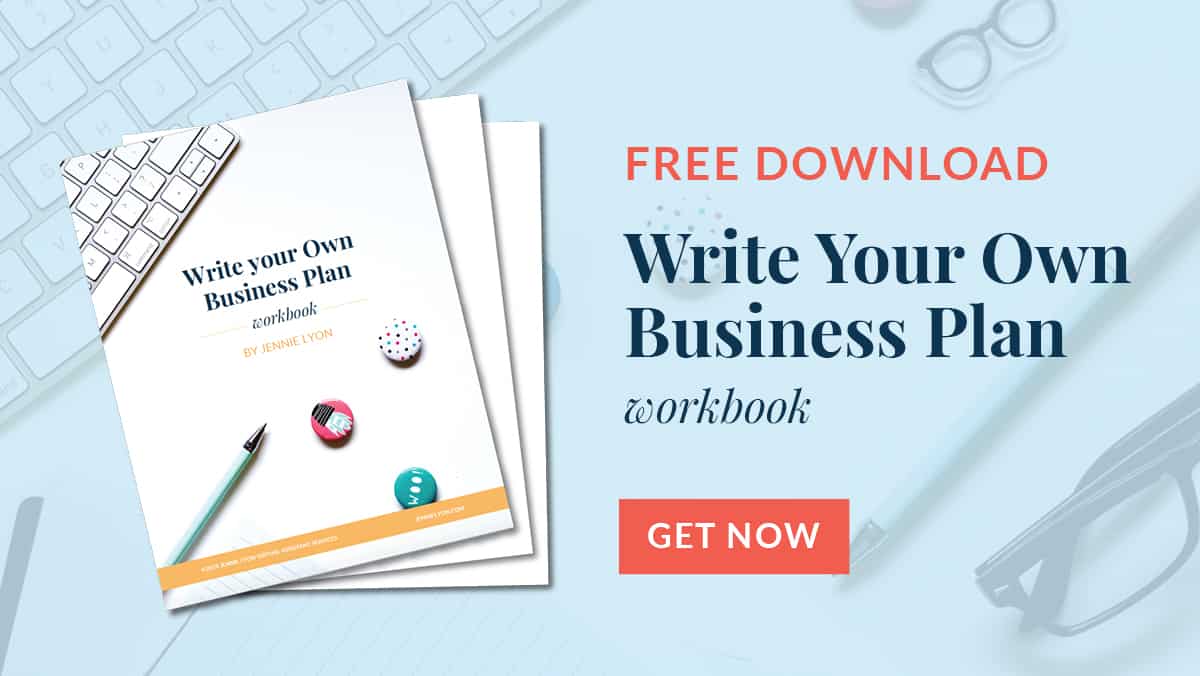 Learn the Skills You Need
I don't like to think that I'm a control freak, but… Well, I do like to handle things by myself. I think that's a trait we share as small business owners.
When you're just starting out, you likely lack two things: money and employees. It's simply cheaper to do everything yourself, from your social media to copywriting to even building your own website. But the problem often is that you don't really know HOW to do these things.
That is where I can come in! If you have a particular skill that you want to learn, such as writing and scheduling your own social media, I would be happy to teach you.
Rather than simply telling you, I can make you a Loom video walking you through my exact process. You can then adapt that into your own workflow, building the skills you need to strengthen your business.
Incidentally, you can get started learning lots of different digital marketing skills by checking out all of my free downloads!
Let's Build Up Your Reputation Online!
When it comes to running a business, word-of-mouth is everything. If you have one person who gives your business a bad review, whether it is a fair assessment or not, it can significantly impact your success.
Maintaining an excellent online reputation has only gotten more important in the age of digital marketing. Before anyone buys a product or service from your business, they are likely to do a Google search for you. If a negative Yelp review or anything less than three stars appears in their search, that could spell the end of that sale. What's the solution? You need to have someone watching out for your digital reputation online. And that's where we come in!
I have multiple clients who have requested I do a full audit of their online presence, including online review sites such as Yelp, Google Reviews, and Trip Advisor. By doing so, I can tell them the exact state of their online reputation and then the steps needed to take to repair it, if necessary. That could include writing proactive responses to all negative reviews, address criticism, and rebuild your reputation online.
Podcasting
I've spoken a lot about podcasts in the last year or so since I started my own: Digital Marketing Made Simple. I've found podcasting to be an incredible way to directly reach out to my audience. While also finding new folks who are interested and excited by the idea of working with a virtual assistant or team.
Because of my recent podcast-creation obsession, I've also started offering several services that support small business owners in creating their own audio content. If you plan on recording a podcast but have no idea how to edit it together, I'd be happy to help! I can give your podcast the same professional polish I give mine every week.
But our audio services go far beyond just editing. Let's say that you want to record an audio spot for a local radio station but don't feel comfortable lending your own voice to it. We can offer you both masculine and feminine voiceovers for intros, outros, and commercials, giving them that extra special something. If you have any audio that you want cleaned up, we'd be happy to do some audio processing to make it much more listenable. And if you need a little help with the marketing side of audio creation, I'd be happy to lend you all of my digital marketing experience! If you're looking to get started, grab my podcasting workbook and checklist!
So, What Did We Learn?
Let's review what we learned:
Virtual teams can do much more than copywriting, social media, and website building/maintenance.
Even if a virtual assistant doesn't offer a specific service on their website, it never hurts to ask! They might be able to help!
Small business owners often can't afford the time off to take a vacation.
A virtual team can "mind the store" for a while to help you take some well-deserved time off.
If you need a fantastic sounding board, try speaking to another small business owner!
Planning yearly business goals is an excellent way to help grow your business.
If you still want to handle everything at your business yourself, a virtual team can help teach you the skills you need.
Your online reputation is everything. You need to audit it regularly to make sure it's positive.
Podcasting is a fantastic tool to help small business owners reach out to their audience.
Professional voiceovers can give your intros, outros, and commercials an extra layer of professionalism.
Free Resources
These are just a few unconventional ways you can use a virtual team at your small business. But it's hardly an exhaustive list. A VA team with experience in digital marketing can change everything for your small business. By taking on a ton of small, time-consuming tasks, they can free up dozens of hours, enabling you to reinvest that time back into your business (or yourself). To learn more, I suggest you check out my free download WORKBOOK: How to Use Our Digital Marketing Team to Grow Your Business and Get Your Life Back.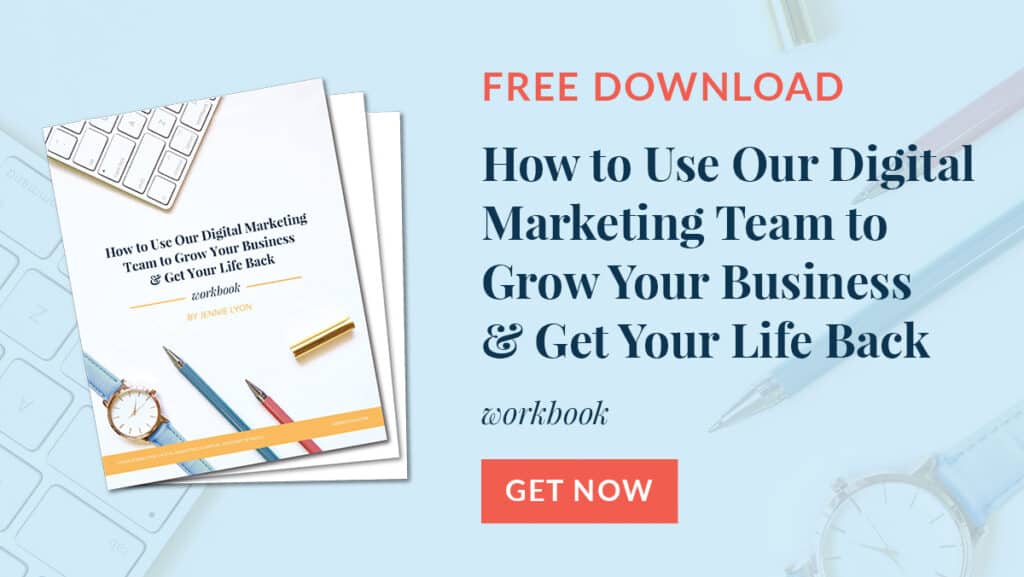 Or, if you'd prefer to talk one-on-one about how I can help you grow your business and get some of your busy work off your back, I'd be delighted to give you a free consultation! Let's talk about getting a ton of those annoying items off your to-do list by outsourcing them to a virtual team!
Links For This Episode:
Rate, Review, & Subscribe on Apple Podcasts
If you like what you hear on the podcast, please consider rating and reviewing my show! Woo Hoo! Click here, scroll to the bottom, tap to rate with five stars, and select "Write a Review." I would love to hear what episodes you enjoy the most!

If you haven't done so already, please subscribe to the podcast. I'll be adding new content weekly, if you're not subscribed, there's a good chance you'll miss out. Subscribe now!