5 Tips for Building Long-Term Client Relationships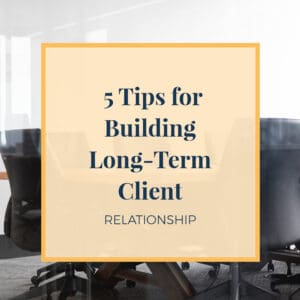 What would your company be without your clients?
One of the keys to a successful small business is to develop long-term client relationships. For a business to become truly successful, you need to build a foundation of repeat customers and clients you can rely on. This can require a tremendous amount of time and effort, just like developing any other lasting relationship in your life. Here are some tips on how you can get started strengthening your client relationships, with the goal of eventually converting them into regular, long-term clients:
Communication is the Key
All of my long-term client relationships have one thing in common: effective communication. No matter what industry they are in, no matter what tasks they hire me for as a Virtual Assistant, being able to communicate in a clear and efficient manner makes all the difference between a short-term job and an intimate, long-term business arrangement.
When you start a relationship with a new client, you need to be able to clearly communicate what you can do for them right from the start. These days, most clients find small businesses by going online and checking them out through their website or social media. By being an effective digital communicator, you can connect with these clients before you ever exchange a single word with them. The problem is that managing multiple social media accounts can be time-consuming. So, why not hire a Virtual Assistant to do it for you. They can manage all of your social media channels and website to effectively communicate your company's message to clients, starting your relationship out on the right foot.
[Tweet "Developing long-term client relationships is essential for a business' success. Learn how here:"]
Always Meet Deadlines
Companies depend on deadlines. Often, a new task can't be started until the previous one has been completed. If there is a delay, it can cause a breakdown of internal systems that can cause a domino effect ending in further delays.
If you promise your clients that you will meet a deadline, you absolutely need to do anything you can to keep it. A deadline is a promise between you and your clients. If you miss it, it can shatter whatever trust you've built with them, and they may move onto another company that CAN meet their deadlines.
If you have too many balls in the air at work, missing deadlines can become a real possibility. If you can't afford additional staff to pick up the slack, you might want to look at hiring a Virtual Assistant to pick up some of your daily tasks. A Virtual Assistant can take care of the administrative tasks that can eat up your day and leave you with little time to complete the important things that only you can take care of.
Another way that a Virtual Assistant can help you keep your deadlines is to create an effective Project Management system. This will keep all of your projects, tasks, and deadlines in one place, allowing you to better keep track of exactly what you need to complete by the end of the day.
Be Honest and Upfront
Of course, another way that you can always meet your deadlines is to never exaggerate or over-promise to a client.
When trying to get a new client, some companies promise the moon, but this can easily backfire if unforeseen events get in the way of you being able to reach those deadlines. By always being honest and upfront with your customers, you will develop a relationship based on mutual trust. Never quote unrealistic deadlines to a client. Tell them exactly when they can realistically expect a project to be finished. If you deliver exactly what you promise, you will start to gain their trust, one of the most important steps in cultivating a long-term client relationship.
Think of Your Relationship as a Partnership
When a new client comes into your life, the first few jobs you do for them can feel a little transactional. You do something for them; they give you money. Commerce! But after a while, you might start to think of your relationship as more of a partnership, with both of you working together to achieve a common goal. You become one of their most trusted resources, depending on you, not just for work but for your opinion, thoughts, and advice.
The key to reaching this level is emotional investment. If a client trusts you implicitly, and you love working for a client, business transactions might start to feel more like a partnership. Almost all of my long-term clients and I have this kind of relationship. It's important that you work to develop them as well.
[Tweet "Hiring a Virtual Assistant can give you the time you need to build stronger client relationships!"]
On the Holidays, Treat them Like Family
Ok, maybe not your closest family. But certainly, family members who live far away!
Sending a small gift or a card on the holidays can remind your long-term clients that they are in your thoughts and that you value them. The same can be said for sending birthday cards. Create a database of your clients with detailed information, such as birthdays, then set alerts to remind you when that date gets close. Hiring a Virtual Assistant to take care of this form of client care by creating, updating, and managing a client database can be a great resource for your company to have.

It can take a lot of work to build long-term client relationships, but in the small business and entrepreneurial world, it isn't an optional step. A small business can't survive on one-time business transactions. You need repeat business in order to expand. By developing a foundation of solid, long-term customers and clients, you will find a level of financial security, allowing you more freedom to grow your business.
The trick, of course, is finding the time to give your clients everything they deserve. That's one of the reasons why hiring a Virtual Assistant can be such a great investment. Not only will you be freeing up the time you would otherwise be spending on daily, repeated tasks, but you can also hire them to help you with the specifics of client care, project management, or working on websites using technical resources such as WordPress. Unlike with a full-time employee, you only need to hire a Virtual Assistant for the tasks that you need to be done. To get a better idea of just how useful we can be, I invite you to download my free Workbook: How to Use a Virtual Team to Grow Your Business and Get Your Life Back!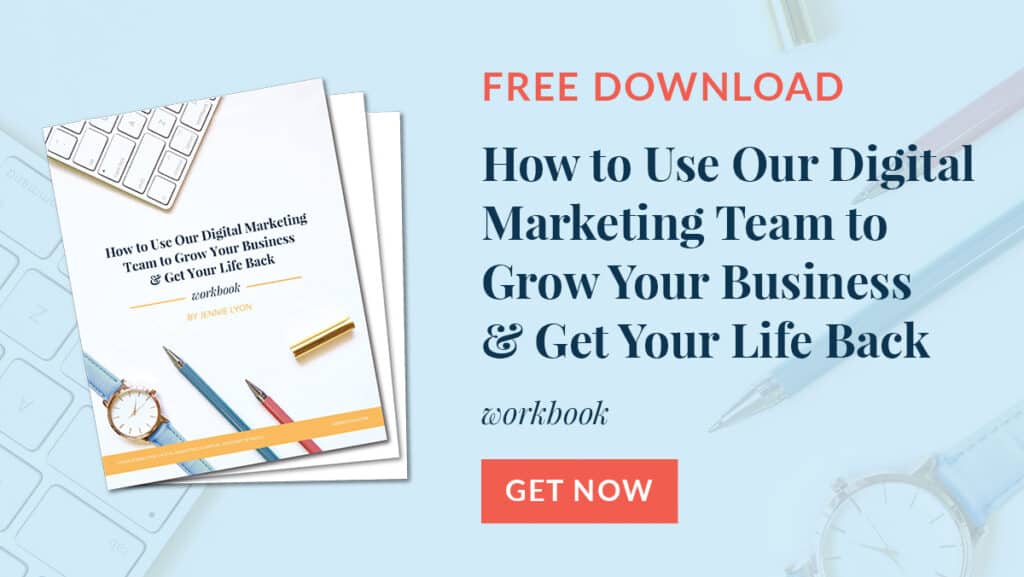 Contact me here for a free consultation, and we can talk about how I can help give you the freedom you need to grow your business and more deeply connect with your clients!