5 Ways to Use a Virtual Assistant to Create Content
What do you think when you hear the words "content creation."
Whenever you sit down at your desk to write something, you are arguably creating content. Whether that be a private email, a newsletter for your business, or a public blog, it's all content. The only difference is the audience that the content is meant for.
Content creation is one of the most time-demanding aspects of being a small business owner. You can eat up an entire afternoon by writing a blog post, trying to fine tune every detail to get your message across to your audience. Or what if you get hit by writer's block? That's why many small business owners have taken to using a virtual assistant to write the vast majority of their content.
But isn't that expensive? Not when you consider the amount of time that you're spending working on content. You can better spend all of that time doing things that only you can do to grow your business, rather than wasting your energy on things that someone else could do instead. With that in mind, here are five ways how you can use a virtual assistant to revolutionize your business' content marketing strategy!
Research/Strategy
My first step when working with a small business owner for the first time is to help them develop a content marketing strategy.
Now, this isn't as easy as you might think and often requires quite a bit of research to choose types of content that will actually help your business and connect with your audience.
Do you already have any content marketing goals? If so, I want to help you refine them. If not, I can help you come up with some that will be a perfect fit for your business. For example, do you often need to explain complex concepts to your audience? If so, maybe creating some "how to" YouTube videos might be an excellent use of your time and energy! If you want to reach out to your already-existing clients and customers, then a monthly email newsletter might be an ideal way to reconnect.
No matter what kind of content you are creating, you need to know your ideal customer avatar (ICA). Actually, this is important for every aspect of digital marketing. If you close your eyes and imagine your perfect client, who are they? What do they look like? Why are they ideal? These are the questions that you need to answer to come up with your ICA. It might require me to research your target audience and social media demographics to figure out exactly who we should be aiming your content at.
Setting Up Your Blog, Podcast or YouTube Channel (If You Don't Have One)
A great place to start with any content marketing strategy is a weekly blog, podcast, or video. It doesn't matter which one you choose, it can become the centerpiece of your entire digital marketing strategy!
For example, if you haven't updated your website in years, a weekly blog or podcast/video shownotes might be just the thing you need to start getting traffic flowing to it again. A weekly piece of new content can not only jumpstart your website, but also help you build up your email list and social media followers. Once you have weekly content coming out, you will always have something to post on social media or to blast out to your email list.
Here is where knowing your ICA (ideal client avatar) can come in handy. It won't do you any good to be creating content that none of your potential customers want to read. But if we know your ideal customer avatar, we can start to come up with topics that will be of interest to them.
What if you already have a blog, podcast or YouTube channel, albeit one you haven't updated in months or years. Well, that's a fantastic resource to have on hand! You can take those old content and recycle them! By doing some punch-up and updates, I can reuse those older pieces of content and make them into current content! The same goes for any out-of-date lead magnets, or funnels you might have on your website.
Creating Graphics
Graphic design is a key component of every content creation strategy. It really doesn't matter how good the content is if no one even wants to look at it!
The first part of this is to make sure that your website is both attractive and functional. We can create brand-new graphics for your site to have it looking polished and modern. If you haven't done any updates to your logo for the last few years (or maybe have decided that it doesn't accurately reflect your company anymore), we could design you an entirely new logo!
Once we have your new graphics, we can incorporate them into all aspects of your content marketing strategy. For example, attractive graphics can significantly enhance your social media posts by drawing eyes to them in newsfeeds. Email newsletters can suddenly stand out in your customers' inboxes rather than being consigned to the Junk or deleted folders. We can even create some social media graphic templates that you can reuse to save time and money!
Scheduling & Engagement
Another way a virtual assistant can help you save a considerable amount of time is by handing all of your content scheduling and engagement.
When it comes to social media marketing, effective scheduling is almost a necessity for a small business owner. You want to put up your social media posts at times of highest engagement to get as many eyes on them as possible. And engagement is really the key to social media, without it, it's just media! But taking time out of your busy day to head onto Instagram is a terrible idea! I mean, there is a reason Instagram is known as a time sink. Even if you are only spending time on your business profile, you could still get dragged into responding to comments and replying to messages.
The best way to avoid this is by hiring a virtual assistant to write and pre-schedule all of your posts. Without you needing to lift a finger, your audience will receive your posts and links to your content. No matter if it's Facebook, Twitter, Instagram, or LinkedIn, we can schedule your posts for you. We can also handle all of the engagement on your account! This automation is a fantastic way to ensure a regular posting schedule and increase traffic to your website and content while building an engaged community on social media.
Analyze Your Results
Coming up with a content marketing strategy would be pointless if you aren't paying attention to your results.
When it comes to content, course correction is vital. If you write a blog post that does terribly, you need to know about it. That way, you can avoid that topic in the future, as you now know your audience doesn't respond to it. On the flip side, if you create content that does better than expected, you want to double down on it (maybe even spinning it off into another kind of content like an opt-in or YouTube video).
There are many tools available to analyze how your content is doing, starting with your website's backend. Squarespace, WordPress, and other similar website hosting and creation tools offer several plugins that can help you track how your content is doing. If your audience isn't responding the way you would expect, we can try some different strategies.
So, What Did We Learn?
Let's review what we learned:
Content creation is one of the most time-consuming parts of a digital marketing strategy.
Always create a content marketing strategy before starting writing.
Research is a vital part of figuring out your ideal client avatar.
A weekly piece of content is a great first step for a content marketing strategy.
You can use that weekly piece of content to drive traffic to your website from your social media.
You can recycle your old pieces of content into new content.
Graphic design enhances any content marketing strategy.
Avoid going on Instagram by scheduling your social media posts instead and using a virtual assistant to engage with your community.
Once you've created some content, always analyze how your audience is receiving it.
In my experience, most small business owners are not experienced and professional copywriters. Their talents lie elsewhere! However, if you've always wanted to try your hand at writing whether it be for your weekly blog, podcast or video, I invite you to check out my free download The Blog Breakdown Workbook to learn how to structure and write a blog that will connect you with your audience and can be tailored into a script for your podcast or YouTube video as well.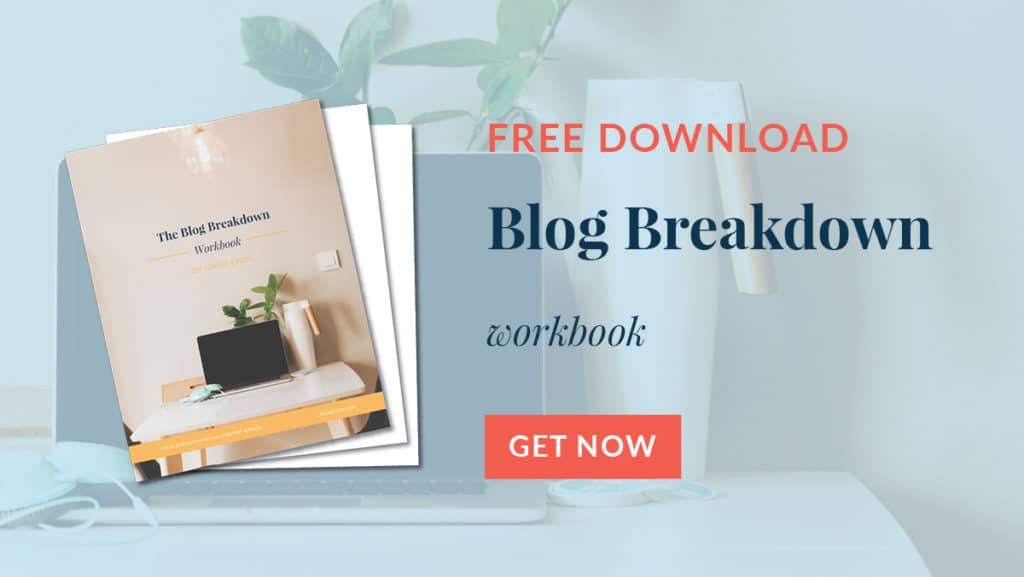 And if you don't have the time and patience to start writing your own weekly content, I invite you to contact me here for a free consultation. I can help you set up a comprehensive content marketing strategy that will increase engagement with your social media and drive people to your website resulting in more sales!
Links For This Episode:
Rate, Review, & Subscribe on Apple Podcasts
If you like what you hear on the podcast, please consider rating and reviewing my show! Woo Hoo! Click here, scroll to the bottom, tap to rate with five stars, and select "Write a Review." I would love to hear what episodes you enjoy the most!
If you haven't done so already, please subscribe to the podcast. I'll be adding new content weekly, if you're not subscribed, there's a good chance you'll miss out. Subscribe now!