5 Ways to Wow with Your Client Onboarding + Free Workbook
I'm a huge believer in going the extra mile to "WOW" my clients. And it all begins in the first interaction I have with them: the client onboarding!
It goes back to the earliest days of marketing before I started this business! In high school, I was a manager at Nordstrom. Yes, high school! As you can imagine being the youngest manager at Nordstrom made me really, really want to shine!  While I wasn't wowing clients but instead customers, it was a huge deal to me! I wanted every customer to feel like LITERALLY the most important person in the world, and I would do anything to wow them. 
Side story: We had these very large, beautiful jars in my department that were full of chocolate-covered strawberries, cherries, and blueberries. Since they were part of a display, they weren't something that we carried or sold in the store. I had a customer who expressed that she really, really, really wanted jars like those! I called the Nordstrom Commissary to find out where to get them. They ordered them for me, and the next time the customer stopped by, I let her know that I was able to find the jars and had them if she'd like them! She was FLOORED! Seeing how happy she was made wowing all of my customers even more important to me! 
It's My Philosophy
When I started my own business, and this business started to grow, that philosophy is something that I held onto. Even though I'm at the point now where my business is thriving, treating every client like they're my ONLY client is my top priority. If you aren't working every day to "wow" your clients, then you aren't providing them with the customer service they deserve.
And it needs to start right from the beginning: the onboarding process! The problem is that, as you gain more and more clients, there are greater demands on your time. You might feel that you can't afford to give all of your clients the same amount of attention, going that extra mile to blow them away.
Thankfully, there is a solution: you can automate much of the client onboarding process!
Step 1: Free Consultations
For me, my business entirely boils down to "What can I do for my client." And the only way I can get to know the answer to that question is to talk with them one-on-one. That's where my free consultations come in.
A free consultation might seem like a poor use of your time (especially if you are super busy). But I think it might just be the most critical part of building a relationship with a new client. They should be able to see that free consultations are available almost immediately after visiting your website for the first time.
The trick, of course, is finding a time when you are both available. The last thing you want to do is be going back and forth with emails to figure out an appropriate time. That's where automation comes in! Allowing potential clients to book their own free consultations through a scheduling tool like vCita is a fantastic way to connect while also minimizing scheduling confusion.
Make it Simple
Your client can simply select a time that you've set aside for consultations. Once they book, that appointment will automatically sync with their personal calendar (provided that you have the right app integrations). The system should also send them reminders and allow them to reschedule their own appointment if something pops up.
All of that said, your time is still super valuable. I might limit your free consults to a half-hour, max. If you're getting on like a house on fire, there will be lots more opportunities to speak again in the future. This time with them as a paying client!
Step 2: The Immediate Response
If there is one thing that a client appreciates, it's a prompt response.
Almost immediately after my consultation call, I send the potential client an email follow-up. I tell them how much I enjoyed speaking with them and hope that we can work together in the future. Of course, if you're a busy small business owner, you won't have a ton of time to write an individual "thank you" email. That's why you should have a pre-written email template ready. Be sure there is some room for personalization in it, as the last thing you want to send them is a generic form letter.
Of course, there is also the chance that your potential client might not have the time to respond right away. They could get busy and forget to confirm with you. In that case, you should have an email marketing nurture sequence loaded to send out at appropriate intervals. You do not want these to come off as spam, so they shouldn't all go out at once.
I suggest sending one the following week after your consult call, another the week after, and a final reminder the week after that. Following up is a part of my customer service that I feel is super important.
Step 3: The Welcome Kit
Once you seal the deal and a new client has signed the contract, the heavy lifting of the onboarding process starts.
Every welcome kit will be different, depending on the small business that is sending it. The kit should include everything that your client needs to know to work with you, along with everything you will need to work with them!
For example, a basic welcome kit would have a "Thank You" email, a client intake form/questionnaire, a brief guide to working with you, and a contract/work agreement.
The "Thank You" email can be a short and sweet pre-written email. There isn't a need for a heavily personalized message here. It should be a low-impact, official-looking email simply thanking them for becoming your client. In broad strokes, you should lay out the process of what they can expect over the next few days. Make them feel appreciated to set the tone.
Step 4: The Intake Form
The client intake form/questionnaire can be one of the trickiest parts of the client onboarding process because it requires input from the client. If they are super busy, completing an intake form can quickly be put on the backburner. That's why you need to strike a delicate balance in your intake forms. Ask them too many questions, and they won't return it promptly. Ask too few, and you'll end up frequently contacting them for information that they didn't provide. In the case of my own, it's very detailed, so I allow my clients the opportunity to save for later. If they need to take a break and come back to it before submitting it to me.
To be honest, mine is super comprehensive, but it needs to be! I'm going to be taking on various aspects of their business (since we cover ALL areas of digital marketing). Yours might not need to go quite as in-depth!
A guide to working with you should essentially provide them with the same kinds of information they are providing you on the intake form. It should include your contact information, a complete description of your workflow, your hours, and how you prefer to work with clients. Much of this information was likely discussed in your consultation call, but it's important to give them a copy in writing.
Of course, every one of these components of your welcome kit should be professionally designed, branded, and crafted by a professional copywriter. This will be your client's first professional exposure to the quality of your content, which means it needs to be top-notch. 
Your Welcome Kit should also include a contract that will need to be signed before your relationship is finalized. I have some thoughts on this, actually…
Step 5: The Contract
Here is the funny thing about contracts: they're scary.
Contracts are usually in a language that RESEMBLES English. There are some English words in there, for sure! But the actual language is legalese! 
Unless you have a law degree or extensive experience writing or reading contacts, making sense of a contract can be a long and frustrating experience. That especially goes for many of the contracts sent out by small businesses. They are long, tough to follow, and (in many cases) unnecessary.
I'm a believer in a more plain-spoken contract. If the client can't understand it, then they won't want to sign it: it's as simple as that. This doesn't mean that your contract can't be comprehensive, but it means that you should avoid complicated legal language. That confuses the person trying to make sense of it. If you want to "wow" your clients, give them something to sign that they can actually understand after a single reading!
Make it Simple
Now, there are exceptions to this, of course. If your services are delving into territory that demands extensive legal protections (for both clients and yourself), then you'd be wise to hire a lawyer to draft a document that will have you covered. But in the case of most client relationships, a simplified contract like the one I offer on my website should do the trick! 
You could run into the same problem here that you did above. With the potential client simply not having the time to review and sign the contract. That's why it's wise to have a pre-written and automated email reminding them to sign within a few days of receiving the welcome kit.
So, What Did We Learn?
Let's review what we learned:
WOWing your clients at the start is the best way to begin a business relationship.
Offering free consultations is a fantastic way to bring in new clients.
Using a scheduling program to let clients book their own consultations is a great way to save time.
You should send an immediate email response after your free consultation, thanking them for their time.
Have a pre-written email template ready to go with some room for personalization.
Don't forget to have an email nurture sequence prepared for after the call.
A welcome kit should include a "thank you" email, a client intake form, a guide to working with you, and a contract/work agreement.
All of these components should be professionally designed with polished copy.
Give clients a contract that is in plain English, not legalese.
Have an automated email ready to remind the client to sign the contract/complete the intake form.
Free Resources
Bringing on a new client should be a time of celebration. But there are so many steps that it can often seem like a bit of a pain. That's why automating as much of the process as possible is such a smart investment. If you want to learn more about how to create an automated client onboarding process, I invite you to check out my free download, 7 Steps to Automating Your Client Onboarding Workbook.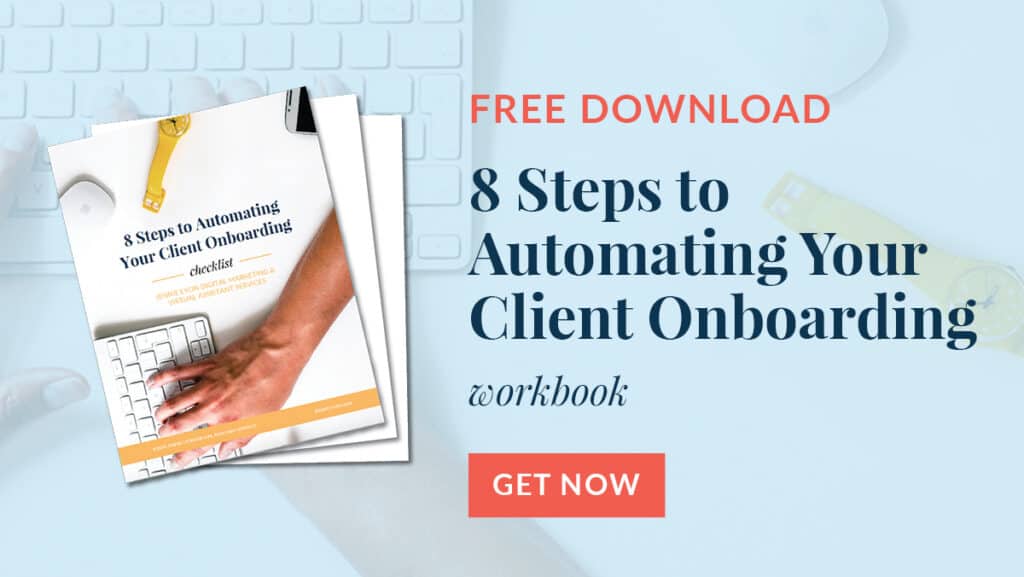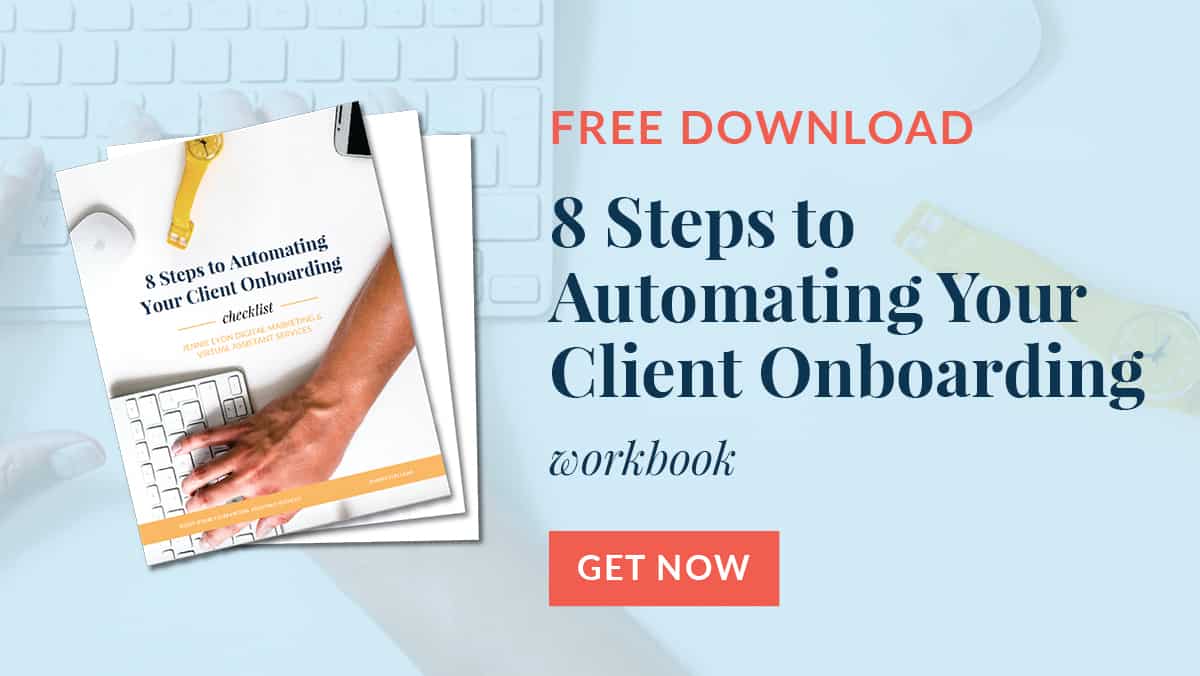 Even if you incorporate some of the ideas in the Workbook into your onboarding process, there is always room for improvement. That's why it's so important to go over yours with someone experienced in client onboarding to see what can be simplified.
Over the years, I've seen (and designed) dozens of onboarding processes. With my practiced eye, I can instantly see which parts are working, which aren't, and what can be simplified/automated. Please feel free to contact me here for a free consultation. With my help, we can refine your client onboarding process to make it as simple as possible (and there might be other parts of your business we can automate as well)!
It's time to bring your clients on board in a way that will "Wow" them! All it takes is a little help from our team!
Links For This Episode:
Rate, Review, & Subscribe on Apple Podcasts
If you like what you hear on the podcast, please consider rating and reviewing my show! Woo Hoo! Click here, scroll to the bottom, tap to rate with five stars, and select "Write a Review." I would love to hear what episodes you enjoy the most!
If you haven't done so already, please subscribe to the podcast. I'll be adding new content weekly, if you're not subscribed, there's a good chance you'll miss out. Subscribe now!