6 Steps To Create An Ideal Week for Optimal Productivity & Focus + Free Template
Do you feel like you're always busy but end your days feeling like you haven't accomplished anything? Do you constantly push important tasks onto the next day? Are your weekends filled with "make-up" tasks leftover from the week before? Do you resign to the thought that you'll never focus or catch up? "Too busy" to organize your schedule?
If this sounds like you, you're not alone. It's so easy to get caught up. You have this feeling like the most immediate thing to do is the most pressing task at hand. Still, if you're not organizing your time management beforehand, you'll always struggle and scramble to keep up with the next most pressing thing on your to-do list.
Today, I'm going to help you realize you've got all the time you need. There are more hidden away in the corners of an organized schedule calendar. It just so happens I've got a great schedule calendar template available on my site. I'll link to that you can download for yourself!
Today's Overview
Today, I will cover several of my essential tips for time management and maintaining an effective schedule calendar. You can click on the link below to jump to any section that you'd like to learn more about:
#1: Prioritizing an Effective Schedule Takes Practice
We constantly get calls, emails, texts, pings, and messages throughout the day. If you timed every moment you took yourself away from the task at hand to look at every single one of them, on average, we lose up to a third of our workday! Creating an effective schedule includes specifically making time within your scheduled day for these "interruption tasks" and prioritizing ignoring them until it's the scheduled time to check and address them. For example, throughout the morning, you could receive anywhere from 8 to 10 relevant messages and emails requiring your response. Suppose you allow 10 minutes before you break for lunch to focus on messages and emails. In that case, you're saving yourself the stress and time loss of stopping and restarting other tasks to check the latest notification on your phone.
#2: Simplify Your Scheduling
Look for similar tasks that require you to use the same equipment, people, or space and group them. There are tremendous opportunities to find extra minutes in the day when you're not traveling between tasks, setting up your workstation, or gathering colleagues multiple times in the same workday.
#3: Understanding Your Own Productivity Clock
Do you notice yourself having an easier time pushing through more creative tasks in the morning or closer to the end of your workday? Are you better at logical functions before or after lunch? Scheduling around your productivity peaks and valleys is a great way to work efficiently and find more minutes throughout your workday!
#4: The Value of Scheduling Breaks and Time Off
You can't maintain a business if you burn yourself out. There's always more work to do, there's always a last-minute fire to put out, but you have to prioritize yourself as an essential task to maintain! Also focus on breaks, time for food and family, and even excursions are critical for your well-being and help refill your tank to tackle the next task on your list. If you're sacrificing your health for your business because there's not enough time in your day, then it's time to consider hiring a Digital Marketing team to handle some of your more time-intensive essential tasks. You're worth prioritizing. Taking care of yourself IS a crucial part of maintaining your business!
#5: Does Your Schedule Meet Your goals?
After a week or two of adhering to your schedule as best as possible, are there tasks that you find are taking longer than you have allotted? If those tasks aren't being majorly interrupted, it's time to update your schedule to reflect the extra time you need to get it done. Are there tasks you find yourself constantly abandoning for other more pressing tasks? Then it might be time to look into hiring some assistance to focus on those necessary tasks you'd instead move off your plate.
#6: Consider Digital Marketing Assistance to Free Up Your Schedule
Digital Marketing teams like mine are who you can call to take on weekly essential tasks like managing your social media, email newsletters, copywriting, advertising, branding, graphic design, lead generation, project management, and even reputation management!
My Challenge For You:
I challenge you to carve out a moment and plan a schedule calendar for your upcoming work week. Download my schedule calendar template or use an organizer that works for you. Estimate the time you think you need for each task, and note how long it took you to complete. Schedule breaks every day and at least one excursion of your choice: a walk, an errand, a visit; it's up to you. Make a note of the times you found yourself pulled away from a scheduled task and what distracted you. At the end of the week, look at your schedule and check out the variance in your estimated times for tasks versus how long they took to complete. Were they accurate? Did you consistently take longer than you thought? Was your day littered with "interruption tasks"?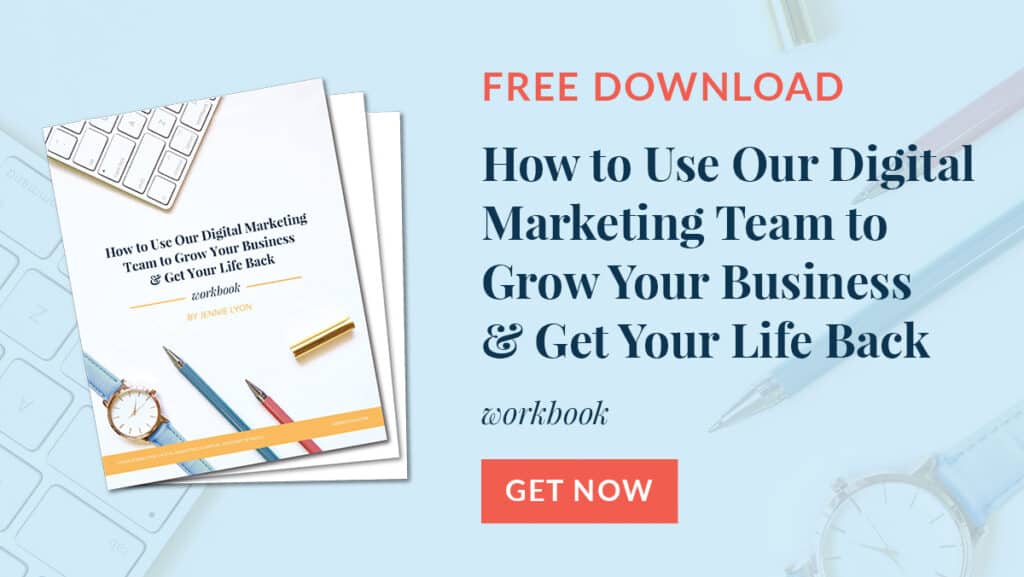 Do you find yourself forced to play catch-up on tasks through the weekend or extended hours every evening? If so, that's a sign to consider bringing a Digital Marketing team on board to allow you time to focus on your area of genius.
So What Did We Learn?
Creating and prioritizing a schedule calendar saves you time by exposing areas of opportunity and encouraging efficiency.
Allotting scheduled time to address "interruption tasks" frees you from the reactive tendency to constantly respond to notifications. This will keep you focused and saves you hours of lost time per week.
Understanding when you're most productive during the day allows you to plan your workdays with efficiency, generating better results.
Prioritizing your health through scheduled breaks and time off is counter-intuitive yet essential to maintaining your business.
Digital Marketing teams can take essential and time-consuming tasks off your schedule. This, in turn, will free up time to focus on growing your business.
My team and I are passionate about taking your business to the next level. We're happy to help you take your business to the next level. Set up a free call with me anytime. I'd love to see how we can clear up your scheduling issues and find you more time to grow your business!
Links for this episode:
Rate, Review, & Subscribe on Apple Podcasts
If you like what you hear on the podcast, please consider rating and reviewing my show! Woo Hoo! Click here, scroll to the bottom, tap to rate with five stars, and select "Write a Review". I would love to hear what episodes you enjoy the most!
If you haven't done so already, please subscribe to the podcast. I'll be adding new content weekly; if you're not subscribed, there's a good chance you'll miss out. Subscribe now!