5 Simple Ways to Grow Your Business Using Pinterest + Free Infographic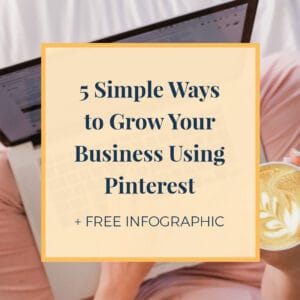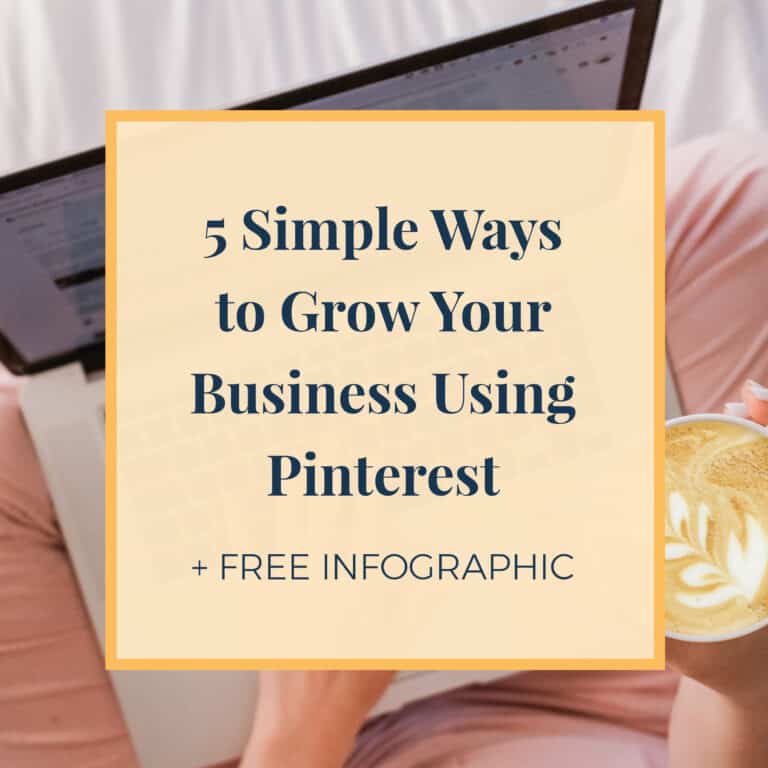 Have you paid much attention to Pinterest lately? It may not have the immediacy of Instagram, but it's still a very important social media platform for small business owners! Pinterest combines visuals with powerful organizational and search capabilities. Content uploaded to it can still go "viral" like Instagram and Facebook posts, but also has more staying power and is easier to find months or years later.
[Tweet "Pinterest is an incredible visual search engine that functions differently from other social media."]
I've personally used Pinterest to great effect for my businesses. I've gained followers on multiple social media platforms, and even clients, all because they found me through Pinterest! Keeping your business' Pinterest boards well curated and active isn't a huge time investment, and it pays off if you have the right strategies in place. Today I'd like to share some of the tactics which have worked for me, and for the clients whose Pinterest accounts I manage! Learn how you can use these tactics to grow your business using Pinterest as well! Plus, I've included a handy infographic summarizing everything at the bottom of this article.
#1: Rich Pins
What are "rich pins"? If you hadn't heard of them, they're pins which display additional information, including your website name and logo. One of the biggest issues with Pinterest is finding the original source for an image. Rich pins ensure that viewers are directed to your website. I've seen increases in my re-pins, likes, and views since adding rich pins to my Pinterest.
This feature is especially useful for growing your following and business if your website runs on WordPress. The integrations via plug-in are simple to use. If you aren't tech-savvy, a virtual assistant can easily set up this kind of WordPress plug-in for you.
#2: Pinterest-Ready Blog Images
Just look at the top of this article for an example! By including the title of your blog post in an attractive header image, you make it easy for people to visually share your posts. Pinterest-Ready images take no more time than simple ones, but they get pinned and re-pinned far more often! Attractive and informative graphic design is powerful on a platform like Pinterest.
#3: Spend a Few Minutes Every Day Pinning
Small sessions of regular activity and interaction with followers on Pinterest is more effective than an hour or two of developing new boards once a month. Once your initial organization is in place, it takes very little time to maintain and keep an active appearance on the site. If you don't want the hassle of doing this yourself, a virtual assistant is a great choice. They can manage all of your social media accounts!
#4: Use an App Like Tailwind
Using the official Pinterest app is fine, but to gain access to the features you really need as a business owner, you'll need a third-party app like Tailwind. An app like this has integrated scheduling and analytics tools. You can set pins to go up on days you won't be able to spend time pinning, and see which of your pins are getting the most attention and click-throughs. Tailwind or another social media management app for Pinterest will improve your marketing results!
#5: Create Boards That Support Your Business
What topics are your clients interested in? What products or services does your business offer? Create boards for each of these, and put a mix of pins from your website and elsewhere into them. Visitors will be able to find boards about topics they like, and will likely click on some pins that link back to your business.
Want to learn more tips and tactics for sharing on Pinterest? I am sharing a handy infographic summarizing everything. You can save it for future reference when planning your own Pinterest posts! You can download it here.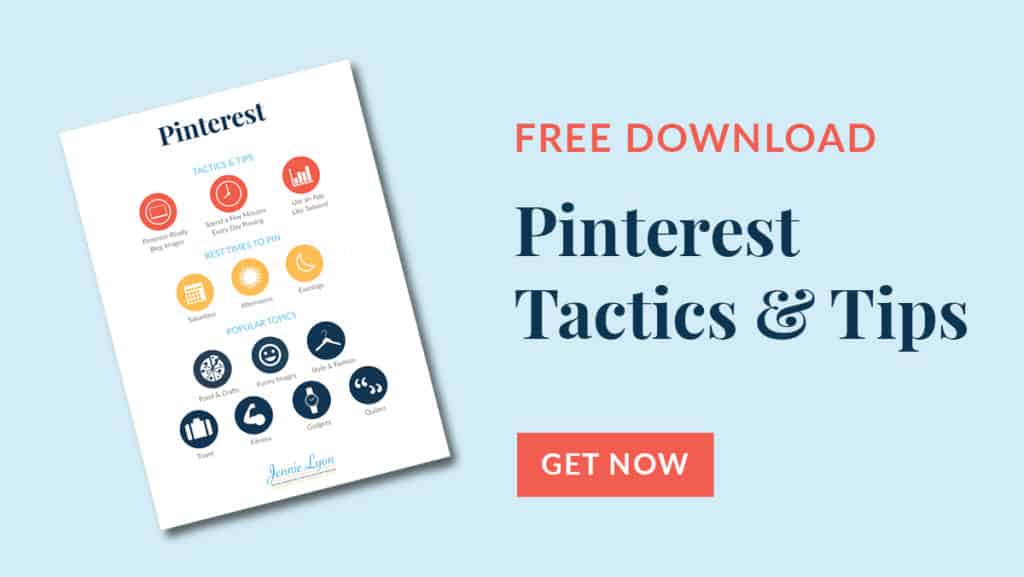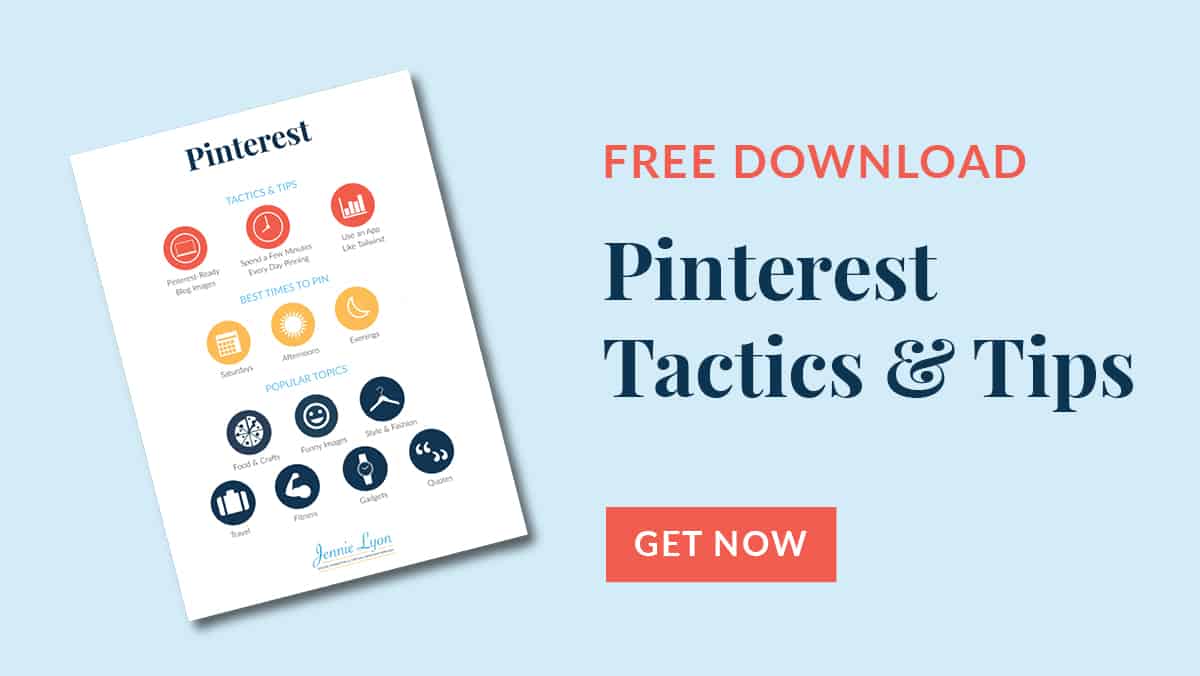 Have you used any of these strategies to up your game on Pinterest? I hope you learned something new or got a great idea! Do you have other suggestions for entrepreneurs using Pinterest as part of their social media marketing? I'd love to hear them, so feel free to leave a comment!
[Tweet "Pinterest can bring a lot of viral traffic to your business blog if you set it up properly."]
Of course, if setting up or maintaining yet another social media account is too much work for you to take on as a busy, successful small business owner, there is help! Contact me or set up a free consultation to talk about how Jennie Lyon Virtual Assistant Services can take on some of your time consuming social media tasks. I'd be happy to put these strategies into action to get your Pinterest up-to-date and actively bringing in new followers!