How to Hire the Right Virtual Assistant for Your Business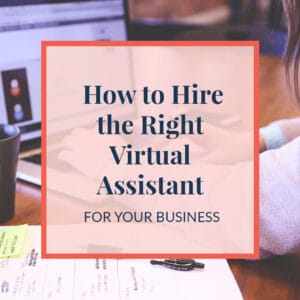 If you are looking for a virtual assistant to help you manage your business, you need to know how to hire a virtual assistant without wasting a lot of time or energy.
You can find virtual assistants on Twitter, Facebook, and LinkedIn for starters. Anyone who considers themselves a virtual assistant should have a website so a Google search is another great way to get started. Also, asking other business owners for recommendations can be THE best way to find a great virtual assistant.
Once you have compiled your list of virtual assistants to interview, I highly recommend only interviewing via telephone or Skype, rather than email. You want to hear the virtual assistant answer questions and get a good feel of how they are on the phone – especially if they will be talking with your clients and customers on the phone.
Questions to Ask:
What are their areas of expertise? Customer service? Social media? Marketing? Administration?
What is their system for organizing their daily projects and assignments?
How will they let you know that work was completed each day?
What is their confidentiality agreement? Do they have a non-compete agreement?
How did they become a virtual assistant? How many clients do they currently have?
What types of companies do they prefer to work with?
What is the typical turn-around time for projects and daily work assignments?
How will they keep track of their daily work assignments, special projects, and time spent in each area?
Do they have a professional website? If so, as for the site's address so you can check it out.
Do they have references? If so, can you contact them?
How do they prefer to be paid – hourly, or by the project?
Once you have gotten a good feel for each potential virtual assistant, do your homework to avoid any potential problems.
– Check out their websites, you can find out a lot about someone from their Facebook Page, Twitter Feed, or personal website.
– Check their references!
– Sign a contract, this will protect both you and the virtual assistant.
– Make sure there is a confidentiality agreement in place; you want to protect your ideas, programs, and client lists among other things.
– If you think of more questions, just ask. Make sure that you completely understand everything you need to know before bringing someone on board.
In fact, let me do you a favor, download my free workbook that walks you through writing your own business plan! If you do one thing for your business before the end of the year, create your business plan!
Hiring a virtual assistant can be one of the best decisions that you will ever make your business as long as you do your research to ensure you are hiring the right person for your needs.