How Automating Your Client Onboarding Can Change Everything + A Free Workbook!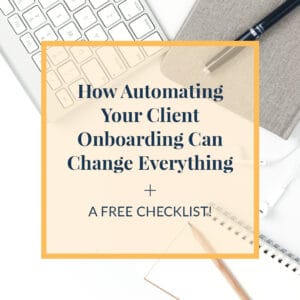 One of the most time-consuming activities for a small business is client onboarding. There are so many steps necessary to give your customers your full focus and attention. By automating the process, you can free up SO much time that you can better spend actually serving their needs.
If you are a small business owner with a limited, or non-existent staff, onboarding can take up a ton of your time. While larger businesses can afford to assign someone to handle these responsibilities, your onboarding process entirely relies on you. But what can you do? Well, the solution is automation! By automating processes at your business, you are essentially using programs that will allow you to "set it and forget it" for mundane business-related tasks.
Here are just a few ways that you can automate the onboarding process to free up a ton of your time! And keep reading right to the end to receive a free checklist to get your client onboarding automation started on the right foot!
Client Care
Have you ever had the completely irrational and insane thought, "Running a business would be so easy if it weren't for the customers!!!"
Don't worry, I have too. Client care can consume a ton of our time every single day. From responding to emails to going the extra mile on their projects, we need to make sure that our clients feel taken care of by us. When you are looking at a completely packed schedule, personalized client care can throw a real wrench into the works. Thankfully, there are ways that you can automate some of your customer care systems to free up your time.
A fantastic method of attracting new clients can be to offer them a free consultation with you about your services. This allows you to start forming a connection with the client and determine their needs. It also allows them a chance to get to know you a bit, building comfort with you. In other words, the consultation can be the foundation of a solid business relationship.
While you can't exactly automate a conversation with a client, you can make it easier for them to book a time for the consultation without you having to lift a finger. By integrating a scheduling tool like vCita into your website, potential clients can book their own time for a consult. It automatically syncs with your work calendar (more automation!), so you will know exactly when you need to connect with them.
Once you have someone sold on your services, you need to officially make them a client! This can require a ton of legal paperwork which, unless you are a lawyer, can be a huge pain in the rear. If you aren't a legal expert, or you don't want to have to pay one every time you bring on a new client, then you can set up your contracts way ahead of time with DocuSign. Basically, you just create a standard contract for all of your clients and use DocuSign to "fill in the blanks" with a new client's information. Then you only have to send them the DocuSign link to your contract for them to digitally sign. Easy!
For me, the only part of invoicing that I enjoy is when I get paid at the end! Everything else is kind of a headache. This is why I automate as much of my invoicing as I can. By using a time-tracking tool like Harvest, I can keep track of every single minute spent working on a client's project. With project management integration and payment systems (it accepts credit cards, checks, and PayPal), your clients have multiple options to pay you. It's even paperless, which is better for the environment and your filing system! Using it effectively, you can compile comprehensive invoices and send them off to clients in a fraction of the time it would typically take you to pull all of that information together.
[Tweet "Your onboarding process can become a piece of cake with a little bit of automating!"]
Email Marketing
There is much more to email marketing than just coming up with some snappy marketing copy (which can be more difficult than it first appears). You need to put together attractive emails layouts with exciting graphics. You need to create landing pages for the emails to lead to. And you need to create content for your emails so your clients will have a reason to open them.
Another time-consuming aspect of email marketing is actually sending them off. Imagine having to send out hundreds of emails to your clients manually? Thankfully, you don't have to do this thanks to email marketing programs like MailChimp. Using this type of online application, you can set it up so emails are automatically sent out at times of greatest engagement. You can write an entire 3-part email campaign and set dates for each part to be sent way, way in advance so you don't even need to think about it.
Another way that email marketing programs can help is by building up your email list. When someone signs up for your email list, they were probably promised a free piece of content, like an ebook. Using an email marketing program, an email can be automatically sent out to new sign-ups containing this information. Similarly, this functionality can be used to send out welcome kits to brand-new clients.
[Tweet "By automating your client onboarding process, you can save time and better serve their needs!"]
Project Management
Onboarding a new client can have a lot of steps and it's easy to lose track of them. In fact, losing track, in general, can be a problem for most small business owners. You have so much on your mind that the small things can fall through the cracks. Even if you have multiple notes stuck around your monitor, something could still slip your mind.
This is one of the reasons I used a robust Project Management tool like TeamWork. It allows me to keep track of every single step of a project from start to finish. You can set them up to help you keep track of big projects, daily tasks, or even the full onboarding process of a client. You can add both dates of importance and due dates so, if you forget something, it will send you an alert to your email. Project management systems can take a little while to set up, but that's what virtual assistants are for, right?
Automating the onboarding process can seem like an awful lot of work and, I'm not going to lie, it is. It's sort of the work equivalent of "you need to spend money to make money." By spending a few hours setting up a project management system, you will potentially save dozens, if not hundreds, of hours over the lifetime of your business. By spending some time integrating a scheduling tool into your website, you will be able to save countless hours manually scheduling clients.
In fact, let me do you a favor, download my free workbook that walks you through automating your client onboarding process. If you do one thing for your business this year, automate your systems. You will love the time it frees up for you! get help!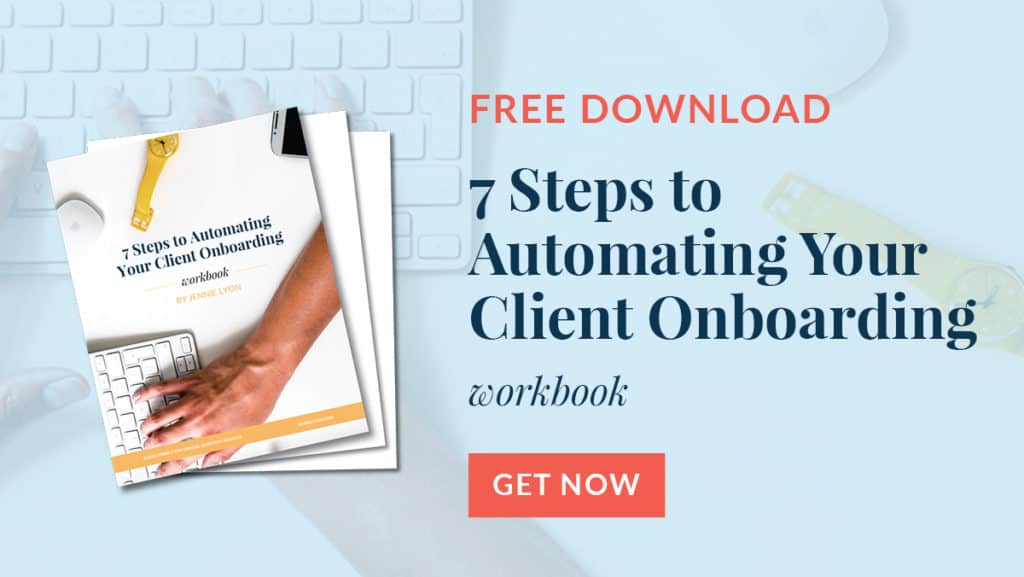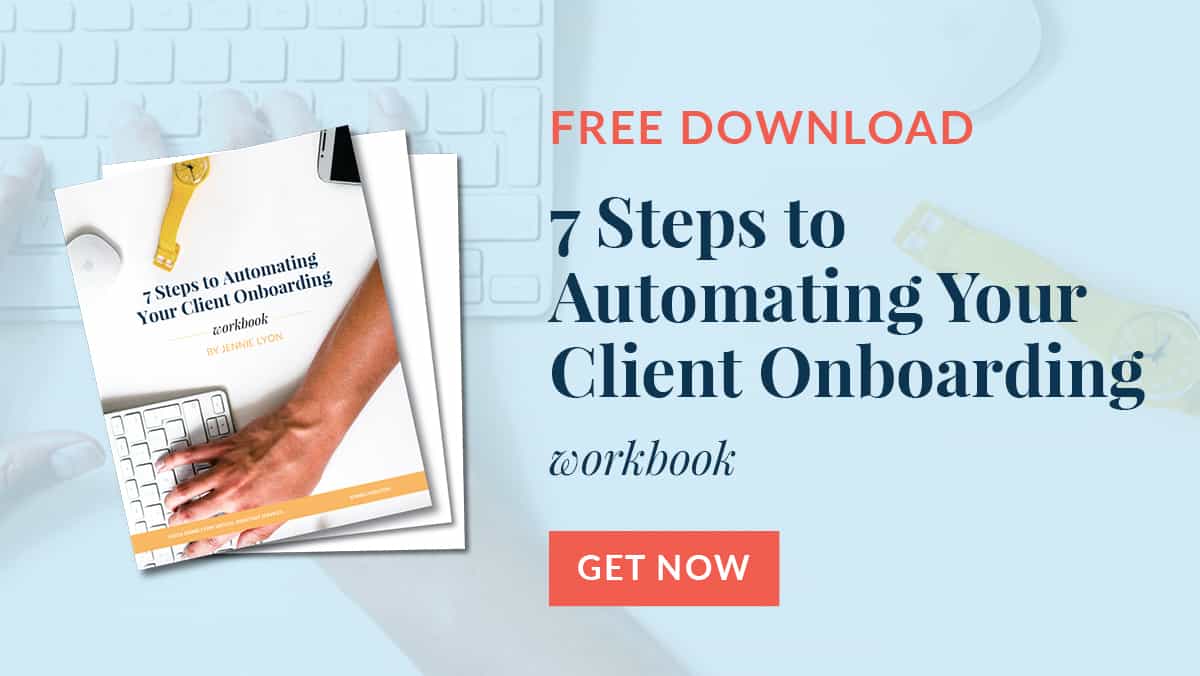 And, if you want to reduce the workload, even more, you can hire a virtual assistant to set up all of these automation tools for you. If you'd like to learn about all of the tools above, and many more, feel free to contact me today.