How to Successfully Delegate Your To-Do List + Free Download
You're busy. I get it.
As a busy entrepreneur, you know that delegating tasks is the best way to grow your business. But then come the daunting questions:
How do I find someone reliable?
What if they don't have the skills or experience to get the job done right?
Where in the world do I even start to hand things over?
I get these questions from entrepreneurs all the time. Like you, I used to wonder how my daily tasks would ever get done in a business of mine – but then one day it hit me: Project management, a team and My "zone of genius"!
I am sure you have heard this phrase over the past few years, and it's been growing in popularity because every single leader has a zone. But they fail to stay within their lane- which is why we're seeing such an outbreak of Entrepreneur Burnout!
You need to be able to focus on the things that matter most in your business, grow your business and light you up. So how do you delegate successfully, let's dive in.
Quick-Start Your Brain-Dump:
Grab a piece of paper (or open your notepad) and write down 5 things in 1 minute that you can delegate to your virtual assistant. Don't overthink it, write them down and sort it out later. We all have that rolling task list that wakes us at 2 am – brain dump them and sort it out later. 😀
*Don't have a VA yet? We can help with that – grab a spot on my calendar and let's chat.
To-Do or Not To-Do:
We all have things we don't want to do, shouldn't be doing or down right hate to do. As the CEO of your business and world – why are you still doing them? That's right…you shouldn't be. So let's identify those taxing tasks so you can hand them over (and pop some champagne.) 🎉 Take a moment to write down your tasks, really evaluate your day to day. Here are some categories that can help you decide what to delegate.
Only I can…
My VA should…
I hate to…
I love and want to…
Avoid at all costs
Everything else…
Systems & Procedures:
You know what they say, work smarter, not harder. This is 100% true. This is where SOPs come in. I've talked about Procedure Manuals before, and it's even more important when it comes to efficiently onboarding and delegating to your Virtual Assistant.
A general rule of thumb is if a task is performed more than once, it needs to be documented. Using tools such as Loom and Google Drive for written documentation will be lifesavers for training your VA and any future team members. And don't forget 🤞🏻 you can have your VA create these for you and maintain them in the future. #winning
Set It & Forget It
Delegate to Elevate. Once you delegate the task to your virtual assistant, leave it. I know, I know. It's easier said than done, but it's imperative for both the success of your virtual assistant and yourself. No one likes to be micromanaged or to be a micromanager.
Empower your team by setting them up for success with proper training and systems – and watch them shine. Creating this safe space for your team allows you to take back your time and focus on what you really need to be AND it gives them room to work without fear of failure. Set It & Forget It. I believe in you – you can do it!
Be Specific
Part of successfully delegating tasks off your list permanently to your virtual assistant is providing clear and complete instructions. It's important to communicate clearly from the get-go.
Make sure you are clear about what is expected of your virtual assistant, including deadlines or milestones if necessary, so there are no surprises for either party in their work obligations. Don't assume people know why they need something done or the exact way you need it done. Play to your assistant strengths, but also set them up for success.
Feedback Loops
Feedback is the most important part of delegating, and it works both ways. If your assistant has done well with a task you assigned, then let them know by and offer genuine praise; if they've fallen short, don't be afraid to give some constructive criticism that will help guide future performance.
Delegating is hard, but the sooner people start to do it the better. There are always going to be bumps in your road and errors that need fixing – just keep on learning from mistakes while making adjustments along the way so neither of you get stuck.
So, What Did We Learn?
1. Quickstart – Brain-dump 5 things in 1 minute that you can delegate right now. Hint: Email Inbox, Social Media, Client Onboarding…
2. To-Do or Not To-Do – Identify what only you can do or should be doing. Delegate everything else.
3. Systems & Procedures – Set your team up for success with the tools they need. If you perform a task more than once, document it.
4. Set It & Forget It – Empower your team to take the task and knock it out of the park. If they need you, they will ask.
5. Be Specific – Provide clear instructions and expectations upfront to limit mistakes and delays.
6. Feedback Loops – Providing praise and feedback are both crucial to the delegation process being successful and a positive experience for you both.
Remember, you're not alone. We all have a million things to do and never enough time to get them done. That's where we come in! You don't need to hire an entire staff of employees when there are talented people out there who want nothing more than the opportunity to make money while working remotely for clients they respect and admire. That's where we come in! If this sounds like something that might interest you then click here right now so we can get started on making your life easier today!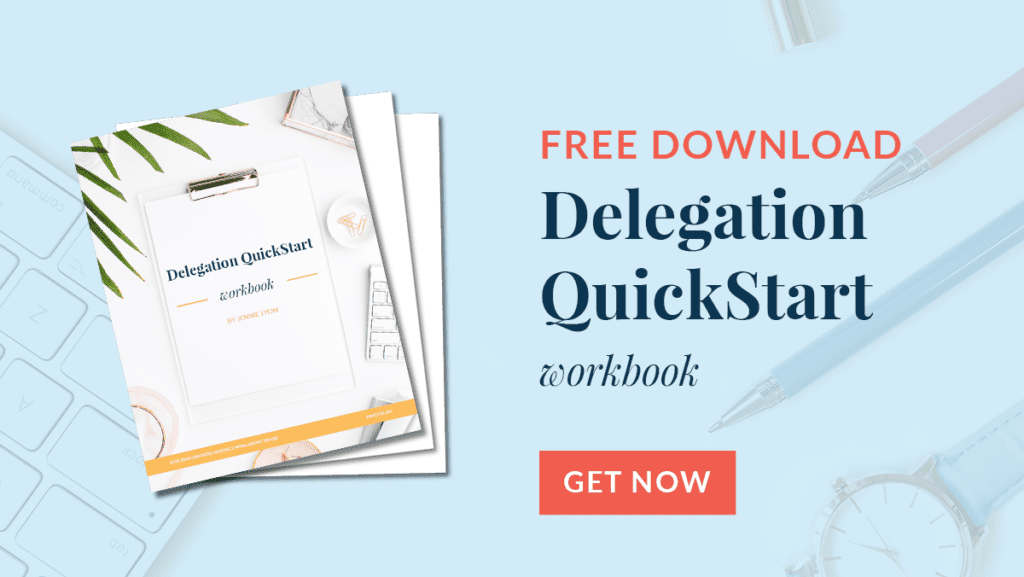 Links For This Episode:
Rate, Review, & Subscribe on Apple Podcasts
If you like what you hear on the podcast, please consider rating and reviewing my show! Woo Hoo! Click here, scroll to the bottom, tap to rate with five stars, and select "Write a Review." I would love to hear what episodes you enjoy the most!
If you haven't done so already, please subscribe to the podcast. I'll be adding new content weekly, if you're not subscribed, there's a good chance you'll miss out. Subscribe now!