What does Partnering with a Virtual Assistant Really Mean? Why the Trend Towards Virtual Is Here to Stay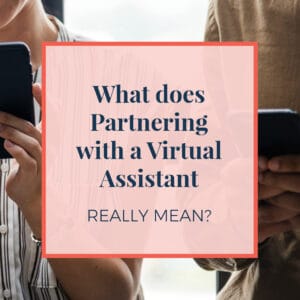 What's your reaction when you hear the world "virtual assistant"? Do you think smart, strategic, cost effective, expertise, efficiency? Of, if you haven't fully internalized the benefits of hiring a virtual assistant yet, is your gut reaction more along the lines of relinquishing control and even spending (unnecessary) money? If your associations are trusting, I get it. The idea of partnering a virtual assistant definitely requires an archetypal leap, particularly for entrepreneurs and small business owners who are used to doing everything themselves. The concept requires a shift in perspective in order to really understand why and how partnering with a virtual assistant can be of such benefit to you.
The definition of outsourcing is the practice of a business to reduce costs by transferring portions of work to an outside supplier rather than completing it themselves internally. And in today's digital age, partnering with a virtual assistant is the ultimate in wise outsourcing practices.
[Tweet "Partnering with a virtual assistant is the ultimate in wise outsourcing practices."]
Partnering with a virtual assistant is absolutely an effective cost-saving strategy, not to mention productivity booster. When it comes to a successful partnership, it's all about teaming with experts who are efficient and credible in their field. They should be able to work autonomously and reliably, are able to meet deadlines, and who require a minimum investment of your time so that you can focus on other important business matters.
Part of understanding this partnership is that it's often more affordable to purchase services from external, virtual experts, than it is to conduct those tasks internally. Virtual professionals, like virtual assistants, are in the outsourcing business; their entire business model is geared towards meeting the needs of busy entrepreneurs, and providing services that are affordable, time saving, and easy to engage.
Virtual assistants design their service offerings and pricing towards maximum efficiency so that you are only paying for the top level to get the job done. It's part of their comparative advantage. It's a virtual assistant's ability to provide services at a lower opportunity cost that makes their business viable; it's got to be worth your while to engage their services over doing the work internally. The work needs to be high quality, easy to manage, on time, and reasonably priced.
Most virtual assistants work from home offices, reducing their overhead, which allows them to price their work more competitively. Their location in no way deters from their level of expertise and productivity. What would you rather be paying for? The actual work you need completed, or someone's fancy office space? A virtual assistant will always be more transparent and cost effective than outsourcing to an agency with a physical brick and mortar office.
It's worth your while to engage virtual help from someone who specializes in an area, like content creation as an example. Someone who works intimately in content creation can manage tasks in two hours that might take you three or four hours, and they'll do a better job because that's their area of specialty. When you hire their services, you're also only paying for the work that they actually do compared to hiring internally when you inevitably pay for someone's time even when they aren't working, like on breaks or when there is a lull in the workflow.
You can partner with a virtual assistant on all sorts of tasks, and they will be completed in a professional, timely, and cost effective manner. From administrative tasks to e-newsletters to social media marketing to blog post and article writing to website maintenance, the list goes on and on. The result is that when you partner with a virtual assistant, you can reshape the entire focus of your business to focus on growth and move away from the day-to-day administrative tasks.
[Tweet "By partnering with a VA tasks are completed in a professional, timely, & cost effective manner."]
The days of hiring internally, increasing office space, and diversifying the skills and duties of staff members are disappearing. By limiting your overhead by not expanding your team, maintaining a smaller office space or even a home office, and specializing in skills that you can really hone and develop, entrepreneurs are finding that the results are much more productive and lucrative.
A virtual assistant is themselves an entrepreneur, and they understand what your business does – and doesn't – need. They can meet your business needs in a smart, strategic, cost effective, and efficient manner so that you can focus your attention elsewhere, on what you really love. The result is that business operations are getting smarter and better, that's why the trend towards virtual outsourcing is here to stay. Grab my free download How to Use a Virtual Assistant Team to Grow Your Business & Get your life Back and learn how I can help.