Website Down? Never with Maintenance Help!
Here is the funny thing about technology. It works until it doesn't. There are few things more frustrating than going on Facebook, Twitter, or YouTube, only to discover that you can't reach the website. You wonder if the problem is with your internet connection or their servers. So, you unplug your router, trying to reset everything, and it inevitably doesn't work. So, you're left annoyed.
And that's all it is: annoying. But what if the thing that was down was an essential part of your business? When your website goes down, not only does it appear to send a terrible signal to your visitors, but you could also lose out on potential new customers. The stakes are even higher if you're a major company or a hospital that has been hit with a virus or malware.
The problem is trying to troubleshoot what is wrong with your website, especially if you aren't technologically mind. That's why you need a knowledgeable team working on your website, ready to help you at a moment's notice when things go down.
[TWEET "Has your website ever experienced downtime? When it happens, you can panic OR you can hire an experienced VA team ready to fix it at a moment's notice!"]
A Jennie Lyon Digital Marketing & Virtual Assistant Services Case Study
Just a few weeks ago, we dealt with a massive issue on a client's website. They contacted us, saying that there was something majorly wrong, but couldn't quite articulate what it was.
We jumped into action to determine the issue. Whenever anyone would go to the site, there would be a redirect to a completely different site full of malware and gross ads. That's the last thing that you want to happen to a potential customer! We needed to figure out what was going on and fast.
Our team guessed that we were dealing with a type of javascript malware, so we needed to get access to WordPress to work out a solution. But that turned into a bigger headache than we initially thought.
Getting Access to WordPress
Getting access to WordPress should be easy. You go to the WordPress login page and enter your credentials. We do it dozens of times a day for many clients' websites.
Once we had the login information to this particular client's website, we thought it would be an easy fix. However, we couldn't even get to the WordPress login page. Every time we tried, it automatically redirected us to the page full of spam and malware. There was simply no way to login through traditional methods.
Thankfully, our client's web hosting company maintained daily backups. We were able to determine when the infection occurred, then rolled back the entire hosting package to the day before it happened. This not only gave us access to her WordPress but also got her site up and running again. Now it was time to make sure it never happened again.
Out-of-Date Plugins
The first thing we noticed was that 9 out of the ten plugins on her website were very out of date. Even scarier, the majority of the updates to those plugins were security-based. A savvy hacker or other malicious actors could easily take advantage of one of those security holes to take over her site. We quickly patched all of the plugins, but that was just the beginning of the fix.
More to Update
We also discovered that their server's PHP version was running two major revisions behind. The current version of PHP was 7.x, and they were running 5.6, a significant difference. (If you aren't super technical and don't understand what we are talking about here, don't worry, we've got it covered for you!)
Lagging on this update was just as risky, if not more so, as not updating plugins with security patches. So, we set to work, making sure to update everything on the website to the current version.
[TWEET "Website issues are never fine. If you've ever experienced your website going down, you know how important it is that you have someone ready to fix the problem at the drop of a hat. Just another reason why you need a VA!"]
The Finishing Touches
Finally, we set about making sure that this would never happen again.
We set our client up on a monthly maintenance package. We make sure the website is backedup, all plugins and WordPress updates (including security updates) are done in a timely manner and we keep the website up and running!
Plus, we are available in case we need to rapidly diagnose a problem and put a fix into place. See why you want a professional taking care of your website!
This is why it can be a great idea to do a website audit. A website audit is when you examine every aspect of your site, both on the surface level and the backend, confirming that everything is running optimally. You should also be checking to make sure your weekly blog is up-to-date, that all e-commerce platforms are working, and that you have top-notch SEO. If you've never done a website audit before and want some advice, you could check out my completely free Website Audit Checklist!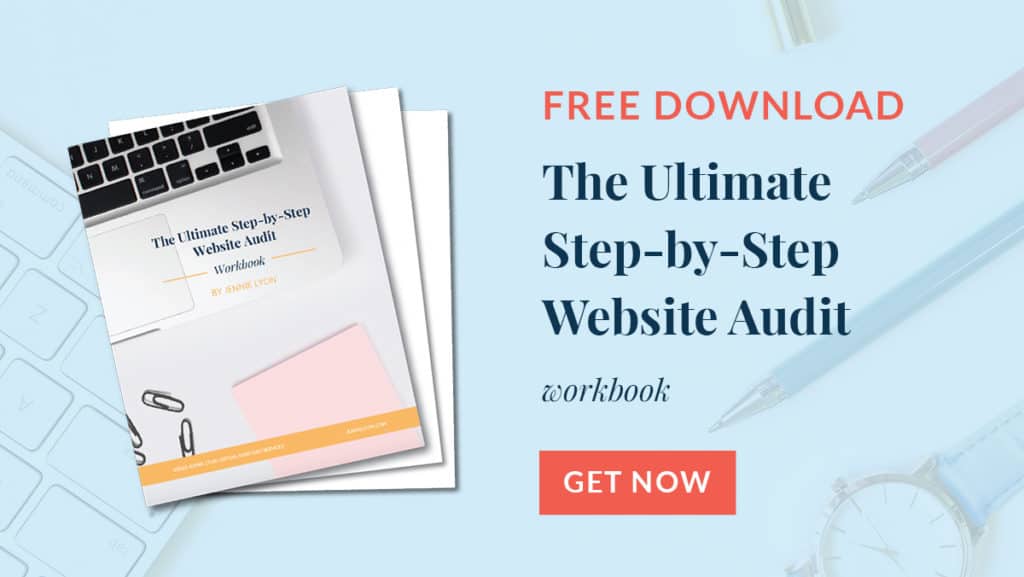 And if you simply don't have time to do the audit, I can help there too. I can do a website audit for you, then take those suggestions and put them into action. I've redesigned countless websites for my clients, including graphic design and writing web copy, and helped them leverage that web presence through social media marketing. If you'd like to talk about how I can get your website up and running, and KEEP it that way, contact me today!