6 Ways to Drive Organic Free Traffic to Your Website
When it comes to website traffic, organic is my favorite, and not just because I run an earth-friendly eco-blog! 
In digital marketing, organic traffic refers to folks who visit your website from unpaid sources, like Google searches or regular social media posts. Unlike paid traffic that comes from Facebook ads and other kinds of advertising, organic traffic is, well, free! That is, free in terms of money. You do need to invest time, effort, and energy into generating organic traffic, but the payoff is more than worth it.
There are dozens of ways to boost organic traffic to your site, but many small business owners may lack the time to put them into action. That's where a virtual assistant comes in! We can put together an organic traffic strategy that will boost your search engine ranking and drive more of your ideal customers to your website. Here are some of my favorite techniques!
Boosting where your website shows up in search engine results is one of the best ways to increase organic traffic. If searchers can find your website without needing to dig through dozens of results, they will be much more likely to click. And if you can get to the very top of some search results, well, you're literally sitting pretty!
Getting to the top, however, isn't easy. You're going to see countless "experts" online telling you that they have sure-fire instant SEO strategies to boost your search results, but I'm going to tell you the truth: it's hard.
Google and other search engines are juggling dozens of factors when it comes to getting the best search results to their customers. Their algorithms are constantly being updated to provide exactly what folks are searching for. If you've been neglecting SEO until this point, it may take a while to undo the damage. Implementing effective SEO strategies is a long-term method of boosting organic traffic, but it's arguably the most important.
First, you may want to do a website audit to see where you can improve on your current SEO. From this audit, I can point out places where you can improve your webcopy, add content, plugin relevant keywords and keyphrases, properly label images and pages, include quality links and references throughout your site, and much more.
Over time, Google will notice the improvements on your site and start to raise your search engine ranking. Like I said, it isn't going to be an overnight solution, but it might be the most crucial step you can take to get more organic traffic to your site.
Write Insatiable Content
Many small business owners don't ask themselves the most critical question about their website: Why should people want to go there?
They think of a website as an expensive online billboard ad. While, yes, there is a component of that, the reality is that most visitors to your website aren't going because they want to look at a brochure. They want valuable information and content. If your website isn't providing both, then they aren't going to stick around.
The best way to get people to your website (and keep them coming back) is to create insatiable content! There should always be something new on the site every time someone visits. It could be updates to a weekly blog, YouTube videos, or even a webinar.
What Do People Want To Read?
What goes into creating a great blog topic for your site that will drive engagement and traffic? Well, most people are doing searches to find answers to their questions. Let's say they are looking for information about how to drive organic traffic to their site! In that case, Google might provide them with a link to THIS blog. I've used effective SEO techniques AND provided answers to their question. So when creating blog topics, try to think about the questions your customers might have when doing a search.
Likewise, you can also use this "Q&A" strategy when creating YouTube and audio content. Ask yourself what kinds of things your customers need, then record YouTube tutorials to help them achieve them. YouTube is a fantastic content method that can drive traffic directly from the video straight to your website.
Another strategy to create "new" content is to update expired/old content on your site. I occasionally do this with my blog. As you know, I have YEARS' worth of blogs on my website, but because digital marketing moves so fast, some of the ones from a few years ago are out of date. So, even now and then, I spend some time updating these blogs so my customers will only find useful information when they visit my site. You should be doing the same for your own ancient content!
"Speak" To your Customers
Another method of building your brand and driving organic traffic is to start doing some public speaking. Ideally at events and conferences with folks who would be interested in your specific expertise. However, as "public" speaking currently isn't an option due to COVID-19, there are other ways you can get the same effect using virtual outreach methods.
For example, by creating free webinars and free online courses, you can reach out to many (actually, MORE) of those same people who attend conferences. Many people are using the pandemic to learn and grow. Which means it is a golden age for online education methods like online courses and webinars. These online speaking events are excellent at driving potential customers to your website and landing pages! 
By working with a virtual assistant to create a webinar (something that requires a massive amount of research, copywriting, graphic design, and tech support), you can better position yourself as an expert online. The same goes for online courses (either paid or free). Of course, the trick is that you need to put in the time and effort to create these online resources for your customers. The good news is that, once completed, you can use them as evergreen content! In fact, a free webinar makes for a spectacular freebie to offer on your homepage. So not only will they drive traffic, but they can also act as part of your sales funnel!
Hey, you might also want to consider creating a podcast. After all, that's what I did!
Get Social
In my opinion, social media is the key way to drive organic traffic straight to your site. The best part is that it's mostly free, depending on the social media platforms that you are using. In my opinion, you should be on the ones that your ideal audience is. Here are the two that I'd like to draw your attention to…
First, Instagram. I'm a massive fan of this social media platform and have been working hard over the last year to build my following (with great success)! Instagram reminds me of Facebook back in their earlier days. Before the controversial "kitchen sink" approach that encompasses games, video, audio, photos, and anything else you can post online. Instead, it's limited to photos, graphics, and short videos. That is the kind of content that people want to see!
And so, if you want to drive traffic to your site, you should be posting stuff that your followers want to see too! It can include your blogs, webinars, online courses, and all of the other content you offer. While you can't post clickable links in Instagram descriptions, you can always put a "catch-all" link in your bio. It's a fantastic way to get people to head to your website to see all of the incredible things you are talking about in your posts!
Leverage LinkedIn's Publishing Platform
LinkedIn is far from just an online resume. Some would argue that it's one of your most effective tools for connecting with your core audience.
Most everyone connected with you on LinkedIn is involved in your industry, in one way or another. Recent updates to the social media platform moved it much more in line with other social media networks like Facebook (some might say that LinkedIn copied Facebook's homework when it came to their design). As such, it's a fabulous place to post all of your already-written content.
However, to get the most out of that content, you won't want to post it to LinkedIn word-for-word as it exists on your blog/website. At a minimum, you should rewrite your title and opening paragraph for SEO reasons.
You also might want to consider posting your content on a website like Medium. This online publishing platform features long-form content written by professionals and amateurs alike. Think of it as a long-form version of Twitter!
So, What Did We Learn?
Let's review what we learned:
Organic traffic refers to traffic that comes to your website from unpaid sources.
Effective SEO strategies are NOT overnight fixes.
That said, they ARE 100% necessary if you want organic traffic.
Always ask yourself, why would people want to go to your website?
The answer is usually CONTENT!
Consider creating free webinars and online courses to drive people to your website.
Social media is one of the most potent methods of fueling organic traffic.
Post stuff that your followers want to see on social media.
Don't underestimate LinkedIn's potential as a publishing platform.
Never post precisely the same blog/copy in two places. Do some edits first (especially the title).
If you're going to be driving organic traffic to your website, it can't look like it hasn't seen a redesign since 2012. Website design moves remarkably fast, and nothing can drive away customers like a dated design and boring webcopy. To figure out what you may need to fix on your site, you can use my free download: The Ultimate Step-by-Step Website Audit Workbook. Inside, I will break down all of the sections of your website you need to look at, and give you some advice about how to update them!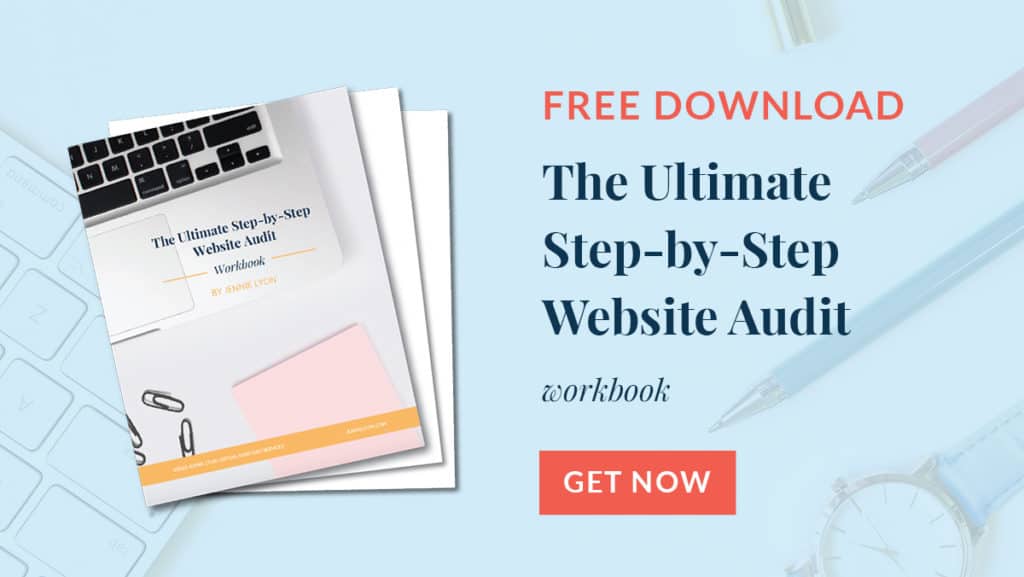 Of course, if you simply want a polished and professional website without investing a ton of time, I can provide that service myself! You can contact me here for a free consultation, and we can get started making your website into a place that will convert visitors into customers from the second they see your homepage!
Links For This Episode:
Rate, Review, & Subscribe on Apple Podcasts
If you like what you hear on the podcast, please consider rating and reviewing my show! Woo Hoo! Click here, scroll to the bottom, tap to rate with five stars, and select "Write a Review." I would love to hear what episodes you enjoy the most!

If you haven't done so already, please subscribe to the podcast. I'll be adding new content weekly, if you're not subscribed, there's a good chance you'll miss out. Subscribe now!