How to Create a Core Lead Magnet that Converts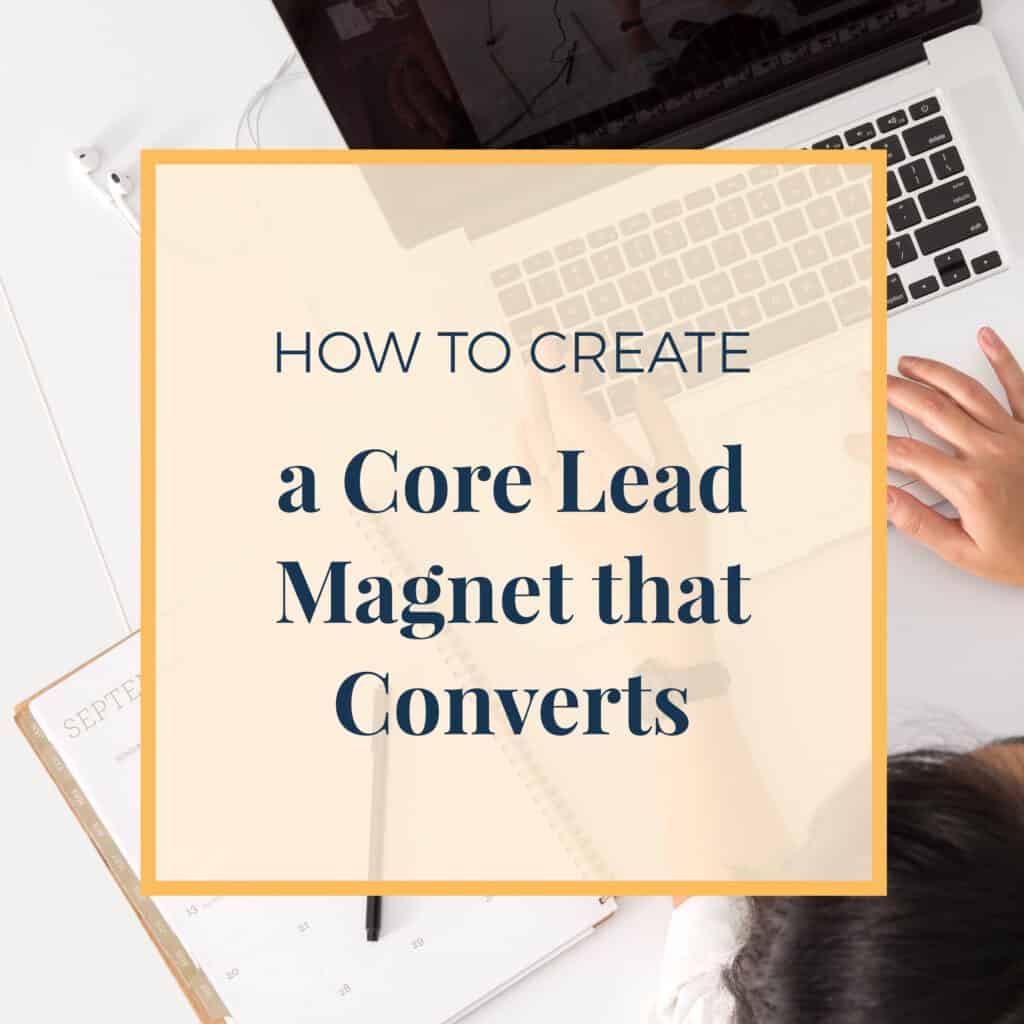 Does your website have a core lead magnet attached?
Imagine this: You're looking for a digital marketer (a pretty big stretch, huh?) You go onto a website, but the only things that are offered on it are paid products. There is no real way to see what kind of content they create for free. Instead, you have to go in blind and hope that they can meet your content creation/social media/email marketing/ funnel creation/ technical needs etc. And for some, that can be too high a price.
Now, when you come to my website, I offer free content right off the bat. These are my core lead magnets/opt-ins. Their purpose is to provide potential customers with free, useful content that also shows what I can offer as a digital marketer / virtual assistant. The opt-ins serve several other purposes, including helping to build to my email list, but on the whole, it's about providing people with valuable content and giving them a taste of my services.
If you don't have any lead magnets currently on your site, then what are you waiting for? They can be one of the most effective ways to draw people into your business' offerings. Of course, you can't just offer them any old thing as a lead magnet. It needs to be super high-quality content that will genuinely provide them something of value. If you're curious how to create a core lead magnet that converts, this is how:
Align Your Lead Magnet With Your Core Offer
There are a surprising number of lead magnets out there that have absolutely nothing to do with the primary aim of a website/business. It might be an enticing offer, but it won't be very effective at converting people who visit your website.
When you create a core lead magnet, it should be with the type of person (client avatar) who would buy your core offer in mind. Your lead magnet should attract your ideal customers and offer a natural progression into your core offer. Think of it a lead magnet as one of those free sample carts at Costco. Everyone loves them because they get something tasty for free. And if they like what they taste, they can have more of it for a very reasonable fee! That's what a lead magnet is: a free sample cart for your website!
[TWEET " Do you have a core lead magnet on your website? They can be a fantastic way to bring in new customers! "]
Pick a Winning Topic
Now, you can have a ton of potential topics for your lead magnet aligned with your core offer. Let's take a look at mine, just as an example. I offer dozens of expert-level services, and so I have several free lead magnets that are tailor-made for different kinds of clients. If you are looking to build a new website, I have a workbook to audit your current one. If you've been aiming to grow your social media, these 15 free graphics can get you started. And if you've always wanted to give a webinar, then this workbook will make a great starting place. All of these lead magnets are free!
If you want to create a core lead magnet that converts, you need to figure out precisely what your customers want when they are on your website. And believe it or not, you have a "cheat sheet" already built-in (that is, IF you have a weekly blog). If you've been posting a blog every week for a while, then you have access to a ton of valuable data about the most popular topics your visitors look for. If you have two blogs, one about dogs and one about cats, and the dog one has 10x more views, then you should probably create a lead magnet focusing on dogs, right?
Of course, this kind of data analysis can require an experienced eye to spot trends and make sure that you're focusing on the right things with your lead magnet. I can help with that, and as a bonus, you'll also get some valuable information about the types of blogs that work best so you can focus on those topics in the future.
[TWEET " What makes for a great core lead magnet? If you're unsure, you can find the answer in this week's blog! "]
Give Your Users a Quick Win
If your lead magnet is a densely packed 5,000-word document, chances are that it isn't doing the job you want.
A lead magnet shouldn't be a massive, in-depth document that offers your users a deep dive into a topic. Instead, it should offer them a quick win! People often download lead magnets for two reasons: 1) they want to see what kind of content you have, and 2) they have an immediate need that your lead magnet can instantly fill.
This is why checklists, workbooks, swipe files, templates, and video training do so well as opt-in and lead magnets. They give the user a quick hit of content, no more, no less. It enables them to take action and see the benefits of your content easily. Once they absorb everything offered in the lead magnet, they will likely want more, which will lead them to your actual product offerings.
Lead Magnets for the Win!
I know that I've talked a lot about my own lead magnets in this blog, but I'm just so darn proud of them! Not only do they help potential customers solve their problems, but they also highlight exactly how I can make their lives easier. For example, take this one about how using a virtual team can get you your life back. Yes, it advertises my core services, but it also provides the reader with solutions to their problems. Not only that, it can act as an overview of what a virtual assistant is and how they can help. And, of course, it's completely free to download!
If your website currently lacks a lead magnet, I can help you create one! We can draw from your already existing content, such as your weekly blog, or we can work together to create something brand-new that will pull in potential clients! If you're ready to get started, I invite you to contact me today for a free consultation. Together, we can make sure that your lead magnets will "lead" your visitors all the way to your core offerings!