Hire a Virtual Assistant To Boost Your Social Media Engagement
How much time every week do you spend on your social media?
I'm not just talking about writing it. Creating compelling content is only one of the keys to social media marketing success. So much more needs to go into it if you genuinely want to build your audience and convert your followers into paying customers!
Here's an admission for you: I've been spending WAY too much time recently growing my Instagram! But I genuinely believe that it's worth every second. Social media channels like Instagram and Facebook offer small businesses an invaluable (and remarkably cheap) advertising platform to reach potential customers from everywhere in your target market (and maybe beyond).
A System That Works
The upshot of all my IG work is that I've found a system that really works. The only problem is that it takes up a lot of time every week. And unfortunately, that's unavoidable. There are so many companies out there on Instagram and other social media channels that you NEED to spend the time to set yourself apart.
Thankfully, there is a great shortcut that will not only save you hours of your week but also give you an expert insight into how social media works.
Hire a virtual assistant! Specifically, a virtual assistant who is an expert in digital marketing. How can that help? Well…
Use a VA to Write Your Posts
Do you know that it only takes 20 minutes a day to grow your social media following? And a lot of that goes into writing your content.
Without content, your social media pages are going to look pretty empty. Even if you are retweeting/reposting content from other profiles (and you definitely should be), you need to be generating your own content. That's what will differentiate you from your competitors.
With that in mind, spending the time to write posts every week is well worth the effort. However, if you don't have a ton of social media experience, it can take a while to write all of your daily posts. You'd think that coming up with three 200-character posts a day would be easy, but it's not! That's especially true when you're a busy small business owner.
By hiring a virtual assistant to write all of your social media posts for you, you'll not only free up precious minutes of your day but also have the building blocks you need to boost your social media engagement. What's more, the more you work with a virtual assistant, the better they will capture your voice on social media. It won't sound like you have someone else writing your social media. Instead, it will read like it's coming right out of the horse's mouth (er, so to speak).
Incidentally, this is true no matter what kind of content creation you hire a VA to do. If they are writing you a weekly blog, the more they do it, the more they will capture your voice. That's why building a strong, long-term partnership with a virtual assistant can pay off.
Your social media needs to be more than just words. It's a visual medium, after all. With that in mind, having a graphical component to your posts will attract eyes and set you apart from text-only content.
That said, it needs to look good. After all, terribly designed, amateur graphics might attract eyes, but not in the way you want. After all, everyone checks out a car crash, but car companies don't use them to advertise.
By hiring a virtual assistant experienced in graphic design to create content for your social media, you'll have the visual component you need to get people to engage with your content. It's even better if you have the same VA working on writing your social media. That way, the graphics and text will pair seamlessly!
Scheduling
As a small business owner, you don't need me to tell you about the importance of scheduling. If you aren't making every minute of your day count, then you're simply wasting time.
The same is true in social media. There are times of high engagement on social media, and if you aren't posting your content at those moments, then you're not getting the full bang for your buck. That's why effectively scheduling your social media is imperative.
Personally, I like scheduling at the same time as I write. That way, I can tailor the content to specific times of the day, making the posts much more organic. To be completely honest, you can create a month's worth of social media in a single day. And if you don't have the time, you can hire a virtual assistant to do it for you!
Engagement!
Ok, here is where many small business owners (and even less experienced virtual assistants) mess up their social media.
Posting content is fantastic! It's great! But unless you are getting engagement with it, it's next to useless in terms of marketing. And that's where the effort needs to come in.
Let's take my Instagram, for example. I've been getting close to adding 300 new LEGIT followers every week. Even better, my legit content interactions are up over 1000%. Let's take a "before & after" look at my posts. Here is what I was posting only a few weeks ago:
Not bad, but not great either.
Now, let's take a look at my engagement since I put my focus on Instagram:
That's a ton of comments and 400+ likes!
The difference? Well, it's several things, but primarily it's engagement. I've been working to connect with other Instagram users through commenting on their content. If you notice, I also end this Instagram post with a question. That can go miles in getting people to comment.
Don't Just Focus on Your Business
Here is something that many small business owners and VAs miss regarding social media: People aren't using Instagram or Facebook to see ads. In fact, they usually HATE ads. The last thing that they want on their newsfeed is someone promoting their products and services. What they do want are entertainment and connection.
With that in mind, it's essential your small business' social media isn't only focused on the business side of things. You want to entertain your audience as well. You want to provide them with content that makes them go, "Awwwwww…'
That's one of the reasons why I occasionally feature my dogs, Noodles and Olive on my social media. In my unbiased opinion, they are the two greatest dogs on the planet. And judging by engagement, many of my followers agree!
If you don't have any pets, that's 100% ok. Maybe feature some content featuring your family or friends (ask permission first, of course). If you are having a lovely dinner out on your deck, share it with your followers. By inviting your customers into your life, you can build stronger personal connections with them. They won't just be supporting your business; they will be supporting you!
Don't Forget About Stories
Instagram Stories have been an incredible feature that many small businesses (and many virtual assistants) haven't yet worked into their social media marketing strategy. And that's an absolute tragedy because, boy, if you want interaction, the Stories are the way to go!
Stories are essentially social media posts that vanish after only 24 hours. You might think that this is a downside, but it's quite the opposite. Because they disappear so soon, people check them more regularly because they don't want to miss any content. In other words, Stories draw people in.
In fact, Instagram Stories have become so popular that many other social media services have started to copy them. Facebook (which owns Instagram, so it's TECHNICALLY not copying) also features Stories. Twitter has been experimenting with similar functionality. This means that you can't afford to skip out on stories if you want to massively boost your social media engagement.
Make Stories Active And Engaging
The only problem with Stories is that you can't just copy your social media content and stick them in a short video format. Stories are a little different. These need to be active and engaging, connecting directly with your audience. You can do this in any number of ways. You could animate short videos that direct viewers to your website and other content. Or (and this is my favorite) you could directly address your audience in a short video.
This strategy has so many benefits! They not only get to hear your voice but also see your face! In a time when we are all feeling increasingly isolated, being able to see the face of the person you will be working with is worth its weight in gold. I can't recommend it highly enough.
And while I obviously can't record those short videos for you (it's your beaming face they want to see, not mine), I can write up some short scripts. That can be especially helpful if you are inexperienced with being on video. But if you feel comfortable addressing the camera off the cuff, I can create an editorial calendar for you so you know exactly which videos you need to record on which day and why.
Oh, and FYI, what I said about pets in the last section goes double for Stories. If you ever see one of your dogs or cats doing something silly, grab your phone, open Instagram, and start filming a Story. Believe me; you're going to get absolutely GOLD, social media speaking!
So, What Did We Learn?
Let's review what we learned:
Proper social media engagement takes hours every week.
Writing posts can take up a ton of time. Hiring a VA can cut down on that dramatically.
Try writing all of your social media in a single day.
If you want to increase engagement (especially on Instagram), include professionally designed graphics.
All of your posts should be scheduled well ahead for times of peak engagement.
The real secret to social media is engagement. If you aren't engaging your followers, you might as well be shouting into the void.
Feature posts from your personal life to build an emotional connection with your followers.
Pets are solid social media gold!
Instagram Stories (and their knockoffs) give you a great social media ROI.
Try directly addressing your audience in Instagram Stories. That's the best kind of engagement!
If you're feeling a little overwhelmed by the idea of handing all of your social media, I think I might be able to help. I've built a ton of free resources to help small business owners rebuild their social media channels and increase engagement across the board. For example, if you're looking for an excuse to post, why not take a look at my free Holiday #Hashtag Yearly Calendar? Or remember when I said that you need graphics for your posts to pop? Download these 15 free social media graphics templates. And if you're desperately feeling stuck about writing your own social media posts, I can help you figure it out in my free Making the Most of Social Media: Workbook!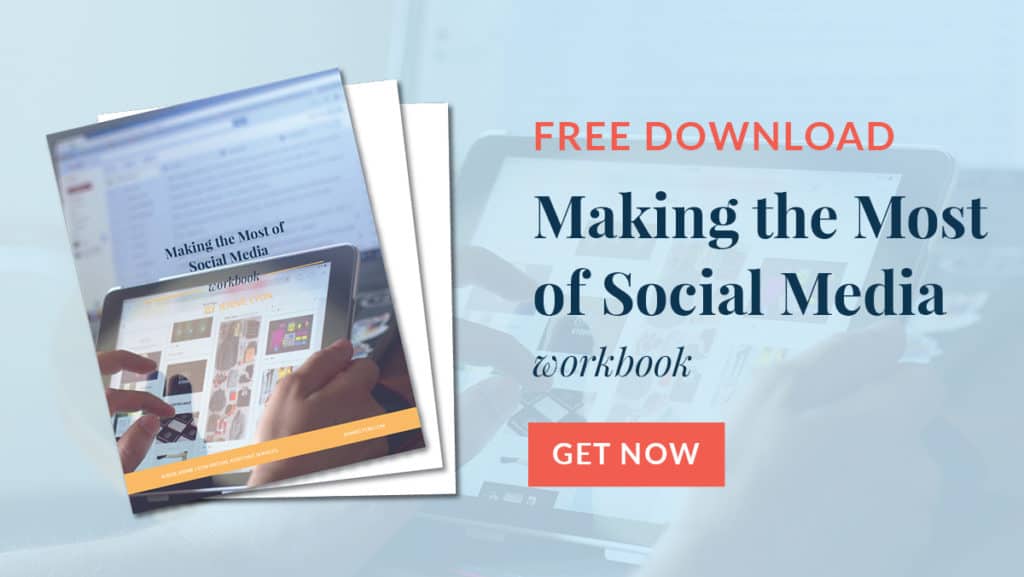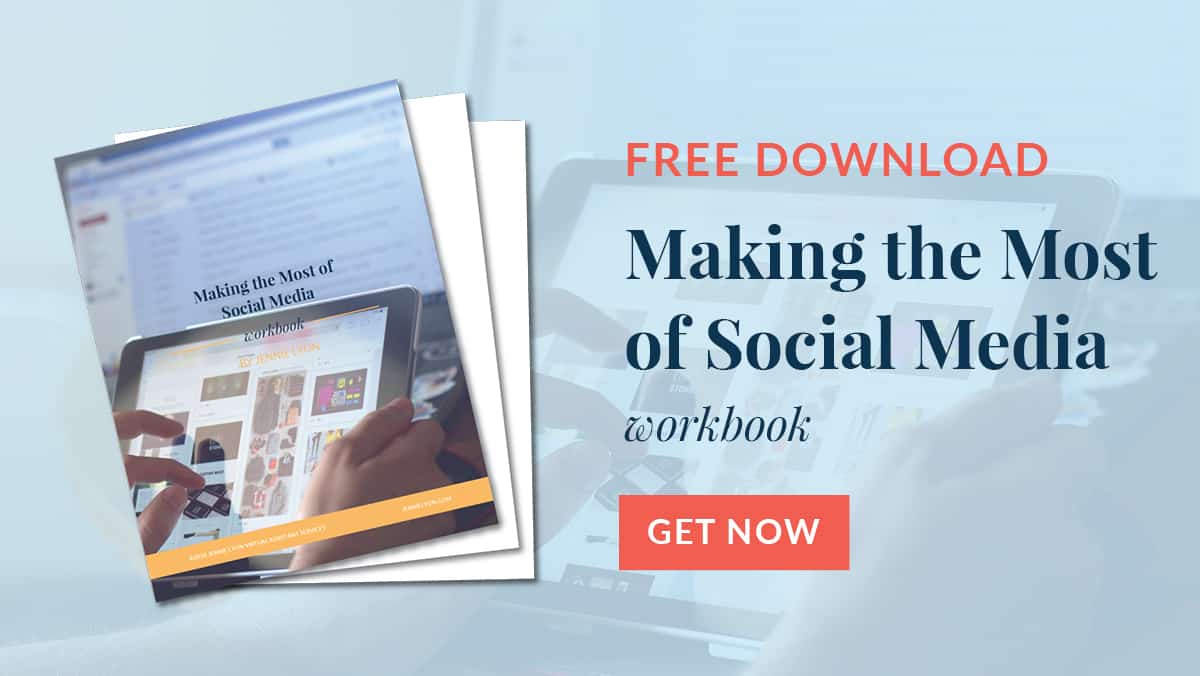 Of course, the biggest way that I can help you increase your social media engagement is by taking it over! With my social media experts team, we can write and design all of your posts and then engage with your followers to start to build up your various profiles! If you'd like to learn more, I invite you to book a FREE consultation with me today. It's time to use an experienced virtual assistant to boost your social media and become a real force on Facebook, Instagram, and more!
Links For This Episode:
Rate, Review, & Subscribe on Apple Podcasts
If you like what you hear on the podcast, please consider rating and reviewing my show! Woo Hoo! Click here, scroll to the bottom, tap to rate with five stars, and select "Write a Review." I would love to hear what episodes you enjoy the most!If you haven't done so already, please subscribe to the podcast. I'll be adding new content weekly, if you're not subscribed, there's a good chance you'll miss out. Subscribe now!