5 Ways to Show Client Appreciation with a Virtual Assistant
In some ways, this year feels like it has dragged on and on. And in other ways it feels like it's zipping by! I realized this week is Thanksgiving! Then, I started to think how I haven't started my holiday shopping yet! As a small business owner, there is nothing like shopping for client gifts to make the holiday stresses pile up!
With Black Friday and Cyber Monday in front of us, small business owners are starting to think about finding the right gifts for their family and friends and CLIENTS too. You're probably one of them and if you're like me wondering when you're going to find the time!
Gifts are more than just objects; they are a way of showing someone how much we care about them. And who does a small business care about more than their clients?
But while gifting your clients a holiday gift can be a grand gesture, there are other seasonal moves you can make as well to reinforce your current client relationships and revive old ones. These don't need to be big things, as we all know that it's the thought that counts. Just little, thoughtful things can say plenty to your clients about what they mean to you!
Hire a Virtual Assistant
You don't have to do it alone! A virtual assistant is a great partner to have during the holiday season. Not only can we free up a ton of time in your schedule (so you can spend that fun time with your family). We also can help you wrap up any end of year projects or start to create new ones for the new year.
Haha! That made me think of a story. When I first started working as a virtual assistant, I had a client who asked if I would do all of her holiday shopping for her. I thought to myself, this is a dream job! I perused the Pottery Barn website adding things to the cart that I thought would be perfect for everyone on her list. When I was done, I sent her a link to the cart for approval. She replied, this is perfect, I placed the order! She then followed up to say that she was having ALL of the gifts shipped to my house so I could wrap, write a personalize note, pack and ship them. That's when I started to panic! I had all of my own holiday wrapping and packing to do!
When all of the packages arrived, my office looked like a scene from the movie, ELF! It took me a whole weekend to get the packages out of the door! Not exactly the funnest holiday weekend! I made sure next year to add gift wrapping and individual shipping to each of her orders the following year! Haha!
Now that we've had a good laugh, let's jump into a few ways that I've shown client appreciation during the holiday season!
Write/Design Holiday Cards
Sending out holiday cards is a fantastic way to show all of your clients that they are in your thoughts this holiday season. It's very cost-effective, as you only need to pay for a few packages of holiday cards with envelopes and some stamps. Sending out lovely holiday cards is a great way to reconnect with old clients, as you might pop back into their mind when they are looking for services in the new year.
The problem with holiday cards is that they can be super time-consuming. You need to find the perfect holiday gift card that is going to work for every client on your list, write a personal note, sign them, put them in their envelopes, slap on a stamp, and then get them to the post office. But there are alternatives. As a virtual assistant, I have taken care of many clients' holiday cards. I've done everything from the above to more elaborate ideas such as social media and email campaigns created just for your clients. I've also designed branded, personalized holiday cards and gifts (such as branded tote bags, tee shirts, and mugs) to be printed and mailed out. The design could be whatever you want; you only need to ask! Here are some holiday gifts I created this year, how fun are they! 
This is one of my favorite holiday tasks to do this time of year, I simply love being a part of my clients holiday greeting, not to mention designing the perfect gifts is a lot of fun!
Have Us Do the Shopping!
Buying your clients gifts can be tricky because you could break the bank if you aren't careful.
Small businesses usually don't have the resources to shower their customers with gifts. That said, adding a small present to your cards can be a cost-effective and worthwhile way to provide your customers with some extra value for the holidays.
There is one idea that we like to think of as the "gift that keeps on giving," and that's a gift certificate for a virtual assistant. If you have any overworked friends or colleagues who own small businesses, giving them a gift certificate for Jennie Lyon Digital Marketing and Virtual Assistant Services could be an incredible idea. Or surprise them with customized stationary, social media graphics, or business cards! We offer those too! By doing so, you will be giving them the gift of time. Specifically, time OFF during or after the holidays.
As a small business owner, I can't think of any gift that would be as thoughtful as a little extra time to spend with my family! How about you?
Putting Together Gift Boxes
If you would like to go the extra mile for your customers during the holidays, you might consider putting together a gift box for them. This box is a collection of small items to show your appreciation for their business.
The only problem with going this route is that it takes even more time than sending a single present/card to each client. You need to get each individual item, package them together, wrap, and mail them. If you have a ton of clients, that's a tremendous amount of time.
One new service that I'm offering this year is a Gift Box Assembly service. All you need to do is contact us, and we will pick out the items, do the shopping, wrap the boxes, and send them out to your clients for you. That will save you countless hours while also showing your clients just how much they mean to you! And isn't that what the holidays are all about?
Holiday Parties
One of the most traditional ways a business can show appreciation for their clients is by holding a holiday party. But let's face it; inviting people over to your place of business just isn't going to fly this year. But that doesn't mean you can't still throw a virtual event!
After all, holiday parties still allow you to build rapport with your clients, allowing them to get more comfortable with you on a personal level. And that's something that many of us have gotten good at throughout the last year.
If you plan to hold a virtual holiday party on Zoom or Skype, you must put out your virtual invitations soon. Holiday schedules also fill up fast, so mention the event ASAP in your monthly newsletter. Simply tell your clients that you're going to be having a virtual holiday open house, and they are welcome to "drop-in" for some company, and maybe even a chance at a door prize!
To get all of this setup, I can help you create the invites and send them out to all of your contacts. If you're worried that not many people may show up (as the idea of a virtual holiday party is a pretty new thing), talk to your clients. Whether they be in-person or virtual, a holiday party is a fantastic idea around this stressful time of the year! And it's an amazing time for them to network with new people too! 
Holiday Sales
Holiday sales are incredibly popular ways to get customers to flock to your business. Wallets tend to be a little more open pre-holidays than they are otherwise, and offering some discount on your products or services can make for a very compelling sales opportunity.
If you are going to create a holiday sale, one of the best ways to get the word out is through an email. A well-designed email campaign can draw a crowd, especially at this time of year. My advice would be to figure out a way to pitch your product offerings with a holiday theme. And if you don't have the time to create one, a virtual assistant can craft an utterly enticing holiday email campaign for your business!
When In Doubt, Offer a Freebie!
When combined with a lovely, handwritten card, something as simple as a freebie goes from impersonal to emotionally impactful. 
This free "gift" could be an add-on to the services your client regularly purchases from you. If an offer like this complements what you already offer them, it can be very touching and show that you've thought about what is useful to them. Plus, it's an excellent option for smaller or newer businesses, when you might have extra time to do some pro-bono work but not a lot of extra money to spend on fancy gifts.
You might also consider offering your clients one of your lower-priced items for free during your holiday sale. It could be an older piece of content, like an online course or an amazing workbook! However, it's important to replace this product with an updated piece of content in the new year to keep your product offerings current. Nothing like a product launch in January to start the year off with a bang!
Don't Forget About your Employees!
Few small businesses are solo ventures, and you probably have a few team members to thank.  
Because you work closer with your team members than anyone else, you can personalize your show of gratitude even more. Even if it is just virtual, you can still hand out small tokens of your appreciation after toasting your business' success!
A virtual assistant can help to facilitate this by doing an employee-focused version of the ideas above. Maybe a dedicated holiday card thanking them personally for everything they've done? Maybe a personalized gift if your holiday budget allows for it!
So, What Did We Learn?
Let's review what we learned:
The holidays are a time of giving! 😜
Personalized holiday cards (especially custom designed ones) can be a wonderful way of showing client appreciation.
Hiring a virtual assistant to do your shopping is a great way to save time.
A personalized gift box can be an even better way to show your clients how much they mean to you.
Instead of a traditional client holiday party this year, why not try a virtual Zoom party? Raffle prizes and all!
Figure out which products you want to put on sale for the holidays.
Giving a freebie, such as an older product, can be a great "gift" to your customers.
You can use all of these ideas for employee appreciation as well.
Automation is Key
One of the only things more time-consuming than working with your current clients is onboarding new ones. Not unlike Christmas, landing a new client should be a time of celebration, but often ends up being nothing but stress. That's why I highly suggest automating your entire client onboarding process for the new year. If you want to learn how, check out my free 8 Steps to Automating Your Client Onboarding: Workbook & Checklist. In it, I break everything down for you on how to set it up so you will never need to spend time thinking about your client onboarding again! I've been setting up a lot of automated onboarding systems for clients this month and they are in love!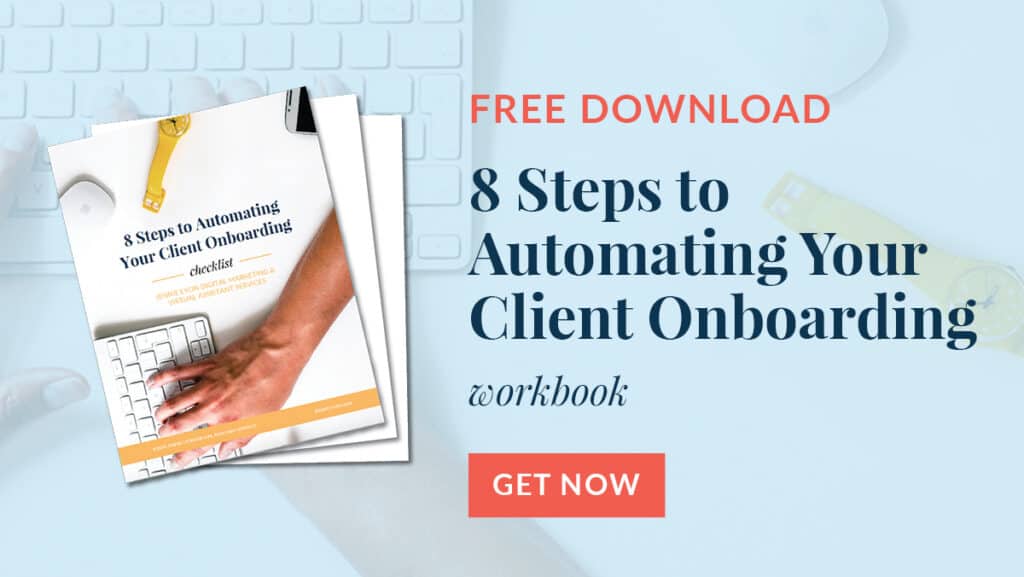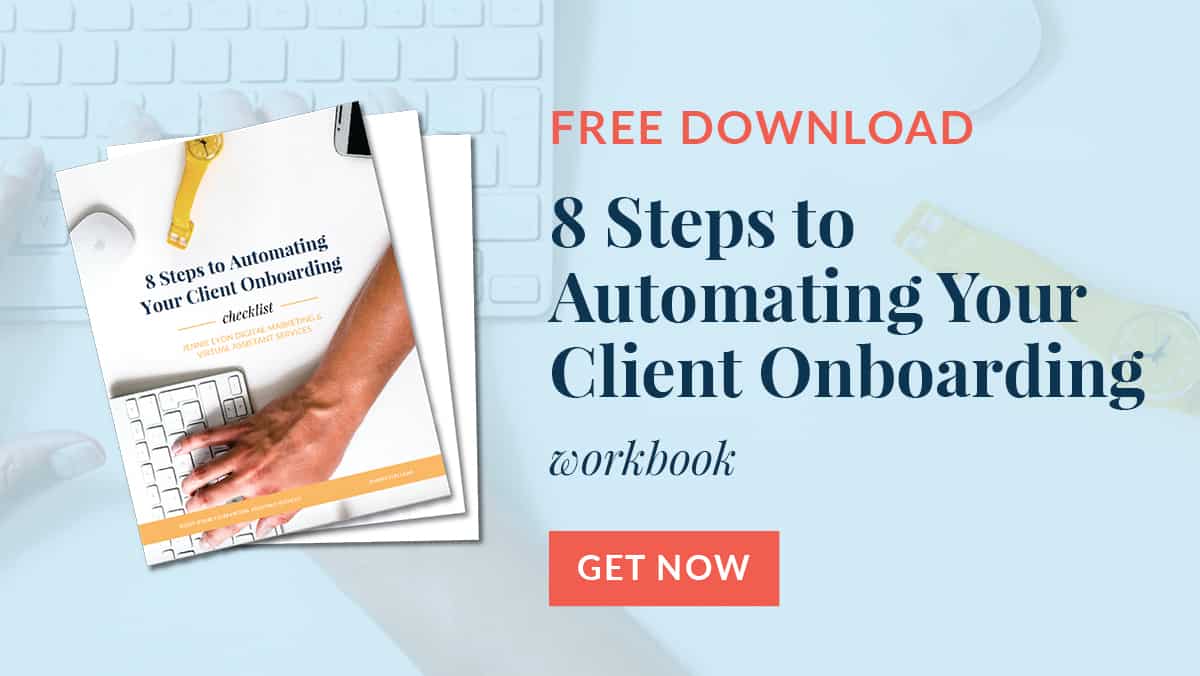 So, if you need to clear up some time in your calendar for the holidays, why not try hiring a virtual assistant? We can take on any project big or small to free up some space in your schedule (and your brain!) By reducing your holiday stresses, you can finally start to enjoy your winter vacation! If you'd like to talk about how I can help you manage the holiday rush, I invite you to book a FREE consultation with me today. It's time to share the spirit of the season with your clients, without sharing the stress and footwork!
Links To This Episode:
Rate, Review, & Subscribe on Apple Podcasts
If you like what you hear on the podcast, please consider rating and reviewing my show! Woo Hoo! Click here, scroll to the bottom, tap to rate with five stars, and select "Write a Review." I would love to hear what episodes you enjoy the most!If you haven't done so already, please subscribe to the podcast. I'll be adding new content weekly, if you're not subscribed, there's a good chance you'll miss out. Subscribe now!