My Secret Tricks to Workflow Success!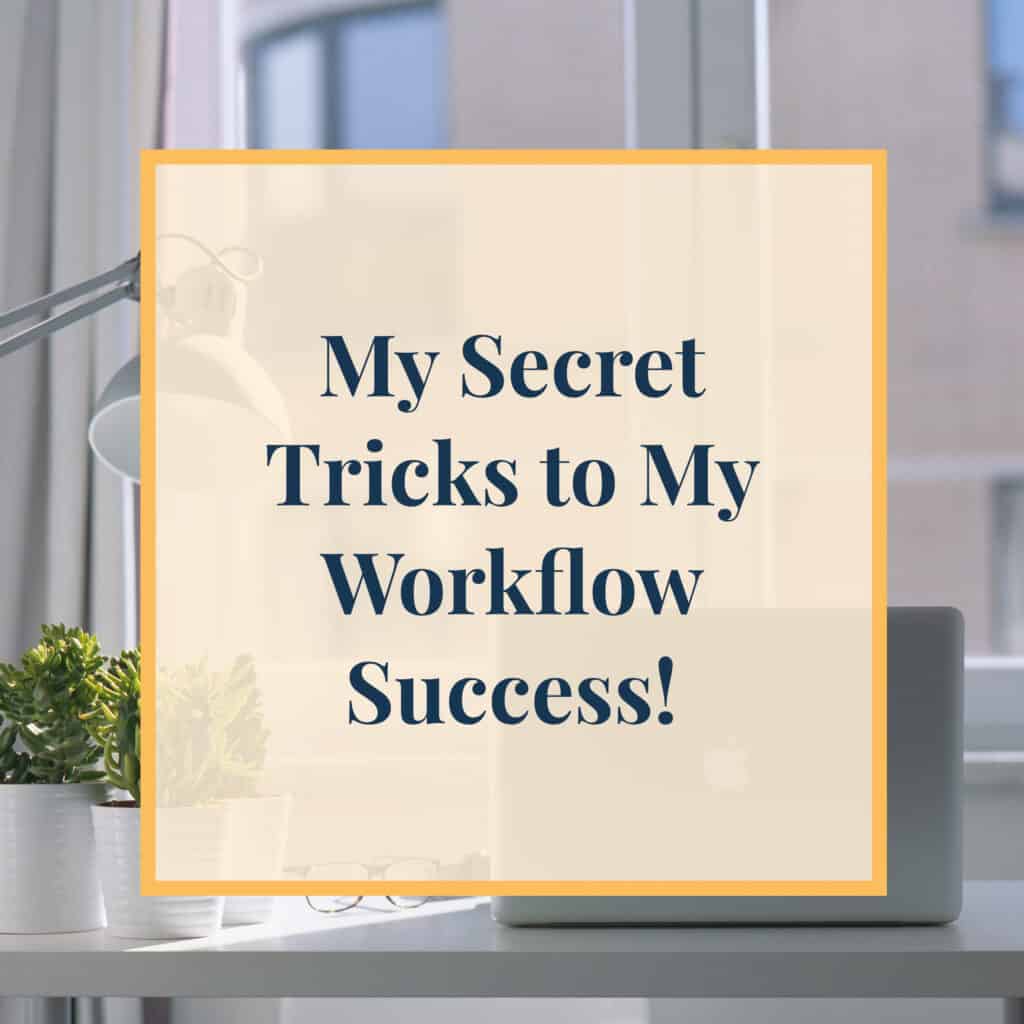 Do you have any tricks or tips that help get you through your daily workflow?
Back when I first started my small business, my daily workflow was very different than it is now. There were very few applications out there that not only make my business easier to manage but also helped me get so much more done throughout the course of my day. Today, I have tons of programs, automated processes, and other tools that help me be super productive from the first thing in the morning until the very end of the night.
If you've ever been curious how I can be so productive as a digital marketer and virtual assistant, you're about to get a look into the tools that I use for my daily workflow. Hopefully, you might find some of them useful as well!
[TWEET " Everyone's daily workflow is a bit different. Here's a glimpse into mine! "]
There is a reason that the Swiss Army Knife is so useful. It's because they have every tool you could possibly want, right there in a pocket-sized package.
I think of Zoho One as the Swiss Army Knife of business tools. This is a comprehensive suite of over 40 business-related applications that offers everything from a full-featured office suite, to slide decks, to invoicing, signing contracts, to social media management tools. Whatever your business needs, you're likely to find a tool in Zoho One that meets them.
Keep It All In One Place
Personally, I use Zoho One to keep everything all in one place. For example, this is where I store my important client notes and emails. Without Zoho One, it would be challenging, if not impossible, to keep everything straight. It's an incredibly useful tool for my business, and there are times that I feel like I'm not even scratching the surface of what it could potentially do.
Another favorite feature is the CRM. If your small business involves sales, then I'm sure you know the importance of customer relationship management. And data input takes time and effort that I just don't have as a small business owner.
Zoho One takes care of all that for me, letting me focus on the essential parts of running my business. Estimates show that using a CRM reduces the amount of data entry by 70%. That's an incredible time savings! Without it, I would have a lot more trouble finding the time to get everything done through the day!
I'm a big believer in to-do lists. Always have been, always will be. Unfortunately, my business has outgrown the classic to-do list.
I remember back years ago when I could write down my entire daily to-do list on a single sheet of paper. If I tried to do that today, I would need an entire binder full of paper to keep track. There are just too many clients, projects, and tasks to keep straight with a pen and paper alone.
That's why I use Teamwork as a project management tool. With it, I can create a detailed "map" of my entire business as it currently stands. If you were to contact me so we could work together, the first thing I would do is create a client project for you in Teamwork. Then any tasks, whether it be a weekly newsletter, social media posts, or new logo design, that you need would be created in Teamwork. In those tasks, I can write detailed notes, attach documents, and leave comments for collaborators. I can even connect Teamwork to Harvest to keep track of how much time I spend on each task to the minute!
Team Chat
And that's just scratching the surface of the importance of Teamwork to my business. The Teamwork chat allows me to keep in contact with my team members instantly, making sure that everyone has the information they need to get things done. Without Teamwork, it would be a nightmare to coordinate anything!
[TWEET " Here are some of the tricks and tools that I use to get through my daily workflow! "]
I'm 100% positive that email takes up a massive chunk of your life. How do I know? Because it takes up a MASSIVE chunk of mine!
Sending out and responding to emails is a necessary "evil" of running a small business nowadays. It's simply the quickest and easiest way to communicate with clients. But when you start to factor email marketing into the time equation, email management starts to look like a full-time job, and NOT one that I have the time to do.
That's why I use MailChimp. This service allows me to automate all of my email marketing. For my weekly newsletter (Are you subscribed?), I just have to write everything (intro letter, blog, etc.) and then put it into MailChimp to be sent out automatically at times of highest engagement. I have all of my client onboarding documents set up and they automatically trigger when someone becomes a new client, nothing to do on my end! I don't have to worry about it; the email gets sent without me having to do a thing. It's an unbelievable time saver.
If I had to admit one weakness, I would say that it's that I live by Google Calendar.
Without Google Calendar, I honestly think my life would fall apart. Seriously, earlier this week Google Calendar was down for a couple of hours and I felt my stomach tied into a knot! I put EVERYTHING important to my business in it — meetings with clients, phone calls, important dates, and much more. Thankfully, Google Calendars can be shared, which helps me to stay on the same page with my team members. If anyone plans to go on vacation, has a doctor's appointment, or needs a day off, it's right there in my Google Calendar. In my business, calendar management is key!
Believe it or not, I even have my workout/shower/get off work/go to bed scheduled. You might laugh, but you'd be surprised how helpful a gentle reminder to go to bed can be when you're burning the midnight oil!
What Are Your Favorites?
Of course, there are only a few of the tools I use. There are many more fantastic programs, tricks, and productivity tools out there that small business owners like you make fabulous use of every day. I'd love to hear about some of your favorites in the comments below!
One of the most powerful tools at my disposal is having a virtual team. What's that? A virtual assistant uses a virtual assistant? You bet I do! Honestly, without a virtual assistant, I don't know how I would run my business. When I say that hiring a virtual assistant is an invaluable addition to any small business, I'm not just spouting marketing jargon; I'm speaking from experience! If you'd like to learn how a virtual team could help your small business grow, I've created a completely free workbook that you can download here!
[TWEET " Here are some of the tricks and tools that I use to get through my daily workflow! "]
So, now that you've gotten a glimpse into my daily workflow, would you like to become part of it? Contact me today and we can get talking about how I can help your small business grow and expand beyond your wildest dreams!