Not Sure What's Working in Your Marketing? Our Audit/Strategy Can Help!
Why Didn't Your Latest Marketing Perform?
So you've launched your latest big marketing push, and you don't see the response you had hoped. What went wrong? Did anything go wrong? Was it the right strategy? Were expectations out of scope? Was the correct audience targeted? Was the messaging on point?
I'm going to dive into your online presence to figure out how to focus your attention on specific opportunities to maximize your marketing's potential to draw in new clients and grow your business!
Today's Podcast Overview
Today I'm going to cover several of my important tips for planning and executing your marketing strategies, as well as opportunities to maximize your online potential. You can click on the link below to jump to any section that you'd like to learn more about:
Do You Have a Marketing Plan?
It's okay not to know where to start when it comes to marketing; it's complicated! There's so much pressure and so many different avenues that it's easy to be overwhelmed by options, which usually leads to dabbling in several other marketing streams or employing a shotgun approach and hoping something sticks.
If you've never done consistent marketing for your business, the best place to start getting marketing ideas is by looking at what your competitors are doing and noting what's working well for them. How do they speak to their audience, and where? That's where your potential clients are!
My Approach To Marketing Your Business
Whenever businesses approach me to give them a marketing refresh, I first do a full audit of their online business and look for what's going right and what needs attention. You need an outside perspective to tell you what's going right and where the opportunities reside.
A lot of the time, what I'm seeing is that people and businesses are doing a little marketing here and there, but it's not tied together in any cohesive way. Nothing's feeding into each other, leading potential clients into funnels, or even communicating a solid call to action!
I hear versions of "I'm doing a blog or a podcast every other week, but I'm not getting any clients," and I'll ask what else they're doing, and they'll be a bit surprised and think, "Well, isn't that enough?"
Imagine a business owner who has been podcasting once a week without fail but isn't converting new clients despite that effort. It hurts my heart because with a little extra effort that podcast could be turned into other content. Such as a blog post that would give you an SEO boost!
Sometimes a podcast will direct clients over to a company website. But the website will be completely unusable from the client side. So potential new clients fall out of the funnel right away because the trust they've built through their podcast evaporates when they see an unusable website. By the way, I've got a great website audit guide that you can use immediately to start evaluating your website's strengths and opportunities right away!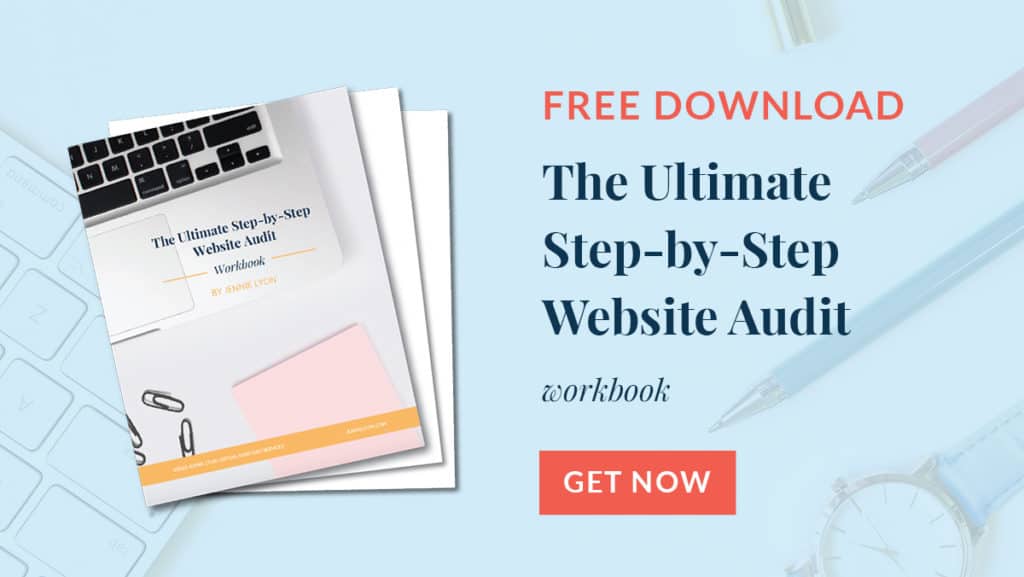 I love starting with a complete audit of a business's online presence first to identify problem areas beyond the initial question of "Why isn't my podcast converting?" because the answer is often hiding in another corner of the business.
Is It Time For a Full Marketing Audit?
If you've been struggling to market your business, it might be time for someone to take a thorough look at your online presence with fresh eyes. So often, we are too close to our businesses to be able to spot areas that you could improve, and that's okay! You're juggling so many different aspects of your business. So it's completely natural to struggle to view your own business from the perspective of potential clients! A professional digital marketing team is a boon to evaluating and planning a solid marketing plan to get the client conversions you hoped!
What You Can Do to Triage Your Marketing Today
To evaluate your marketing today, one small thing you can do is to ask five people who aren't familiar with your business to look at your website. Give them a moment, then ask them these questions:
What does your business do?
How could your business benefit them?
What is their first impression of what you've shown them?
These impressions should give you a surface-level snapshot of the image you're providing potential clients. Is their reaction what you expected? What did you learn about their response(s) that you did not expect?
Remember that website audit guide I mentioned earlier? Now's a great time to use it to evaluate your website with a little guided help. And see if you agree with the impressions you received, along with other opportunities to improve your website!
So What Did We Learn?
Scattershot marketing rarely yields lasting, repeatable results
It's not always easy to see your business from the client's perspective
A Digital Marketing team can take your marketing to the next level
My team at Jennie Lyon Digital Marketing Inc. and I are passionate about making social media work for you without making work for you! We're more than happy to help you take your business to the next level. Set up a free call with me anytime.
You can also purchase our full marketing audit & strategy here. I'd love to see how we can improve your online presence and marketing strategy!
Links for this episode:
Rate, Review, & Subscribe on Apple Podcasts
If you like what you hear on the podcast, please consider rating and reviewing my show! Woo Hoo! Click here, scroll to the bottom, tap to rate with five stars, and select "Write a Review." I would love to hear what episodes you enjoy the most!
If you haven't done so already, please subscribe to the podcast. I'll be adding new content weekly, if you're not subscribed, there's a good chance you'll miss out. Subscribe now!