Prepare for the Busy Months Ahead with a Virtual Assistant this Summer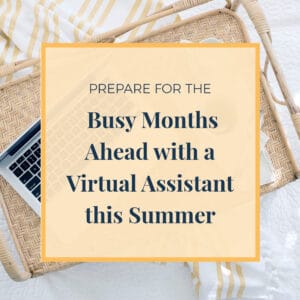 Things tend to slow down for a lot of small businesses during late summer, but the smart entrepreneur knows this brief respite from constant client care and project work is the perfect opportunity to really work on improving systems and making changes to the way their business functions. When there's less daily grind to get through, you have the chance to take a look at how your business is performing, plan for the future, and set new long-term goals. Last week we talked about how to use the slow period to integrate a new virtual assistant into your team, and this week we'll cover all the things you can get accomplished with them to help make things run more smoothly when business picks up again in autumn.
[Tweet "Creating new systems to organize your business take time; use the slow summer months to get ahead!"]
Revamp Your Website
Use this "downtime" to make larger updates to your website which you could never do when running at full capacity. If your website is bare bones and looks like it came out of the mid-'90s, it might be time to go for a complete overhaul with a redesign and new backend to make updating it simpler in future. If you already have a relatively attractive website, it could probably still use some work. Does your copy need a refresher? Are there new pages or apps you'd like to incorporate? Maybe you want to incorporate a shopping cart system for e-commerce. This is the time to experiment with new features and settle on ones that function the way you need them to.
Create New Systems for Handling Clients
Streamlining the way you deal with clients will make life so much easier as your business grows. Summer is the perfect time to design:
Systems for onboarding new clients
Systems for following up with clients during/after working with them
Systems for organizing all of your existing customer documentation, so you can easily find what you need at any time
A virtual assistant can help you create systems that work for your business, which are customized to the type of work you do with your clients.
Improve Your Social Media Presence
If your plans to stay on top of social media this year fell by the wayside when things got busy, now is the time to get back on it. One of the most helpful things you can do is to create an editorial calendar for your business blog, and a social media calendar for the rest of the year. Planning out monthly themes or topics you'd like to cover helps to integrate your writing across different platforms, and also makes it easy to delegate content creation to a virtual assistant while still knowing what's going to be covered.
[Tweet "Assessing your business goals now will give you a chance to course-correct, ensuring success by the end."]
Assess Progress and Set Goals
The slower end-of-summer months are also a great time to take stock of where your business is at, and make plans for the upcoming season. If you take the time to look at your numbers, figure out what's been working and what hasn't, and project whether you will hit your goals for the year or whether you need to make some big changes to ensure success, you'll be further ahead than a lot of small business owners. Don't be the "entrepreneur" who ignores the numbers until the end of the year and then wonders where things went wrong. Checking in regularly on your business finances and performance metrics is essential, and now is the perfect time to take an in-depth look. Your future self will thank you.
If you use a virtual assistant to get all of these pieces put together and moving in sync now, you'll be prepared for when business picks up again and new clients begin to roll in. If you can get important systems in place now, hopefully you won't have a slow season in the future! If you need help getting your systems and processes in order, I would love to chat!