Give Yourself the Holiday Gift of Time With a Virtual Assistant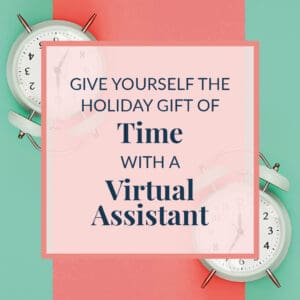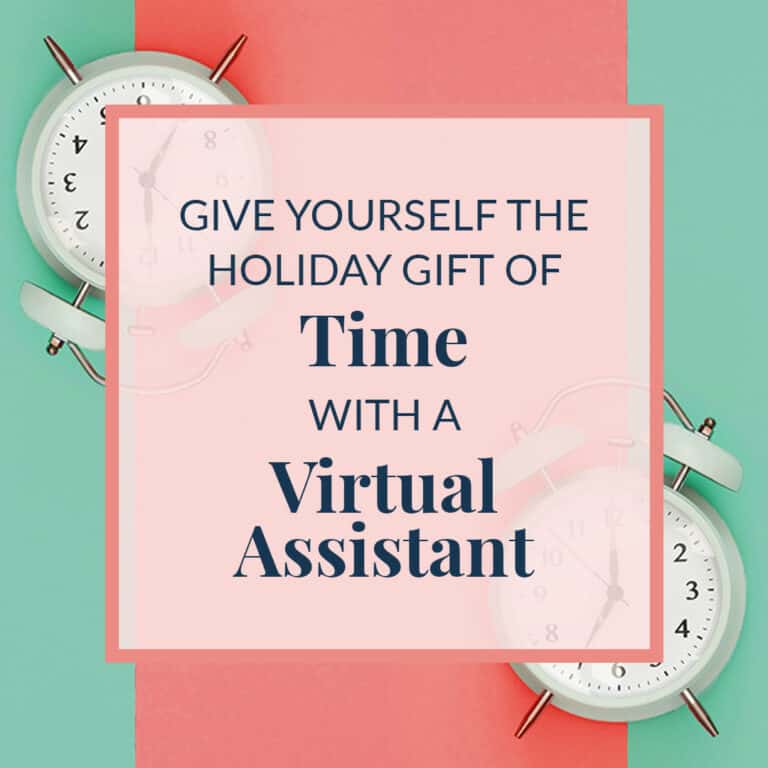 Have you ever seen A Christmas Carol? The scene that always stuck with me as a small business owner was seeing Bob Cratchit having to stay late on Christmas to finish his work. Boy, I've been there (Although being my own boss, I guess I am sort of my own Scrooge too…)

In December, there are so many things on your plate, from work to family, to the holidays themselves, that it can be tricky to get everything done by the last week of the year (not to mention stretching every dollar). But thankfully, there is a holiday miracle that can help you clear away the holiday clutter and make sure that you will be able to enjoy it with family and friends. And that is the miracle of the virtual assistant!
Content Creation
One of the biggest burdens on a small business around this time of year is the amount of content creation they have to do. There are December-themed blogs to write, seasonal email campaigns to create, physical greeting cards to mail, and holiday social media posts to prep. At most times of the year, content creation can take up a ton of your spare energy. At this time of year, it can absolutely eat up every extra second that you have.

A virtual assistant can take care of all of that content creation for you. If you have a specific voice that you want your holiday content to have, give us all of your seasonal content from the previous year. We will create all-new content that will perfectly match that same tone and voice! After all, if you're going to be sending out seasonal greetings, you want to make sure that it sounds like it is coming from you.

Social Media Management
Social media lights up like a Christmas tree every single year around December, with every company posting seasonal greetings to their customers with every tweet. If you don't want to be lost in the clutter of social media posts, you're going to have to join in, upping your social media game for the season. THIS is one of the most significant holiday time sinks there is for a small business. Not only do you need to write all of these holiday posts, but you also need to make sure they go out at times of peak engagement (and yes, that includes on the days of the holidays themselves.)

With our experience creating social media campaigns, we can craft your perfect holiday message to blast out to your followers. We can scale your seasonal social media to your needs and specifications. If you want just a few posts throughout the season, no problem. If you want a full-out holiday social media bonanza, we can do that too! 
[Tweet "For many small business owners, the spirit of the season is STRESS. Learn how a virtual assistant can give you the holiday gift of time!"]

Email Marketing
Although it can be nice to send your clients physical holiday cards, this can also take up way too much of your time. Picking out and signing the cards is the least of your worries because then you need to stuff them into envelopes, address them, slap a stamp on them, and mail them. Yes, it can be worthwhile if you have time to burn. If you have none, then you can replace these physical greetings cards with a lovely email blast!

With an email blast, you can craft a brief message to your customers, rather than just have your signature below a generic "happy holidays" message. It can also save you a ton of time, as there is no signing, envelope stuffing, or stamp affixing to be done. You only need to write the email and send them out to your email list on your preferred date.

If you still don't feel like you're going to have the time to do all this prep, especially as you get deeper into December, then let us do it for you! We can write your holiday message, create beautiful graphics to go with it, and send it to you for approval and edits. Then we can set up the email campaign with your email marketing tool and schedule them so they will automatically be sent out at a time when your customers will be sure to see it! If you want, we can even help you set up some holiday promotion in the email to entice your customers to visit your online store for a holiday shopping spree!

Holiday Website Customization
When you walk into a physical store around the holidays, you will usually see them all decked out with the trimmings of the seasons. Christmas trees, lights, tinsel, Santa Claus… You know the drill.

Well, you can do the exact same thing with your online presence. A holiday "overlay" on your website or social media channels can bring the spirit of the season to anyone who visits. It doesn't need to be a big thing; it could simply be hiring one of our graphic artists to "string" some lights around your logo and branding. But it can be a nice touch to add to your site around the beginning of December to celebrate the season!

[Tweet "It's the most wonderful, and stressful, times of the year! So why not use a virtual assistant to help you beat the holiday rush and free up some time to celebrate?"]

Sales Landing Pages
If you are planning on a big holiday promotion for your business, you're going to want to advertise it as soon as possible to get the best bang for your buck. A holiday promo can contain many parts, including an email campaign, social media campaign, and even mention in your blogs. A fantastic deal can be a great way to show your customers how much they mean to you. But you need somewhere for all of these methods to funnel to, and that can be a seasonal landing page. This page will tell visitors all about your holiday promotion and the products you are offering, along with a link that will take them directly to your integrated eCommerce solution.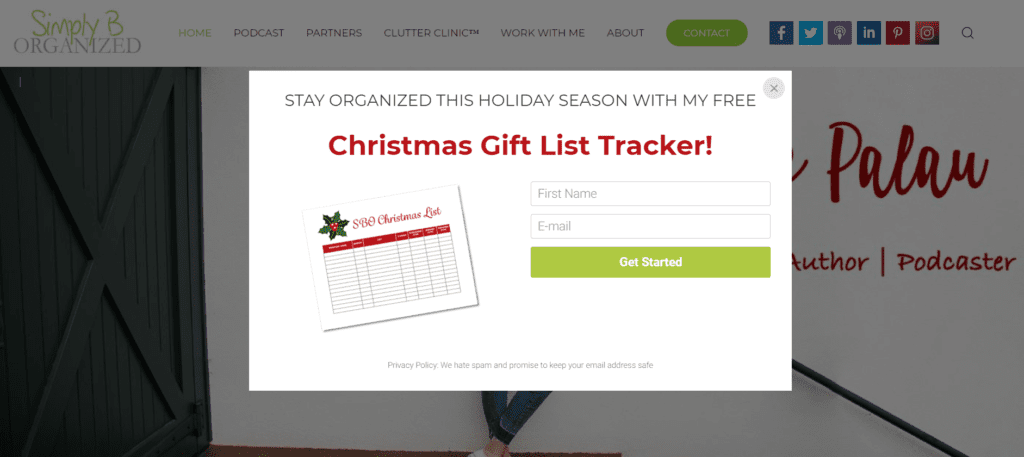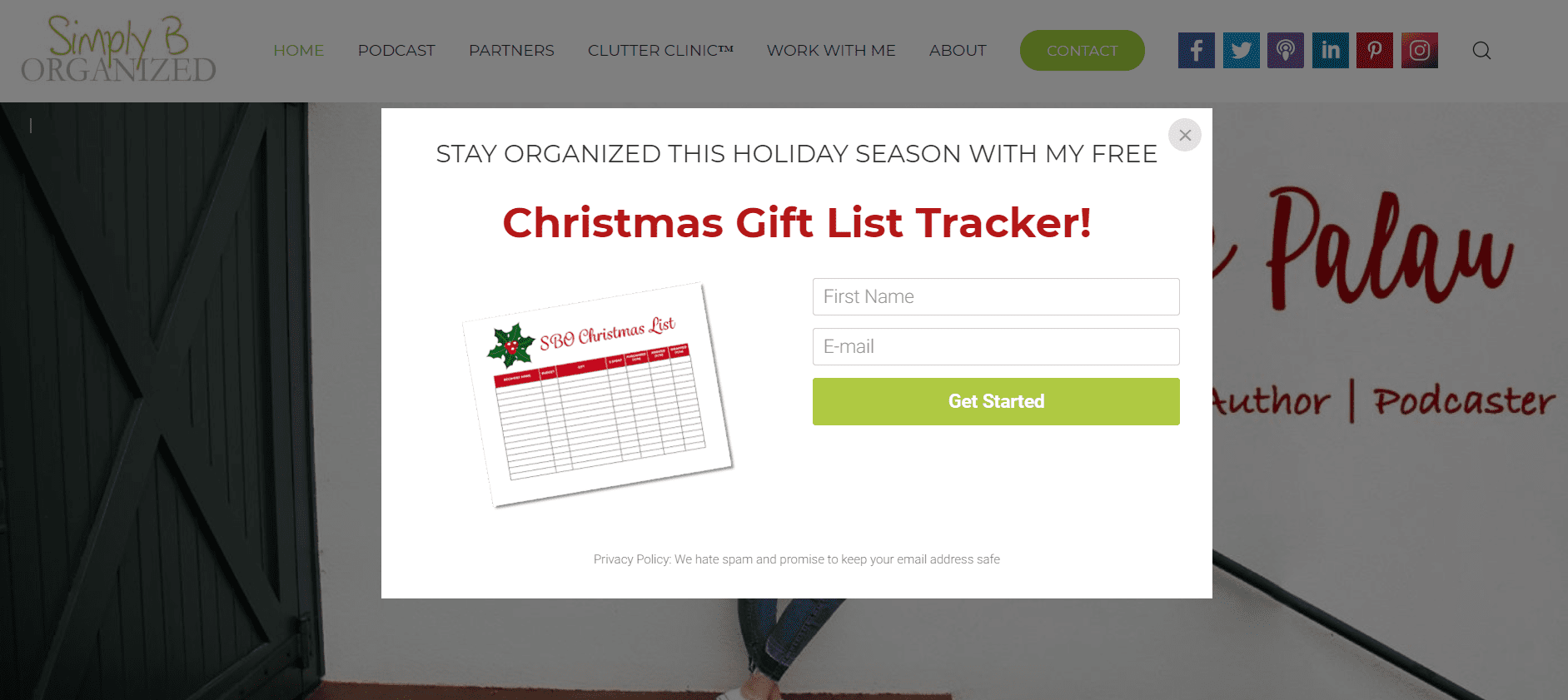 Even if you don't have something to sell, the holidays can be a great time to add a holiday-themed email opt-in to your website. We just finished this fun Christmas List download for a favorite client! It adds a little holiday fun to her website, offering her audience a fantastic download they will love and actually use. Plus, it builds her email list at the same time. Win, win, win!

Your holiday sales landing page will perfectly match your website's already existing aesthetic, while also having a certain holiday flare to match the spirit of your promotion. We can write the web copy, create the graphics, and design the page to get your clients excited about the upcoming holidays!

If you're feeling swamped around the holidays, believe me, I know how you feel. I think that every small business owner feels a bit cramped at this time of year. But with the help of a virtual assistant, you can get more done than you would ever think possible, making December into one of your most productive months!
In fact, let me do you a favor, download my free workbook that walks you partnering with a virtual assistant! If you do one thing for your business this year, get help! You can't do everything on your own. 
If you'd like to learn more about how I can help, please contact me for a free consultation!