6 Steps to Creating an Onboarding System that Wows Your Clients!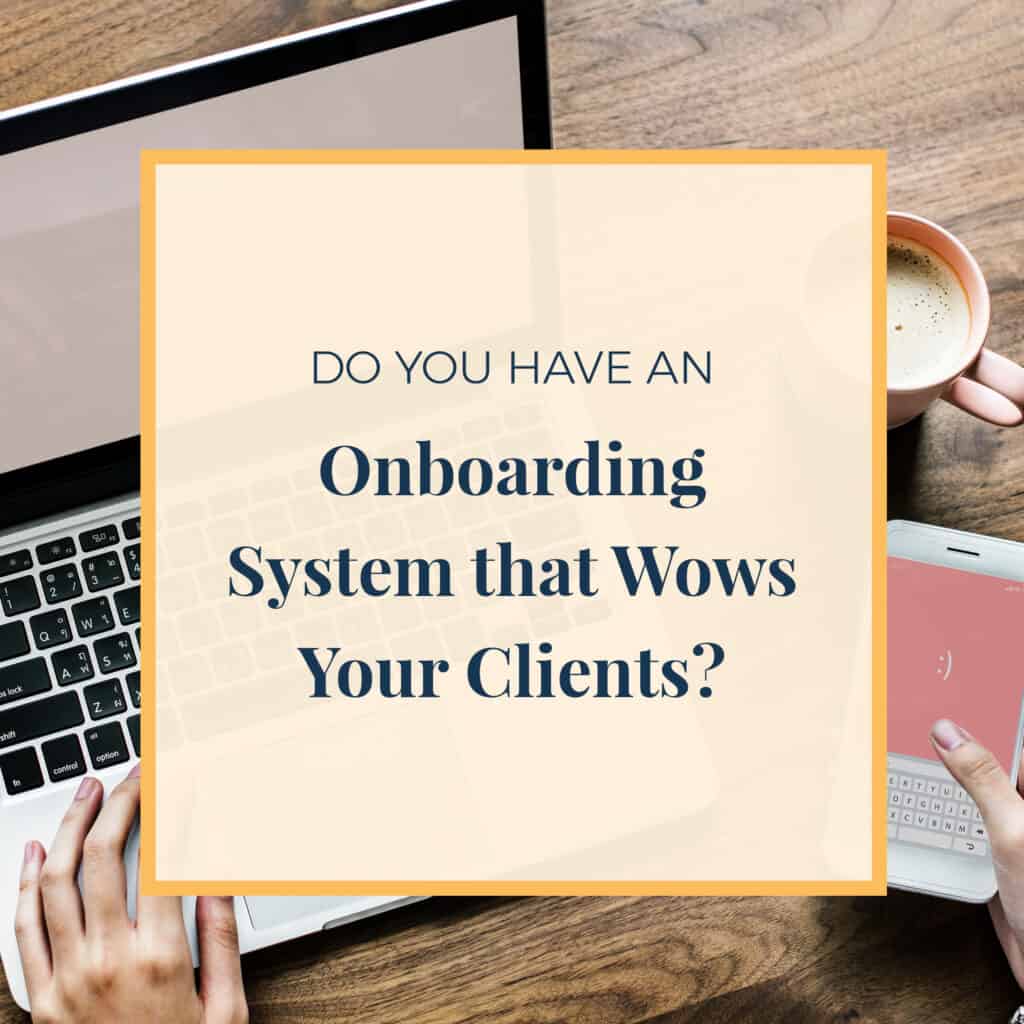 Congratulations, you've landed the client of your dreams!
Now the trick is to keep them!
Being a small business owner is a series of ups and downs. One minute, you're on top of the world, doing the work you want to do with tons of clients. The next minute, some of those clients drop off, leaving you scrambling to find new ones. (Unless of course, you are ALWAYS marketing in the background!)
However, at times, it can be like the world's most un-fun roller coaster. As you gain more experience. You realize that the trick is to build up a solid base of reliable clients who couldn't imagine life without you. How do you do this? Well, it starts with a compelling client onboarding system.
#1: The First Step in a Relationship
Just for fun, let's say that landing a new client is a little like dating.
First, you need to get them to agree to a date. In the world of small business, this would be your marketing techniques: social media campaigns, opt-ins, blogs, website, email campaigns, that sort of thing. Once you have them interested, you use a compelling call-to-action to get them to contact you and agree to a free consultation. Or in other words… a first date!
In your consultation/first date, you want to put your best foot forward by telling the client everything that you can do for them. You want to start building rapport with them, finding out their interests, likes, dislikes… (Actually, this is a lot more like dating than I initially thought!)
If you get through the first date, then the relationship can begin. And to get off on the right foot, I would send flowers. Or in the case of a small business, your onboarding kit!
#2: Onboarding System Part One: The Welcome Email
The Welcome Email is where you express how you feel. You've just landed a brand-new client and are probably delighted that they decided to work with you. You should share that with them!
The welcome email doesn't need to be a long letter that's full of detailed information about what it's going to be like working together. Instead, you simply want to thank the client for their business. Reassure them that you are going to do your absolute best. Tell them what they can expect from you over the next few days.
[TWEET "Lock in your new clients by sending them a compelling onboarding package!"]
#3: Onboarding System Part Two: The Welcome Kit
Your Welcome Kit should be a professionally-designed, fully-branded document full of helpful information. Showing what it is going to be like to work with you. Inside, you can layout your mission statement, procedures, workflows, and how exactly you work with your clients. You can also include your contact information and any other important information that clients need from you to officially get started.
#4: Onboarding System Part Three: The Questionnaire
This can be the trickiest part of the onboarding system because it requires a little work from the client.
To provide them with the best services possible, you need information about them. In the case of my business, I need to know all of their contact info, social media profiles, small business goals, potential competitors, dreams for the future, stats, and lots more. The more information I have, the better the quality of services I can offer. However, you need to strike a delicate balance when it comes to your questionnaire.
If you don't ask them enough questions, you're going to be contacting them regularly for information that you need to do your job, potentially irritating them. If you ask them too many, it's going to be a massive hassle for them to fill everything out. Meaning that you likely won't get the questionnaire back for days, if not weeks.
Since every small business is different, it can take a little time to come up with your ideal questionnaire. I've found that it's smart to start with a more barebones framework, and then fill it over time. Of course, I have a ton of experience creating these onboarding questionnaires. If you'd like to bounce some ideas off me, I'd be delighted to talk!
#5: Onboarding System Part Four: The Contract
Signing a contract can be a scary thing, especially if it is full of legalese and other language that isn't easy to understand.
When you give a client a contract, it's vital that they actually be able to understand what they are signing. If it is upwards of three pages, chances are that they are going to feel intimidated by it, unless they have a law degree.
This is one of the reasons why I recommend you keep your contract to a minimum of two pages; even one page if you can get away with it. You want to make sure that it covers all of the bases, but is in language that is easily understood by both parties. The bottom line, don't scare your new client away with a massive contract!
[TWEET "Do you have an onboarding package you sent to new clients? If not, you might want to create one!"]
#6: Onboarding System Part Five: The Kick Off Call
After all of the emails are sent out and your information/questionnaire is sent in, we can get started with the most important part of the onboarding: diving into your business' needs together through a kick-off call!
There are an awful lot of moving parts in a relationship between a virtual assistant and a client. I need to be aware of your initial and long-term goals, the priority of products and tasks, non-negotiable due dates, and much, much more. To coordinate this, we need to create a system with an efficient exchange of information. While email works most of the time, there is no replacing a solid one-on-one conversation right at the start.
This is why you need to clear away a little space in your calendar (Incidentally, I can help with this too) for a chat!
It will essentially be a more detailed follow-up to your initial consultation call. Now that we're working together, we can get more in-depth about your business and its challenges. The more you tell me about what you expect from this collaboration, the smoother the experience will be.
Of course, this is just a general breakdown of a potential onboarding system. Your business might include other documents, or possibly leave some of them out. It's entirely up to you. If you find onboarding new clients to be a huge headache, I have a free workbook that might help: 7 Steps to Automating Your Client Onboarding. With it, you can streamline the process of bringing a new client into your business. And if you want to make onboarding even easier, you can hire a virtual assistant like me to handle it for you, Let's chat!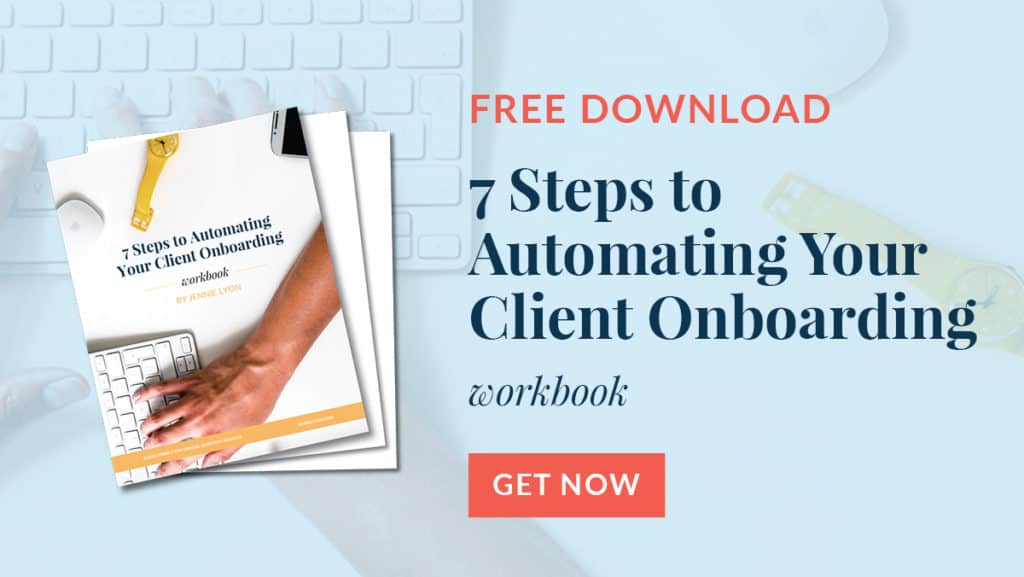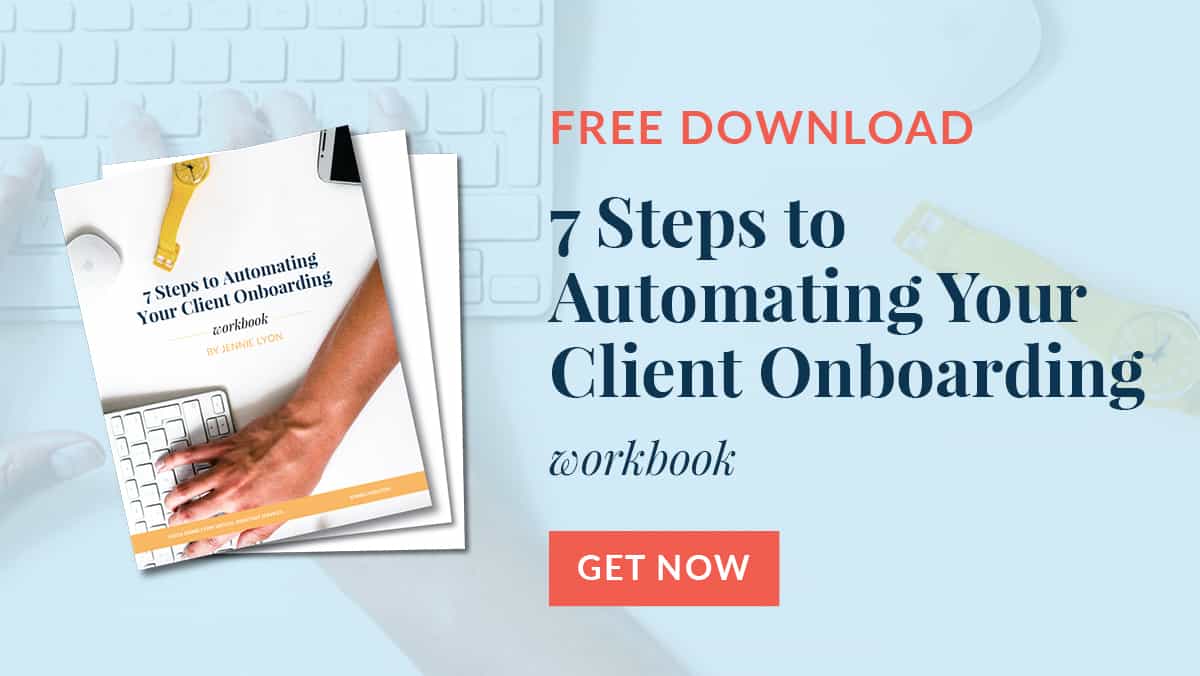 I believe that sending a compelling onboarding package is an essential piece of client care. Going back to the dating analogy, if you can make a great first impression and follow that up with a thoughtful and helpful onboarding package, you might be able to find yourself in a long-lasting client relationship! If you'd like to book a consult with me to talk about how to lock in a client for the long-term, I'd love to talk! Contact me today!