8 Ways to Repurpose One Piece of Content + Free Template
When it comes to food, my family are big believers in having as little waste as possible.
Jayson, my husband, LOVES to cook (and I love LETTING him cook). We love to pull inspiration from the Native American idea of using EVERY part of the animal. So, when he is making mashed potatoes, he saves the skin peels to make delicious, crispy potato skin chips in the oven. When we eat chicken, he always saves the bones and tiny bits of meat and boils it down to make a tasty chicken noodle soup. It doesn't just make economic sense; it's great for the environment! 
Following his example, I try to bring this philosophy into how I create content for myself and my clients. Don't let ANYTHING go to waste! Let me explain!
Let's say you're going to commit to writing a weekly blog. A lot goes into that! There is the research, the first draft, the editing, approval, and rewrites. And once you're done, you have a fantastic piece of content for your website. Which is great! But then what? If you only post the blog to your website, some people might see it, but probably not enough to make all of your work really worth it! Let's use ALL the component pieces of the blog in creative ways to really give you the best bang for your time (or marketing budget if you're having a virtual assistant team like ours write it for you!)
Remember, You Can Reuse Content
This doesn't only apply to new content, either. When I start working with a new client, one of the first questions I ask is, "Ok, what do you already have that we can work with?" Repurposing your already existing content should always be a key part of your content marketing strategy. That's why evergreen content is always a great idea.
Last week, we talked a lot about the importance of creating an editorial calendar for your content. You can listen to that on the Digital Marketing Made Simple Podcast here. I even included a template that you can grab here. It can take a lot of work to keep up with creating weekly content, so why not use what you already have? I mentioned the idea of yearly updates to your most popular blog posts, but this week, we're going to take it one step further!
It doesn't matter what type of weekly content you create; it can be a blog, video, or podcast. Whichever type of content you choose, you can reuse it in different ways. Here are some ideas about all the ways you can repurpose a single piece of content! 
#1: Get Your Content Everywhere
First off, you want to make sure that your content is available on every platform there is out there. So, if your one piece of content is a podcast, it goes without saying that it should be on iTunes and Spotify. But also make sure that your podcasts are on Stitcher, iHeartRADIO, and a few other platforms.
#2: Transcribe it!
The first way you can get more out of your podcasts is by transcribing them into text. Transcribing can be a slow process, so it is often better to hire someone to do it for you. This is a great task for a virtual assistant! But once you have everything written up, you can post it on your website. This can be very helpful for people who have already listened to the episode and are just looking for a specific piece of information. It's also super important for SEO.
#3: Audio for the Win!
One trick I've been using lately for clients is pulling audio clips out of their podcasts using a program called Wavve. Little snippets of audio can be handy for social media engagement. Another place they can come in use is Instagram Stories. You slap a graphic overlay on each card, and you can tell your audience a short story using your already existing content! This can also be a useful strategy if you do regular videos (more on that in the Video section below).
#4: Turn it into a Blog
Blog posts are the bread and butter of the digital marketing world. Not only are they one of the best ways to drive traffic to your website, but they can also help position you as an expert in your field. Oh yeah, and did I mention the SEO juice they give your website? There's that too. The more blog posts you have, the better you look (at least to Google!) 
So, if you have content that you haven't turned into blog content, what are you waiting for? Now, you have all of these blog posts lying around: what do you do with them?
#5: Article Submissions
First, I would take a look at getting them published in other outlets. Pushing your blog posts out to Medium or Thrive will get your name out there and connect your brand to theirs, giving you more credibility in the eyes of their readers.
I'm a big believer in using blog posts as the basis for podcasting episodes. After all, you've already done the research! All you need to do is rework the blog into a script, and away you go! This works for video too! Three birds, one stone! 
Finally, you can create companion videos to go along with "how-to" blog posts. For example, if you have a blog explaining how to set up an Asana Project Management account, you could pair it up with a video where your audience can watch you do it from beginning to end. Generally, Loom works fantastic for this, as it can be recorded straight from your computer screen.
#6: Everyone Loves Video
Much of what I said about podcasts can also apply to videos.
Creating a transcript of a video can be useful for audience members who don't want to have to go through the entire thing to find a single piece of information. After all, text is much easier to scan than video!
You can also use small sections of your videos for use on other platforms like Instagram Stories. I've used a program called Lumen5 for years to break up video content for my clients. You can then put words and pictures over top of these short videos and create a mini-story with them, each small video clip being a slide. Again, these are great for Instagram stories! 
#7: Shout it Out with a Newsletter
I feel almost like a broken record at this point, but it needs to be repeated: Your most valuable marketing commodity is your email list!
Once you have someone's email, you can contact them directly rather than rely on a third-party platform like Facebook or Twitter. The trick here is that you can't just spam them with marketing. Trust me, that's a surefire way for them to hit the unsubscribe button.
A regular newsletter can be fabulous for getting your content into the hands of your customers. They are a great way to strengthen and grow your relationship with your existing community. And believe it or not, you can reuse almost every component of your newsletter in other ways.
For example, most newsletters have dedicated graphics. Say that you're including a link to your weekly blog in the newsletter. Above it, you will likely want an attractive graphic that says the blog post's title. Once you have that graphic created, you can use it in social media posts on just about every platform you can think of!
#8: Turn It Into a Lead Magnet!
If you want to get your content out to people, you need to grow your email list. And the best way to do that is by offering free and valuable content as a lead magnet on your website and inside your existing content.
The trouble is that creating a lead magnet can be a ton of work. Depending on how in-depth the topic is, we could be talking about a couple of thousand words. Thankfully, you already have a ton of copy written: from your weekly content! 
With the right framing, you can easily repurpose your blog content and make it into a free download. You simply need to change the format of it.
For example, if you've written a blog about how to stay motivated when you're working from home, you can take that content and transform it into a "Working from Home Checklist." Or if you want to tackle a larger topic for your lead magnet, you can take a few of your blogs on your desired subject, tweak them to flow into each other, and then release the whole thing as a workbook!
Personally, I love any lead magnet that gives my audience a quick win! I'm going to be attaching a link to my 3-Month Content Calendar so you can see what I'm talking about.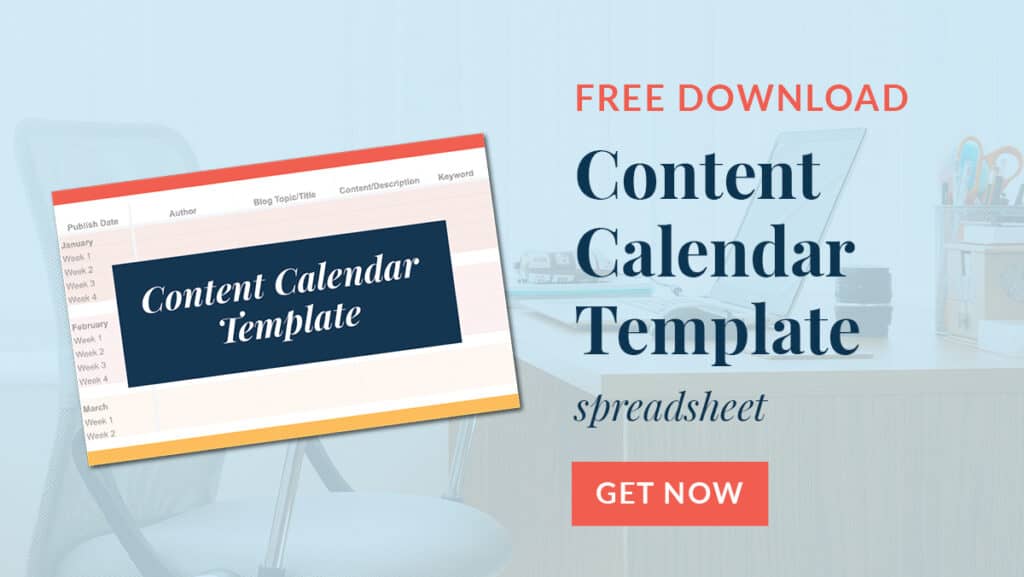 If you think that all this sounds like a lot of work, well, you're right! But you don't need to do everything. Instead, choose one or two of the suggestions above and explore how they can boost your content in other areas. Or, if you want to take a shot at really maximizing your content marketing strategy, you can hire a virtual assistant or digital marketer to do ALL of them for you! 
So What Did We Learn?
Let's sum up everything you can do to repurpose one piece of content.
#1: Get Your Content Out Everywhere! If it's a podcast, make sure that you have it automatically going out to all of the podcasting sites!
#2: Transcribe it! If it's a podcast or video, make sure to get a transcription of it for your website SEO!
#3: Clip the Audio: You can clip your content into mini audio pieces that are perfect for sharing on social media.
#4. Turn it into a Blog: If your content is not a blog, make it one! Blog posts are one of the best ways to drive traffic to your website.
#5: Article Submission: If it's a blog, make sure to submit it to Medium and other article submission sites to get it out to a broader audience.
#6: Record a Video: It's super easy to record your podcast with the video on – then you have more content to share! Or record a mini summary of the podcast for your YouTube channel.
#7: Send a Newsletter: If you aren't building your email list, add it to the top of your to-do list! And make sure to get a weekly newsletter out to your subscribers.
#8: Turn it into a Lead Magnet: You have so much great content already; why not turn that content into a great lead magnet to grow that email list?
To get started, I invite you to contact me today for a free consultation. I can go through all of your old content and figure out where we can repurpose it! I invite you to jump over to our Digital Marketing Made Simple Podcast Community on Facebook and leave your two favorite ways to recycle one piece of content. I'd love to hear! Thank you, and I look forward to seeing you in the next episode of Digital Marketing Made Simple!
Links For This Episode:
Rate, Review, & Subscribe on Apple Podcasts
If you like what you hear on the podcast, please consider rating and reviewing my show! Woo Hoo! Click here, scroll to the bottom, tap to rate with five stars, and select "Write a Review." I would love to hear what episodes you enjoy the most!
If you haven't done so already, please subscribe to the podcast. I'll be adding new content weekly; if you're not subscribed, there's a good chance you'll miss out. Subscribe now!