Automation VS Outsourcing: Which One is Right for Your Business? (+ Free Download!)
Automation VS Outsourcing
Certain cogs in everyone's business, whether a small side hustle or a giant corporate goliath, constantly require attention. Client onboarding, advertising, marketing, social media, e-commerce, email lists, client funnels – the list goes on! If you're finding any of these never-ending tasks are eating up too much of your workday, it's time to look at how you can make tackling those tasks more efficient or get them off your plate so you can focus on growing your business! But when should you automate your business, and when does it make more sense to outsource instead?
We're going to spotlight why you may need to automate or outsource. How to decide which is best for your needs? The action steps you can take to implement one or both in your business this week.
Today's Blog Overview
Today we're going to walk through the process of automating or outsourcing your digital marketing tasks. You can click on the link below to jump to any section that you'd like to learn more about:
Why Automate?
Automation is a strategy to use. hen you want to keep your work in-house, but need to save time (and who doesn't want to save time?). In order to set up automations, you will need a tool (or two). Which tool you use depends on what you are trying to accomplish. Let's walk through a couple of my favorites.
Zapier.com is a fantastic resource you can use to implement improvements to your workflow through automation. There are a few similar options, but Zapier is the industry standard (at least as of July 2022).
There are endless ways that you can use Zapier, but here are a few of my favorites:
Automatically alert yourself (or your team) on Slack when you get a new lead that fills out your contact form.
Send a Slack reminder for all calendar appointments so you never miss that next client meeting when you're hard at work.
Add new ActiveCampaign contacts when an Acuity Scheduling appointment is booked.
Instead of waiting for downloads and uploads, automatically publish Google Drive videos to your YouTube account.
Automate your Business
Suddenly you're no longer checking constantly for new leads because you'll be alerted the moment you get one. Your team doesn't have to waste hours logging new leads into a database or crafting a customized follow-up email! Imagine how much time you'll save at scale when you're collecting dozens or hundreds of new leads and appointments each day!
On top of that, automation never sleeps. So while your workday may be over, your automated processes keep chugging along, collecting, logging, and emailing fresh leads for you to follow up on the next time you're clocked in!
Free Automating Workbook
I've got a great free downloadable guide you can use to get a head start streamlining your client onboarding processes. And free up a considerable chunk of your workday immediately!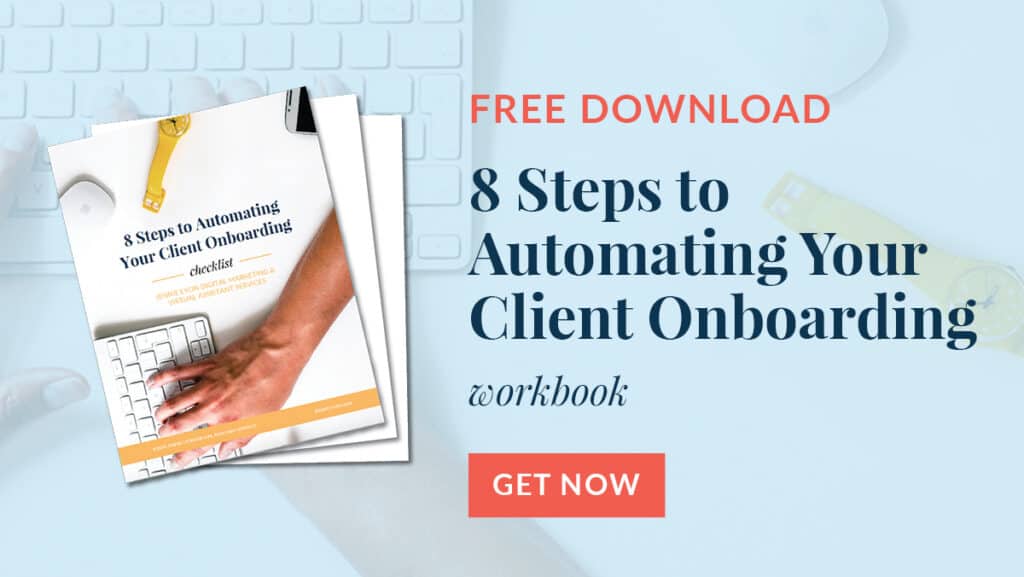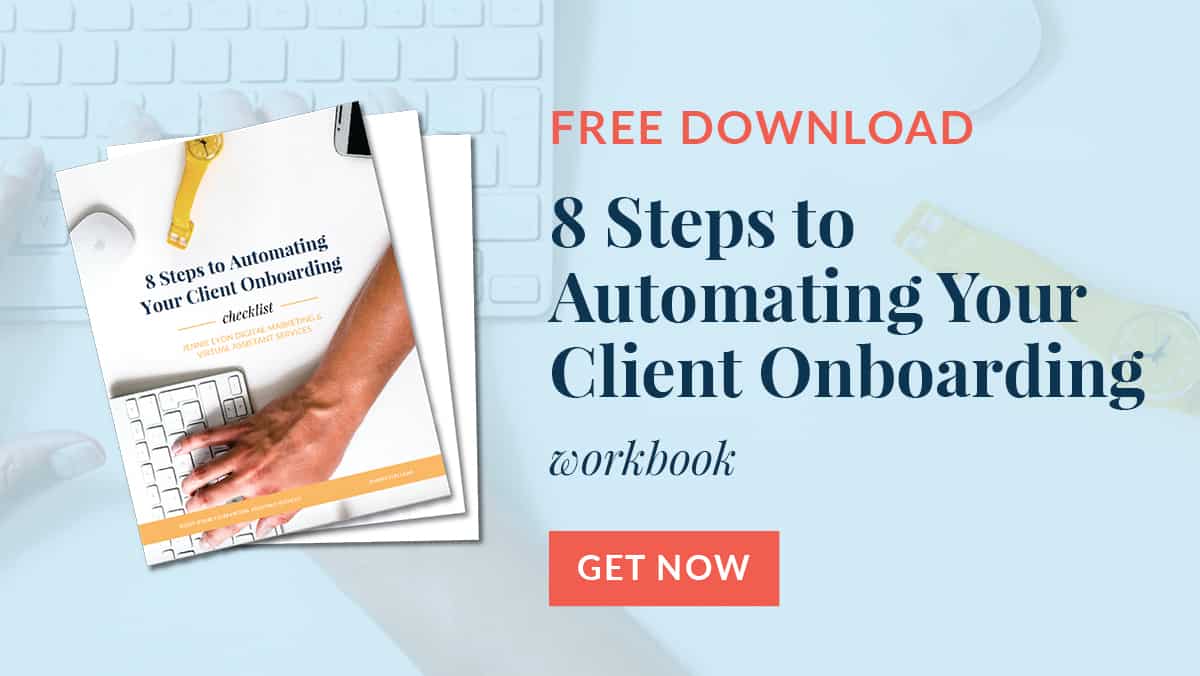 Great Automation Tools
Hubspot is another great automation resource. You can try where you can use workflows to streamline prospect follow-up by automating lead rotation and task creation. They've also got great blogs and resources to help you learn best automation practices and master their tools right away!
Finally, ActiveCampaign is another one of my favorite tools for automation. I use this tool to send my emails – both individual automation and sending to my email list.
Email automation is a massive time saver. Instead of needing to create new content for every type of subscriber each week. You can automatically send emails out at your preferred times, over weeks or months. Never go silent on your email list again!
Why Outsource?
When you're dealing with unique clients, you want them to feel like their needs are being individually valued, and that's something that automation can struggle with. There are certain parts of sales and marketing that need to have a human touch.
That's where outsourcing comes in.
You're going to want to consider outsourcing processes to a dedicated digital marketing team who are used to adapting to the needs of many different clients at a time. When you're not dealing with those hoops and challenges in-house, thanks to a digital marketing team handling everything, you suddenly free up your workday for new opportunities to focus on neglected aspects of your business.
What are some things you can outsource?
Social Media Strategy & Management
Marketing Strategy & Project Management
Content Marketing
Email Marketing
Course Creation & Management
Everything you need to know about using a digital marketing team to grow your business and get your life back is outlined here in my handy guide!
The Value of a Trusted Digital Marketing Team
When you choose to outsource tasks to a dedicated digital marketing team, you're safe in the trust that professional eyes will constantly be pouring over everything to make sure you're getting consistent results, not to mention that automation can't adapt to outlying situations the way that people can!
When you automate, those tasks will be completed precisely how you've set them up and not an inch out of scope. This can sometimes lead to issues when unique requests or circumstances come up that can't be solved through conventional automation. A digital marketing team can not only adapt on the fly to these kinds of issues. But they can even anticipate a client's needs and enact independent solutions before even the slightest hiccup can occur!
Get 24/7 Support
Digital marketing teams are equipped to handle all kinds of standard business affairs that honestly don't require your 24/7 attention. Any successful business will eventually be overwhelmed with the cumulative upkeep tasks of onboarding new clients or crafting follow-up emails and newsletters. Trusted teams are who you want behind the wheel of those tasks so you can clear your plate and focus on growing your business!
Balance Automation With Outsourcing to Maximize Efficiency
The most efficient automation solutions usually require the support of dedicated outsourcing to achieve the best results. Why? Because that way, you can automate all of the strictly uniform processes while delivering excellent, unique care for individual clients while freeing up your workload to focus on growing your business.
When you trust a dedicated digital marketing team to oversee your automated processes, they can deploy unique creative solutions for your clients. While constantly tweaking and improving your automated processes in real-time based on their immediate one-to-one interactions with your leads over time. That means your client funnel (for example) is in a constant state of evolution without a significant time sink on your part. It's the best of both worlds!
My Challenge For You
Note the tasks that seem to take up the most of your workday. Is there a task that chews up time you'd rather spend elsewhere? Does that task seem to pop up several days a week? What would you rather be doing with your time if you no longer had to attend to that task constantly? Well, try automating it! If you're not interested (or don't have the time) in learning the tech needed, book a free 15-minute call with me, and let's chat about how we could outsource that task together!
So What Did We Learn?
You can automate repetitive tasks to save time during your workday
Outsource tasks that benefit from a professional, personalized touch
A digital marketing team can monitor/improve automations for you
Balance automation with outsourcing to maximize efficiency
My team at Jennie Lyon Digital Marketing Services Inc. and I are passionate about maximizing your online presence and building your brand. We're happy to help you take your business to the next level. Set up a free 15-minute call with me anytime. I'd love to see how we can take some of your cumulative tasks off your plate so you can trust us to handle them while you grow your business!
Links for this episode:
Rate, Review, & Subscribe on Apple Podcasts
If you like what you hear on the podcast, please consider rating and reviewing my show! Woo Hoo! Click here, scroll to the bottom, tap to rate with five stars, and select "Write a Review." I would love to hear what episodes you enjoy the most!
If you haven't done so already, please subscribe to the podcast. I'll be adding new content weekly, if you're not subscribed, there's a good chance you'll miss out. Subscribe now!