Communicate with Your Team and Build Your Business Using Slack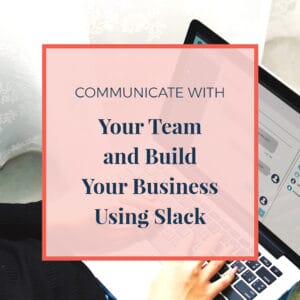 For an entrepreneur working with a virtual team to run a small business, communication is the single most important factor determining whether things run smoothly. It is absolutely critical to be able to communicate with your team members in an instant as things come up during the course of a work day. When there is seamless communication between your team members, you can set a more productive pace and get more accomplished. Email and phone calls have their uses, but for instantaneous communication, there is a popular new tool, called Slack.
Slack is a platform for team communication that can be accessed online from anywhere, as well as via desktop and mobile applications. It acts like an instant messaging program, but goes beyond that, allowing you to organize everything into easily searchable channels. Some of the features include drag-and-dropping files into your chat window, hosting a virtual meeting, privately messaging team members, and much, much more. In fact, Slack is deceptively simple and easy to use, but it is a real powerhouse—with integration for many other tools and features beyond the basics that I'll cover here.
[Tweet "Slack keeps communications short and to the point, so you can focus on work, not checking emails."]
What Slack is Good For
Real-time Communication. Instead of waiting a few minutes to send emails back and forth, you can have a conversation. Slack is like any other instant messenger, in that it allows you to see when your team members are typing, and all messages appear instantly. You can message your whole team, tag members by using @username, or send private messages.
Keeping Your Inbox Clean. Forget handling dozens of emails from team members all day and having to constantly check your inbox. Slack allows you to respond to time-sensitive messages as soon as a notification or alert shows up, but doesn't send you back into the endless sea of emails to get distracted from whatever else you're working on.
Organizing Conversations. By creating separate channels for discussing different projects or types of work, you can make sure only the people who need to be involved in a conversation are. All the discussion for that topic stays contained to the correct channel, allowing you to know at a glance what is being discussed.
Sharing Files Instantly. Cloud-based file storage is great, but sometimes it doesn't sync up right, or team members can't see a folder or file they should have access to. Slack makes it easy to attach any kind of file to a conversation, so everyone can stay up to date.
Searching EVERYTHING. Slack is extremely powerful in that it archives and indexes everything to be searchable at a later date. Had a conversation with some important details a month ago? Search for them to find it again. You can also search the contents of any PDF or Word files uploaded to Slack.
What It Isn't Good For
Longform Communication. Emails are still king when it comes to writing up longer messages and making sure all that information stays together. Slack lets conversations happen, which means longer messages can get broken up and interrupted.
Project Management. For all its strengths, Slack still isn't very helpful when it comes to tracking who is working on what, when due dates are coming up, or whether tasks have been completed. For that you still need a good project management system (my favorite is Asana). A virtual assistant can help you get one set up!
More Difficult Conversations. Whether the subject matter is just too complex and needs to be handled via video-conference or telephone, or if it's more touchy or personal, Slack is not the best platform. It's great for quick day-to-day questions and updates, but not a good choice for anything more involved.
[Tweet "When there is seamless communication between your team members, you can set a more productive pace."]
Hopefully this overview has given you a good idea of what is possible using Slack as an internal communications platform. I have been using Slack since it launched and it has definitely changed the way that I work with virtual teams, and is probably one of the best programs out there for keeping small businesses organized. If you haven't tried it yet, go set up an account. Slack is free up to 10,000 messages a month, so there's no excuse to keep from implementing it as a tool for your business!
Still need help trying to limit all the extra's of running your own business? One of the best solutions is to hire a virtual team to backup your in-office workers. In this workbook, I will tell you exactly what you want to look for from a virtual assistant to make sure you pick the best to work at your small business.