Are You REALLY Hearing Your Clients? How to Listen Well as a Business Owner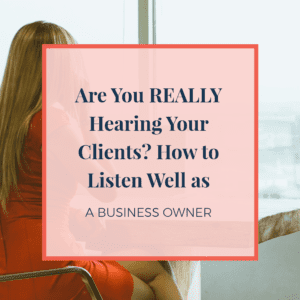 Do you know how to listen well as a business owner? Really, I'm not asking this facetiously; a lot of people don't actually have well-developed listening skills, and that can hold them back in the world of small business ownership. Communication is the key to running a successful business, and listening should be the bulk of your communication! In a world of constant distractions, where we've been taught to multi-task as often as possible, many people have difficulty keeping their attention focused on a single conversation for any length of time. This can be a huge source of miscommunication between you and your clients, if you aren't careful.
If you aren't an actively engaged listener when you have meetings or phone calls with your collaborators or clients, you're probably missing or misunderstanding a number of their concerns. Are you actually hearing and internalizing what your clients are saying? Can you understand what they really want and need? Their feedback is the key to improving the services you offer, which can help you retain and even gain new clients.
The information you gain from listening is pure gold
If you listen well to your clients, you won't need to put as much effort into thinking up new ways to improve your product or service. They will give you that information, telling you whether their needs are being met and how you could serve them better. Good listening is important no matter who you're working with, and it is also a huge part of what makes a business' client care successful.
Good listening also makes dealing with challenging clients easier. Often what makes a client challenging to work with is communication breakdowns. As the saying goes, "it takes two to tango", so if you can try and open lines of communication, they may reciprocate. By listening carefully and asking for confirmation of what you're taking away from conversations with them, you can prevent miscommunications and improve your working relationship markedly.
[Tweet "Listening should always be an activity which you dedicate your entire focus to. Don't multi-task!"]
Practice makes perfect
Luckily, listening well is a skill that you can practice and strengthen. If you find your mind wandering while listening to someone, be it to the things you need to get finished today or this week, the pressing concerns of a deadline or demands of another client, or something completely unrelated to your work, that's a sign that you definitely need to focus on your listening. Here are a few tips to help you practice your listening technique:
Take notes. Seriously! You will focus more on the content of what someone is saying to you, and recall it better later, if you jot down a few meeting notes.
Always try to figure out the "why" of the conversation. Why is your client speaking with you? What are they looking to get across? What do they need from you? Don't let your preconceptions or thoughts about what they "should" be asking about prevent you from actually hearing what they're saying.
Say it back to them. Try to rephrase what you've understood from their request and ask them if it's correct. Sometimes we can interpret what we've heard differently from the way a client intended it to be understood. When in doubt, try to parrot something they've said back to them and ask: "What does that mean to you"? Getting more clarification can help you learn to listen to a client's individual way of communicating ideas.
Pay attention to body language. If you're meeting in person, try "listening" with your eyes, as well. See if you can pick up on non-verbal clues to help you understand how a client is feeling. If you're having a phone call or Skype meeting, try listening to their tone of voice, and whether it changes depending on what they're talking about.
Put away other distractions. Whether your meeting is face-to-face or virtual, you should do your best to eliminate other distractions. Keep your office door closed, turn your phone and email to "do not disturb" mode, and close off unnecessary windows on your desktop. Stick to just the programs or materials you need to reference for the conversation you're having at the moment.
[Tweet "When you listen to what your clients are trying to say, you learn more about their needs."]
By learning to listen effectively, you will improve your ability to communicate clearly with a wide variety of clients. When you've understood what a client is trying to tell you, the response you give will be more informed, engaged, and helpful. Clients will walk away from your meeting in a good mood, confident that you know what they need and will be able to deliver. Good listening forms strong working relationships, and that is what successful businesses are built on. If you have any other tips for being an active and engaged listener, I'd love to hear them. Feel free to share in the comments below, and I promise I'll listen to what you have to say!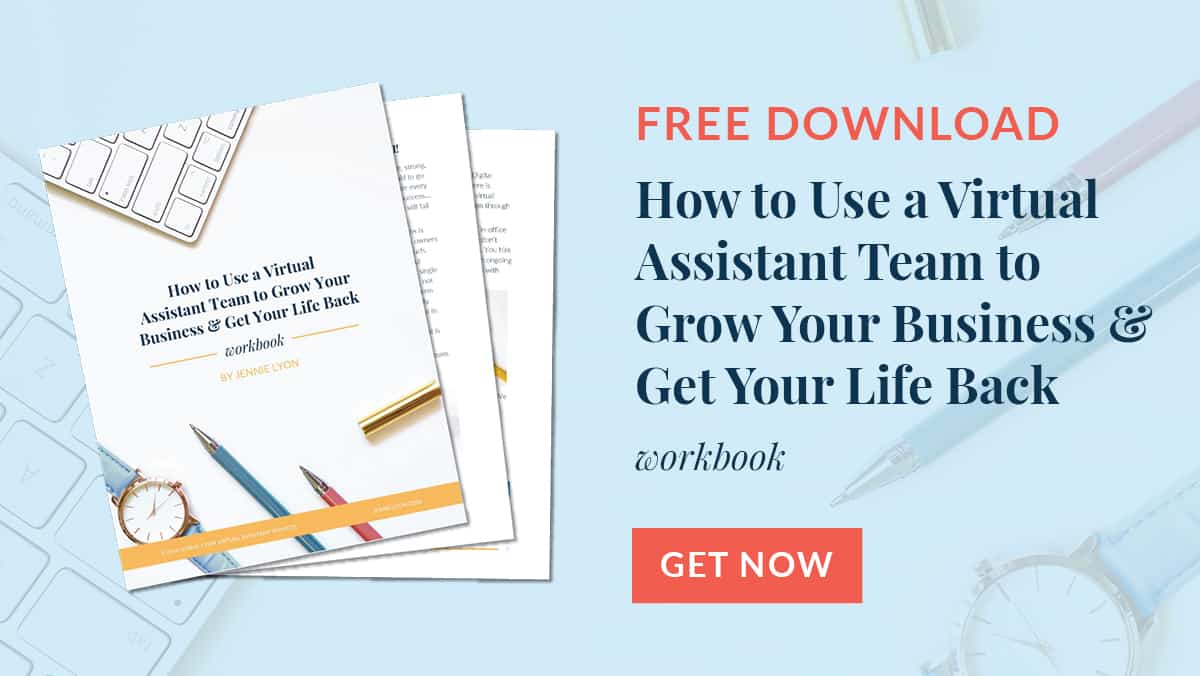 If you need to lighten your workload so that you have fewer distractions, hiring a virtual assistant team is the perfect way to help with this! Grab my free download How to Use a Virtual Assistant Team to Grow Your Business & Get Your Life Back workbook and see for yourself how having a virtual assistant team can grow your business!