Showing Client Appreciation is Essential and the Holidays are the Perfect Time!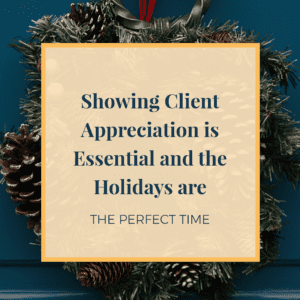 Clients are the heart of your business, and you can't afford to take them for granted. Without your clients, your business wouldn't exist, so you always need to be considerate of their needs and appreciative for their patronage. The benefit to showing clients your appreciation is that it builds a strong connection with them, encouraging return business and making it more likely that they will refer others to you. Good client care is fundamental to the success of every business!
While there are actions you can take year-round to let clients know how much you appreciate their business, the holidays are truly the perfect time to make this clear. With the spirit of giving thanks surrounding us, and the year coming to an end making us look back and reflect on what made it great, it's only natural to want to reach out to our best clients.
[Tweet "It's easier to get returning clients than new ones, so make sure they feel appreciated!"]
One of the best ways to do this is by giving an appreciation gift. The old adage "it's the thought that counts" rings true here. Your client gifts don't need to be big, expensive, or flashy to make an impression. In fact, the more personal and thoughtful they are, the more likely a client is to be touched by your gift and remember it! So, forget the typical branded fountain pens or other standard gifts that some companies order hundreds of and send out to everyone who has hired them over the past decade. Here are some great gift ideas that aren't boring or expected:
A Book or Album Suited to Their Tastes
When you work closely with clients and get to know them a bit more, giving a great appreciation gift is simple. Do they like a certain style of music? Send them a digital download code for the latest release from a talented band they may not have come across before. Are they into art, history, or politics? Have a bestselling biography, non-fiction, or coffee table book sent straight to their door via Amazon or Barnes & Noble, gift-wrapped and with a note from you included. Are they into healthy living? Try an organic or vegan-focused cookbook, either hardcopy or ebook format. Show that you know them and care about developing a personal relationship in addition to your business one.
Subscription Boxes Galore!
These days there are subscription services for everything from coffee and tea, to chocolate, to makeup, to health foods, to clothing and accessories. There are big and small options, 1/3/6/12 month subscription lengths, and a wide variety of price points depending on what you're looking at. The great thing about subscription boxes is that they often include a variety of products you might not find elsewhere, and the surprise factor is built in! Plus, if you order a multi-month subscription, your client will think of you every time a new package arrives at their door. Now that's what I call the gift that keeps on giving!
When in Doubt, Offer a Discount
When combined with a nice, handwritten card and personal message, something as simple as a discount or freebie goes from impersonal to emotionally impactful. If you personalize the offer further, by offering an add-on to the services your client regularly purchases from you which they might not otherwise think to try. If an offer like this complements what you already offer them, it can be very touching and show that you've thought about what is useful to them. Plus, it's a great option for smaller or newer businesses, when you might have extra time to do some pro-bono work but not a lot of extra money to spend on fancy gifts.
[Tweet "Make sure your client holiday gifts are personal and useful!"]
Hopefully this list has sparked some ideas about how to show your clients that you appreciate them this holiday season!
Of course, if you're already caught up in the rush and overworked during this busy season, you can always hire a virtual assistant to handle your client appreciation tasks by picking out gifts, wrapping and shipping, or writing greeting cards and notes. By making client care a priority, you ensure that your business retains clients and maintains a good reputation, and that is something to be thankful for.