How to Double Your Income by Working Less
Over the last year, did it ever feel like you're working much more for less income?
For many people, their dream is to work from home. They believe that it will give them freedom! No more commuting in the morning and evening, they can have lunch in their own kitchen, if their kids need them, they can be there. Here is the thing, though… It's a trap! Haha!
Working from home isn't the pleasure cruise that many people think it is. When you work from an office, quitting time really is quitting time. Believe me, I know! I'm always a tad jealous of my husband. When he is off work, he's OFF work, there is never anything pulling him back in! There is a clear line between being at work and being at home. But when you work from home, that line quickly becomes blurred. Very blurred.
The "Danger" of Working from Home
There are distractions everywhere, laundry to be done, dishes unwashed, and kids demanding attention. Rather than less work, you find yourself working even more, just to maintain the productivity you used to have when you commuted to the office.
For many small business owners, this is the reality of working from home (something almost everyone has gotten a taste of in 2020). They're working so much harder to make the same amount of money. Frankly, it's leading to record-setting levels of burnout.
But thankfully, there are ways to "hack" the working-from-home problem. With these strategies, you can work less but start earning more! It only requires a few simple shifts in how you approach your work… 
Believe me, I know this for a fact, because I lived it. I've been working from home for 20 years now, so I know all of the tricks to keep productivity up! If I can work from home with a son, a husband, and two dogs, you can do it too! Here's how!
Optimize Your Time
When I speak with small business owners who work from home, most of them have the exact same problem: they have trouble keeping their focus.
Like I said above, focus is difficult when you are being pulled in so many directions at once. Even when you are ignoring the demanding household chores, there are still dozens of small tasks that small business owners need to deal with daily.
Making your way through all of those tasks takes up a ton of energy, sometimes leaving you with little juice leftover for the big jobs that only you can do.
So, what's the solution?
Here is how I approach it. Every day, there is ONE thing that is the most important. At the beginning of every morning, I single that task out and make SURE that I will complete it. If I can achieve that single task, I will count it as a solid day of work.
Now, that isn't to say that you're not going to do anything else throughout the day. But when it comes to focusing, you need to optimize your time to focus on the most significant task on your to-do list. I've heard this called "eating the frog", and if you can eat the frog first thing every morning, it feels like smooth sailing after that! You can free up the time you need to do that task by offloading the smaller ones onto a virtual assistant.
Oh, and speaking of your to-do list…
Create a Master To-Do List
Everyone approaches to-do lists differently, but there are certain strategies that every small business owner should be using to optimize their time.
At the beginning of the week, I create a master to-do list. It contains everything that I need to complete throughout the next seven days. Big or small, every single task goes on it. Then, I start to triage it.
First, I start with the big tasks that only I can do. Personally speaking with my clients, for example, is the most important part of my job. It's important they know I "hear" them, and can deliver precisely what they need. Prospect calls are up there too! So, if I have any calls, those go straight to the top of the list.
Then I go through the smaller tasks that, yes, I COULD do myself, but why? Posting social media, for example, is a vital task for my business. But it can also be super time consuming, which is a big problem when I'm looking at dozens of tasks ahead of me. Rather than posting my social media myself, I can give that task to one of my team members or automate the process. I know they will do a fantastic job engaging with my customers through my social media profiles, so I can safely take that task off my master to-do list. How do I know this? Well, I trained them! Haha! And just like that, bam, I've freed up some time!
If you go through your master to-do list, I bet you will discover tons of tasks that could either be eliminated, automated, or delegated to a virtual assistant. Even better, once you've sorted through those tasks, they never need to appear on your master to-do list again!
Build Your Products and Services
How do you make your money?
A significant danger for many small businesses is that only a small percentage of their products contributes to the vast majority of their income.
This problem became obvious earlier in 2020 when many small businesses found themselves unable to bring in money because their brick-and-mortar locations needed to close. Their in-store offerings brought in the vast majority of their income, so that income was gone when they closed their doors.
However, small businesses with a sizable online presence and digital products and services weathered the storm much better. By diversifying their products, they still brought in money.
Now, this isn't to say that you aren't going to have "best sellers." Some of your products are always going to be more popular, both online and off. But that doesn't mean you should be relying on them for the majority of your income.
So, if 20% of your products and services produce 80% of your revenue, you need to fix that immediately! Maybe start workshopping ideas for new products and services. This is something that I could help you with, from the product development stage all the way to the new product launch!
Build Your Team
The secret of how to accomplish all this lies in building a virtual team.
A team of trusted and professional virtual assistants can take a massive amount of work off your shoulders without you needing to pay for things like a full-time salary, benefits, vacations, or even training.
Hiring a virtual assistant can be like lighting a fire underneath your business. Suddenly, you have the time to do the important things, without needing to worry about maintaining your website, posting your social media, or writing a weekly blog.
Even better, you can hire a virtual bigger-scale projects, like create a webinar to bring in new clients, introduce new products and services, or even develop an online course or start a podcast!
Whenever a new client calls me, we talk about their needs and where they see their business heading in the future. I can then recommend specific services that will help them achieve those goals. Over my years in the virtual assistant and digital marketing businesses, I've assembled a trusted team of specialists who can deliver exceptional quality work at a fraction of the cost of full-time employees.
With my help, you can assemble a virtual team of your own that's uniquely suited to helping you build your business into the success you've always dreamed of!
So, What Did We Learn?
Let's review what we learned:
Working from home can be a productivity trap!
There are always multiple distractions pulling your focus.
Many small business owners are working twice as hard today, just to maintain their income.
To optimize your time, designate ONE thing every day that is a MUST.
Create a master to-do list at the beginning of every week.
Identify the items on your list that only you can do, then offload the rest onto a virtual assistant.
Don't rely on 20% of your products to deliver 80% of your income.
Diversity your small business to make sure it has a robust online presence.
Figure out what kind of team members you need to grow your business.
Hire a trusted virtual assistant who can help!
Believe me, I know what it's like to be doing the job of three or more full-time employees. It's not a sustainable business plan. You're the boss of a small business, so you need a team to help you work towards your vision! To learn more about how you can use a virtual team, I invite you to check out my free How to Use a Virtual Team to Grow Your Business and Get Your Life Back: Workbook!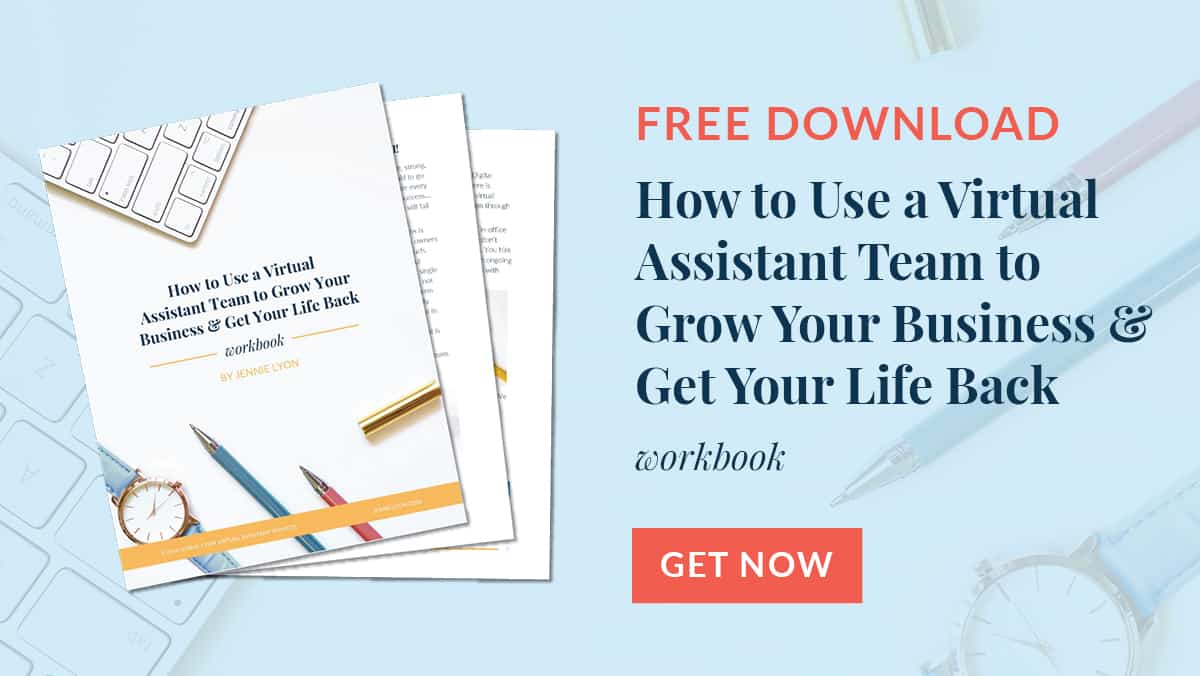 The trick to doubling your income can be counterintuitive. To make more, you need employees! And hiring a virtual assistant is the fastest (and cheapest) way to increase your productivity! If you'd like to learn more about how I can help you work less but earn more, please contact me here for a free consultation. Let's get your business moving forward in the new year!
Links For This Episode:
Rate, Review, & Subscribe on Apple Podcasts
If you like what you hear on the podcast, please consider rating and reviewing my show! Woo Hoo! Click here, scroll to the bottom, tap to rate with five stars, and select "Write a Review." I would love to hear what episodes you enjoy the most!
If you haven't done so already, please subscribe to the podcast. I'll be adding new content weekly, if you're not subscribed, there's a good chance you'll miss out. Subscribe now!