Partner with a Virtual Assistant to Scale Your Brand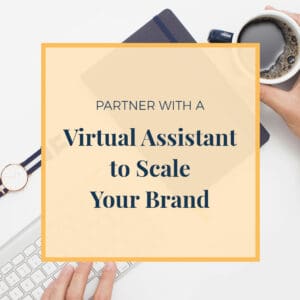 When you are starting a new business or scaling your existing one, everything can be overwhelming. You are now your own boss, you have to provide your own direction! That direction usually heads to greater demands, pressures, and time crunches. The pressure certainly doesn't lift once your company starts gaining success either. There will be hundreds of essential tasks pulling you in different directions.
How do you know when you have too much on your plate? A clear sign is when otherwise enjoyable or important tasks get put aside, simply because you don't have the time. For example, if you are really swamped at work, it can be amazingly tempting to just forget about your exercise routine. Hobbies and pass-times can also be neglected. Can you actually remember the last time you opened a good book just for pleasure? Personal relationships with family and friends can be difficult to maintain when you are constantly working. Then there is a really big sign you are doing too much, sleep deprivation! I know it can be incredibly tempting to just stay up and finish all the work. Although this can pay off in the very short-term, in the long-term it can be incredibly destructive to your health, concentration, and stress level.
[Tweet "Do you have too much on your plate? A virtual assistant can help! "]
So, do any of these examples sound familiar to you? If so, you aren't alone. Entrepreneurs tend to be high energy people who pride themselves at being able to take on any task. All of the tasks! Thankfully entrepreneurs are also very smart, and know that you can only operate like that for so long. How can they relieve this stress and truly focus on the things that only they can do? The solution is clear… partnering with a virtual assistant.
There are so many essential tasks that take up huge amounts of your time that an experience virtual assistant can handle for you. Here are a handful of services that we offer.
[Tweet "A virtual assistant can take care of the little things so you don't have to!"]
As a busy entrepreneur, no matter how hard you try, you just can't do everything. When you try to keep every ball in the air yourself, a few of them are probably going to get dropped. You need someone to catch them! That is what a virtual assistant is for. We take care of some of the big things and most of the little things so you don't even have to think about them! Take a peek at my free download How to Use a Virtual Assistant Team to Grow Your Business & Get Your Life Back workbook.
If you are interested in seeing how partnering with a virtual assistant can scale your business, please visit jennielyon.com and drop me a line! I would love to hear from you and find out what we can do to make your life just a little bit easier!