Why You Need an Editorial and Social Media Marketing Calendar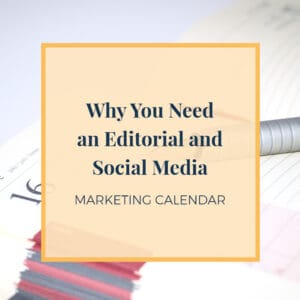 As the leaves begin to fall and we enter the last quarter of the calendar year, planning for the following one should be on your mind. Before the holidays eat up all your extra time and your client work doubles as the year comes to a close, you should spend some time thinking about how to improve your business' online presence in the upcoming year. Early autumn is the perfect time to put together both an editorial and social media marketing calendar for 2017. Here are some reasons why these simple organizational tools can help grow your business next year.
Editorial Calendars
An editorial calendar in its simplest form is a list of articles you'd like to write for your business blog divided up by week or month. When created using a digital spreadsheet, it becomes easy to collaborate on planning with a virtual assistant. Together you can group articles into monthly themes, decide when they should be written by and posted on your website, and track work as it gets finished. Details like section ideas or services to link to and promote can also be included. You can also use it to help plan your ezines and newsletters for the upcoming year!
[Tweet "Make sure you are utilizing an editorial calendar to map out your blog's annual themes!"]
Social Media Marketing Calendars
Similar in function to an editorial calendar, a social media marketing calendar allows you to plan out your marketing campaigns for the year. Using one makes it easy to keep track of what services or events you've been promoting across various social media platforms. It can help you and your virtual assistant stay on the same page when it comes to your business' social media. You can be sure that your company is tweeting daily, posting on Facebook and Instagram, and generally presenting a robust online presence. This will help ensure that your company stays on top of the Google search rankings and reaches more potential clients.
[Tweet "Planning out your social media marketing helps you get ahead of the game and stick to a schedule."]
Don't have time to devote to a detailed editorial calendar or social media marketing plan for next year? A virtual assistant who is experienced in creating these organizational tools and managing social media for clients can easily come up with a full editorial and social media marketing calendar tailored to your business. All you need to do is specify any themes or focal topics you absolutely want covered!
Here at Jennie Lyon Virtual Assistant Services, we are happy to work with you to get an editorial or social media marketing calendar set up for next year. In addition, we offer copywriting, email marketing, and social media marketing services to help you stick with the posting schedule laid out in your calendars. There's no excuse for leaving your business blog languishing or social media platforms untended! Get in touch with me today and get prepared for a new, more productive year in 2017. I would love to help!