How to Build Your Email List in 7 Simple Steps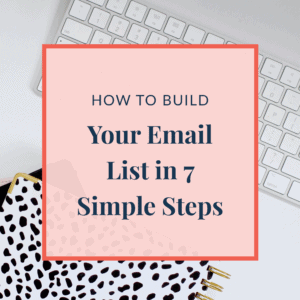 For a small business, building up a large mailing list of people interested in your products and services is one of the best marketing tactics you can invest your time in. An email list can consist of current and previous clients, but the majority of it should be made up of prospective clients. Email marketing is one of the most effective ways of reaching a targeted audience, because potential clients will only sign up if they're interested in something you're offering.
[Tweet "For small businesses, email marketing is a high-impact, low-cost way of getting your message heard."]
I know when I send out my weekly ezine that my business is getting in front of the right eyeballs—the ones belonging to people interested in my virtual assistant services! This means that each click through on the links in the email is from a potential paying client. Today I've got some really simple steps for you to build your email list. These strategies will help you get your business viewed by more prospective clients or customers.
#1: Free Downloads in Email Content
Everyone loves a freebie! Beyond a one-time download for signing up, you can also try to include free, exclusive downloadable content in your regular ezines or newsletters. This will encourage people who have signed up previously to remain on your mailing list. This is my favorite way to keep potential clients interested in my ezine, because it provides real value to them.
#2: Host a Giveaway
One of the easiest ways to get more sign ups to your mailing list is to host a giveaway. The prize doesn't have to be huge, but it should be valuable enough to provide real incentive to sign up. People interested in your services or products will rush to add their emails to your list!
#3: Social Media Opt-ins
If your opt-in can only be found on your business website, you're missing out on one of the best places for getting mailing list sign ups. Social media platforms are the perfect place for opt-ins, because they're a place where people are exchanging information constantly. An opt-in run over social media can get many more sign ups than a standard opt-in. Facebook even has a built-in option for adding a "Sign Up" button to your business page.
#4: Link to a Landing Page in Your Bio
Place a link to your opt-in or sales landing page in the bio or "About Me" section of all your social media pages. Twitter, Facebook, Instagram, Pinterest, and more can all get potential customers to sign up for your mailing list. Quick and easy!
#5: Email Signature Opt-in
Get more subscribers every time you send an email by including an opt-in link in your email signature. Whoever you're emailing will have a chance to hear more from your business at the click of a button!
#6; Make Good Use of Business Cards
Don't pass up an opportunity to make connections! Use in-person networking to your advantage by including the QR code for a free download or giveaway with sign up on your business card. Long after that little piece of paper is forgotten, you'll still have the email of all those people from a conference or networking event!
#7: Try an "Exit Intent" Pop-up
More than 70% of people browsing your business website will never return. Getting them to sign up for your mailing list is the best way to get a second chance with these prospective clients! This very specialized pop-up will only activate when their cursor tries to leave the browser tab that contains your website. That way it doesn't interfere with regular browsing, and it also catches the eye for a second look before they leave the page. It is a great option to build your email list.
[Tweet "Without a good email list, all your other digital marketing efforts are less effective."]
Hopefully these steps work as well for your business as they've worked for mine. Growing your email list is a big part of growing your business, so don't neglect it! If you don't have the time to implement these strategies for increasing email list sign ups, a virtual assistant can always help.