How to Get More Ideal Clients to Your Website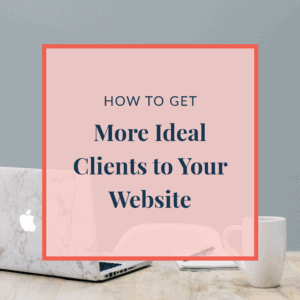 Attracting new clients is essential for the success of all small businesses, and the majority of new clients you get will find you online first. That means your business needs to have a strong online presence, starting with its website. As someone who runs a business entirely online, I can guarantee this makes a difference! Think of your website as the "store window" of your online business. It needs to be attractive, up-to-date, and interesting enough to draw potential clients in to engage with your business on a deeper level.
[Tweet "Not attracting the right kinds of clients? Your website might need work."]
Having a great website that is easy to navigate only goes so far, though. Tailoring that basic website to attract your "ideal" clients is also important. If you've written a business plan, you've probably spent some time determining who your ideal client is and how best to connect with them. A modern business website needs to clearly present what your business can do for these ideal clients, and have some immediate benefits to draw potential clients in. Here are a few ways that successful websites attract new clients:
Your Website Has a Clear Purpose
Within 10 seconds of viewing the homepage of your website, a potential client should be able to know what your business does, and who it is aimed at. An unclear website that is simply a block of text is the fastest way to turn off new clients. Making sure your website clearly and concisely communicates the purpose of your business, and what services or products it provides, is vitally important. Great images and graphic design need to support the written content of your website, because they help a potential client connect with your business on an emotional level.
Your Blog Provides Relevant, Useful Content
A business blog is indispensable in showing your ideal clients how engaged and successful your small business is. It demonstrates that you care enough to maintain an active online presence and provide free content which complements the services you offer. It gives potential clients a chance to better envision the value your services have, and what it would be like to work with you. Always be consistent with your blogging and social media in order to gain the trust of new clients and stay relevant in the fast-paced world of online business.
You Offer a Great, Free Opt-In
Everyone loves a freebie! Having an opt-in that is of actual value to your ideal clients makes them substantially more likely to sign up for your business mailing list. This in turn can give you more chances to get your business in front of them and that repeated exposure will make them more likely to engage, and to visit your website again. An opt-in can be anything from a downloadable ebook of recipes or business strategies, to an on-demand streaming webinar teaching a specific skill, to an exclusive discount code for one of your services. Spend some time thinking about what your ideal client would most likely want, so you can develop a truly great opt-in offer that will hook visitors to your website right away.
You've Used the Right Keywords and SEO
Last, but certainly not least, knowing what keywords are most effective at bringing new clients to your website for the first time is crucial. I personally think this is one of the most underrated methods for attracting ideal clients, and see so many small businesses who have given it little thought. One of the keys to success online is knowing what search terms your ideal clients use to find your website, and incorporating them on all your pages for effective SEO. There's no better way to get your business in front of the right eyeballs!
[Tweet "A website is the "store window" for an online business. Make sure yours draws clients in."]
When you're updating your website, try looking at it from the perspective of someone who has never seen it before. Critically assess whether it succeeds with each of the above elements, and make a list of what could use improvement. If you need help, please let me know. I hope these suggestions help you attract more clients who are perfect for your business!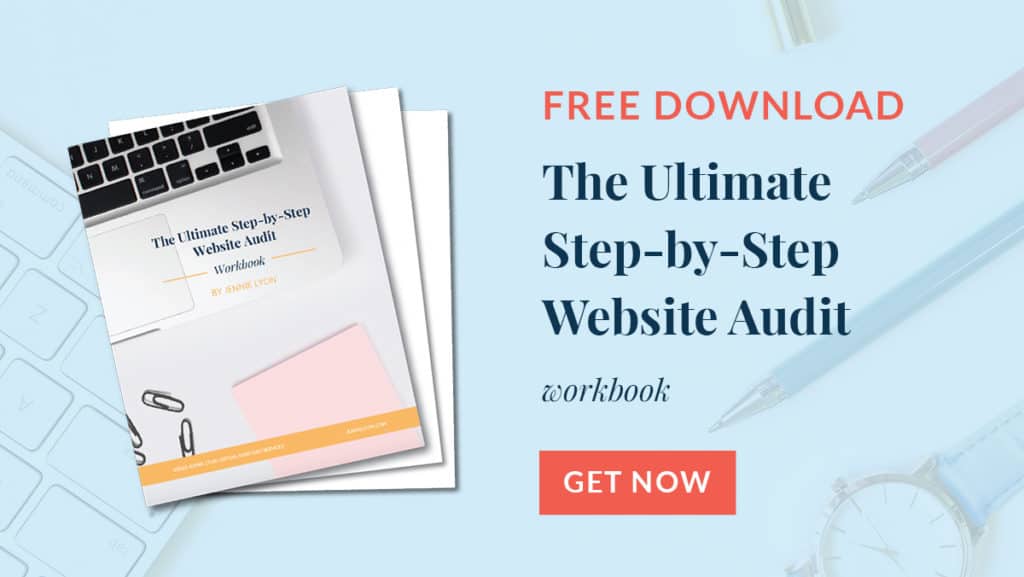 If you don't have a lot of time to focus on redesigning your website, updating copy with keywords, or developing really great opt-ins, all of these are tasks easily handled by a virtual assistant. We offer a comprehensive website audit that will show exactly what is working and what changes need to be made immediately.
If you need help attracting and retaining the right clients please schedule a free consultation with me. I'd love to help you grow your business!