How an Expert Virtual Assistant can Help Grow Your Business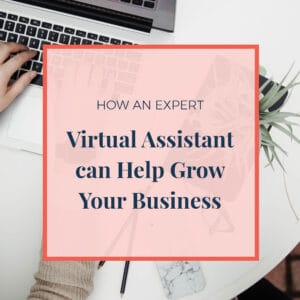 The new year is well underway, and hopefully your business plans for the year are too. If you've been running your business for some time now, it's easy to get comfortable doing things exactly the same way year in and year out. However, this comfort can be what leads to small businesses stagnating and ultimately failing to grow and scale themselves. If you're worried that you might be taking the easy route and not doing enough to keep your business fresh and relevant to the current market conditions and customer needs, it might be time to consider looking for professional advice.
Whether you are new to the self-run business world or are a seasoned entrepreneur with years of experience under your belt, the value of an outside opinion can't be valued highly enough. There comes a time (multiple times, really, over the life of a business) when every business owner needs specialized, professional guidance to navigate the changing business landscape or make leaps into new areas. Hiring a virtual assistant is a cost-effective way for your small business to leverage specialized knowledge and experience that you or your team may not have. However, hiring the wrong virtual assistant can cost you more than money—it can cost you a lot of wasted time and energy. The main thing to understand is the role of a virtual assistant in your business; you need to learn how and when it will be valuable to hire one.
[Tweet "For those day-to-day tasks, weigh the costs of doing it yourself vs. hiring a virtual assistant."]
What exactly is a virtual assistant useful for?
A virtual assistant may sound like something extraneous or unnecessary, especially for small, newer self-run businesses. However, the size or age of your company isn't really much of a determining factor in whether you need one. A virtual assistant is simply an outside expert who you hire to solve or discover an internal business problem, and to suggest strategies for improvement. A good virtual assistant brings specialized knowledge, skills, and experience to the table.
Unlike your own employees, virtual assistants have independent schedules, may have multiple other clients who they are consulting for at any given time, and are hired on a contract or project basis. Even for small businesses just starting out and running on a tight budget, hiring a virtual assistant for a short period of time or to work on one aspect of the enterprise which could use additional input can be extremely valuable. Among the many areas a virtual assistant can help with, you could consider hiring one to work on: social media marketing, email marketing, content creation, website assistance, project management, or general administration.
Why you should consider hiring a virtual assistant?

Business owners (both small and large) will hire virtual assistants as an efficient and financially smart way to bridge a gap in the knowledge and skills of them and their employees, or to bring in an objective, professional, and novel perspective to the business. The most common reasons to hire a virtual assistant include:
1) To find problem(s). A business may seem to show "symptoms" of a larger issue, for example, a decrease in sales, stagnant growth, or cash-flow issues. If internal management can't figure out the source of the problem, a virtual assistant can be brought in to observe business operations, conduct tests and research, and hopefully determine the cause of the issues.
2) To determine solution(s). Perhaps there is a goal that your business can't seem to achieve, either because there is a skills gap or because it's outside your core competency. Hiring a good  virtual assistant can save time and money, allow someone else who is more specialized to work towards that goal, and ultimately achieve a better result.
3) To optimize the business. If a company grows very quickly, you may have gone beyond the reach of your experience and knowledge without time to catch up. A small business owner could know there are lots of things that could be done more efficiently or otherwise better, but they may not know where to begin making the necessary changes. A virtual assistant has the ability to bring in experience with a new stage of business growth, evaluate the areas of your business which need improvement, and determine what processes and procedures need to be implemented in order to increase productivity or streamline your business so it works as well as it can.
[Tweet "A virtual assistant offers specialized talent for less than the cost of an entry-level employee."]
As an expert in the field of small business management, I've provided virtual assistant services to many different types of clients. A virtual assistant can help grow your business by helping strategize in their social media efforts; improving their business, branding, and marketing techniques; changing the way they create and market content; helping to take those day-to-day tasks off their to-do list, and much more. 
Regardless of what field your business is in, my broad knowledge base and specialization in certain aspects of running a small business will apply to many of your areas of concern. You can grab my free download here and see how I can help you grow your business as a virtual assistant.
I enjoy offering my knowledge and insight to support the growth and continued success of your business. Sound good? Schedule a free consultation with me today so we can discuss the kind of advice and guidance you need most — I look forward to hearing from you!