8 Fun Types of Social Media Content That Converts + FREE Templates
Any digital marketing strategy must include social media. Since it enables businesses to interact with their customers, develop lasting relationships, and increase conversion rates. It's critical to produce and distribute content that connects with your audience and generates results. And especially if you want to succeed on social media.
We'll look at eight different types of social media content that can help businesses connect with their customers and drive conversions. Also, we'll look at user-generated content, video, infographics, blog posts, live videos, competitions and giveaways, interactive content, and personalized content. Businesses may effectively engage with their audience and encourage conversions on social media by combining various forms of content.
Blog Outline:
User-Generated Content (UGC)
User-generated content (UGC) is any type your audience creates. Such as product or service reviews, testimonials, and social media posts. Because it provides social proof that your products or services are valuable and worthwhile, user-generated content (UGC) can be a powerful way to build trust and credibility with your audience. UGC can also help increase brand awareness because it can be shared and exposed to your audience's network of followers.
Furthermore, UGC can help drive traffic and sales to your website by providing more opportunities for people to discover your company. Running contests or giveaways. Using hashtags to encourage customers to share their own content featuring your products or services. And highlighting customer stories or testimonials on your website and social media channels are all ways to encourage UGC. It is critical to remember that UGC should be authentic and genuine. It should not be incentivized or paid for in any way. This will help ensure that the content is genuine and trustworthy and that it resonates with your target audience.
Video Content
Video content is a highly engaging form of media that can be used to showcase your products or services, explain your business, or share company updates on social media. Thus, it is a powerful way to capture attention and drive conversions. This allows you to share a lot of information quickly and in an engaging visual format. Many different types of video content can be effective on social media, including product demonstrations, behind-the-scenes looks at your company, explainer videos, and customer testimonials. It's important to keep your target audience in mind when creating video content. Ensure that it is relevant and valuable to them.
Infographics
Infographics are a popular and effective form of content on social media. It allows businesses to present complex information in an easy-to-understand and visually appealing format. When used on social media, infographics can help drive traffic, engagement, and conversions by making it easier for people to understand and retain information about your business.
To create infographics that convert on social media, it's important to keep the following tips in mind:
Make it visually appealing. Use high-quality graphics and images, and choose a clear and consistent design style to make your infographic stand out.
Keep it simple: Don't try to cram too much information into your infographic. Choose a few key points and focus on them to make it easier for your audience to understand.
Use relevant and accurate information: Make sure the information you present in your infographic is accurate to your audience.
Include a call to action: At the end of your infographic, include a call to action to encourage your audience to take a specific action, such as visiting your website or making a purchase.
By creating visually appealing and informative infographics, businesses can effectively connect with their audience and drive conversions on social media.
Blog Posts
Sharing relevant and informative blog posts on social media is a great way for businesses to establish themselves as thought leaders in their industry and connect with their audience. Blog posts can provide valuable information and insights to your followers and can help position your business as an expert in your field.
When sharing blog posts on social media, it's important to use a compelling headline and include an eye-catching image to grab your audience's attention. You should also consider including a short excerpt or summary of the blog post in your social media post to give your followers a taste of what they can expect. In addition to driving traffic to your website, sharing blog posts on social media can help increase brand awareness and establish your business as a go-to resource for industry news and information. Regularly sharing high-quality blog content on social media enables businesses to engage with their audience and drive conversions.
Live Videos
Live videos are a powerful tool for businesses looking to connect with their audience in real-time on social media. Thus, it allows you to share your thoughts and experiences with your followers more authentically and personally. They can be used to host Q&A sessions, product demonstrations, or behind-the-scenes looks at your company. Live videos are a great way to engage with your audience and build a stronger connection with them.
A clear objective and a plan for the topics you want to address throughout the live video are essential for producing successful social media live broadcasts. To give your followers enough time to mark their calendars and tune in, you should think about advertising your live video beforehand. Be sure to engage with your viewers during the live stream and invite them to ask questions or offer their opinions. To increase the content's exposure after the live broadcast, you might share a replay or highlights on your social media accounts.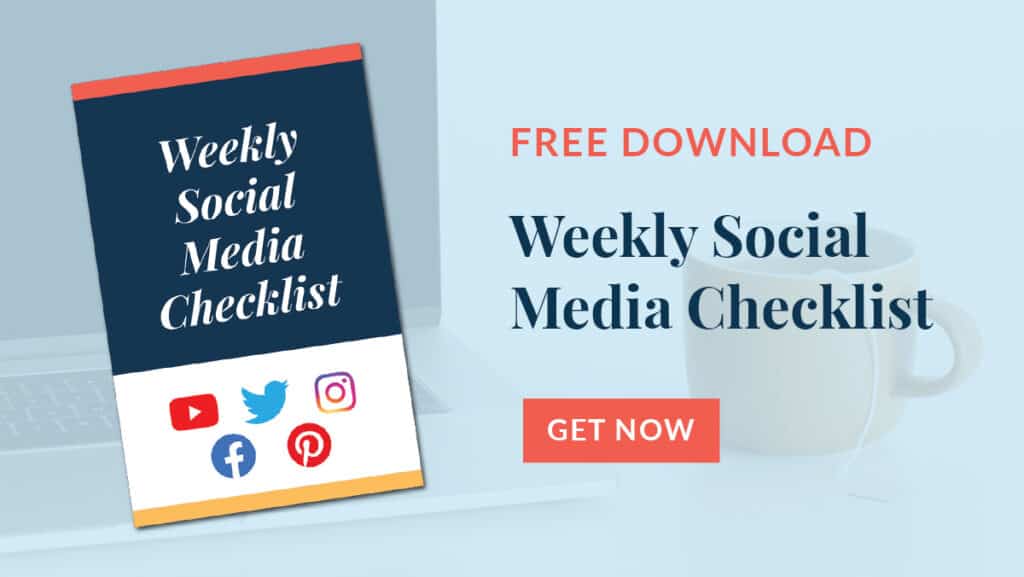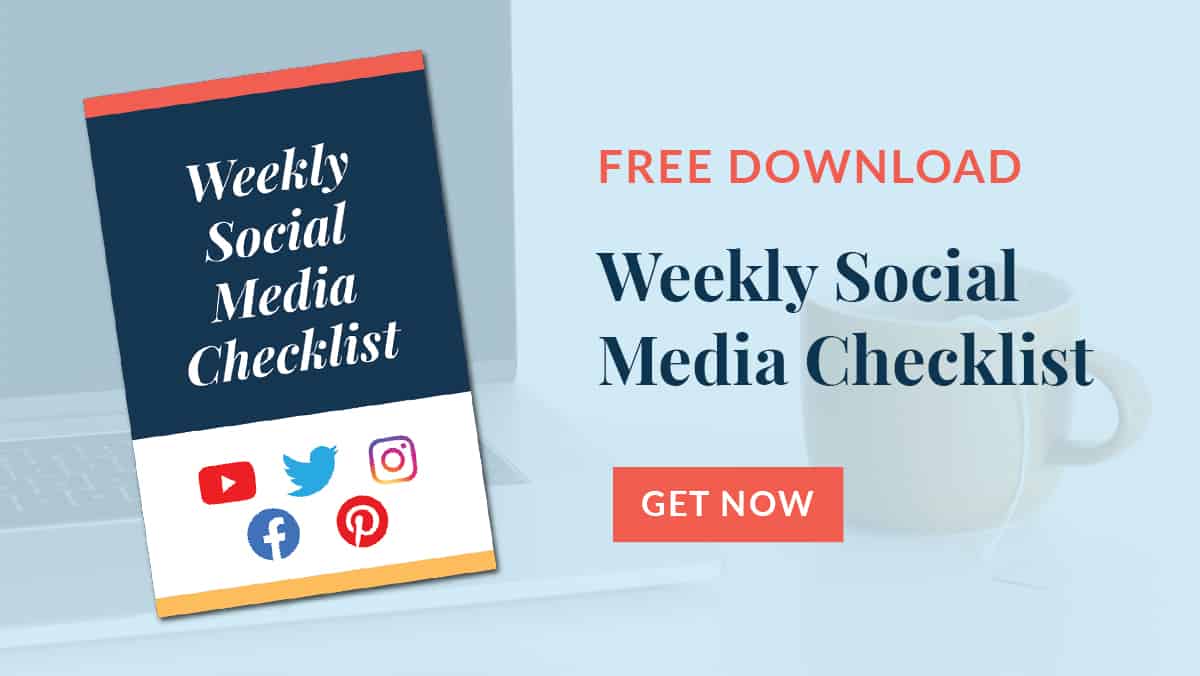 Resource: Weekly Social Media Checklist – While social media marketing can be a lot of fun, it's also a lot of work! There are a series of tasks that you need to do on a regular basis to have an impact on social media and grow your community. Our social media checklist walks you through everything you need to do each week on all of the social media networks! Before you know it, you'll have a wonderful social media community full of engaged potential customers!
Contests and Giveaways
Contests and giveaways can be an effective way for businesses to generate buzz and engagement on social media. By offering prizes or rewards to your followers, you can encourage them to participate in your contest or giveaway and share it with their network of friends and followers. Contests and giveaways can be a fun and engaging way to connect with your audience and drive conversions.
It's essential to have a clear set of rules and criteria and to pick a reward that is pertinent to and appealing to your target audience if you want to run a successful contest or giveaway on social media. To offer your followers enough time to participate, you should also consider advertising your contest or giveaway beforehand. Be sure to interact with your audience during the contest or giveaway and motivate them to share the information with their friends and followers. After the competition or giveaway, make sure you keep your word and promptly reveal the winners.
Interactive Content
Polls and quizzes, for example, can be a fun and engaging way for businesses to connect with their audience on social media. Interactive content allows your followers to interact with your content more meaningfully, which can help you build a stronger connection with them. Interactive content can also be a great way to learn more about your target audience and their preferences.
It's crucial to use a format that is pertinent to and appealing to your audience if you want to develop interactive content for social media successfully. Be sure to communicate with your audience during the interactive material and invite them to participate and discuss their findings. Make sure to post a follow-up article with the findings or insights you learned from the interactive content.
Personalized Content
Personalization, such as birthday greetings or personalized recommendations, can be an effective way for businesses to connect with their target audience on social media. You can strengthen your connection with your followers and increase the likelihood of conversions by tailoring your content to their specific needs and interests.
It's important to learn as much as possible about your audience, including their interests, preferences, and demographics, to generate personalized content for social media successfully. Surveys, social media analytics, or monitoring user activity on your website can all be used for this. Following that, you may use this data to produce valuable and relevant content for your audience. Additionally, it's crucial to follow up with your audience. You need to check how they react to the information and ensure that your customized content is sent promptly and relevantly.
Action Steps For This Week:
Contact 3 power users of your services or products and offer an incentive for some User-generated content (UGC). Who doesn't love an Amazon gift card or free 15 minutes private Q&A with YOU!

Record Video!! If you aren't already using video, you are missing out. You don't have to have all the fancy recording equipment to make an impact. Record at least 1 video this week – and get it out on your social platforms and YouTube.

Using our 3 Month Content Calendar, map out your next 3 months of blog topics. THEN set aside time to write the first month's batch to get you ahead and your team cranking out your killer content. Don't have a team – we can help!

Start a Birthday campaign. There is no better time than January to start your birthday campaign to your list and audience. Have fun with this! You can modernize it with services such as Giftable, sending an Amazon eCard, or a discount code off an elite offer.

Have you segmented your list yet? If not – Quizzes are a great way to do so. It not only helps their inbox but also helps you deliver content that is RELEVANT to them specifically. Create a quiz that you can send out to your audience next week.
Bottom Line
By examining the key characteristics and benefits of each type of content out there, strategies to implement advice businesses can effectively engage their audience and drive conversions more rapidly and authentically.
Schedule a call with me today if you need help with your social media strategy. You may need someone to take over your entire social media presence. We have a team full of experts and years of experience that can take your brand to the next level.
Links for this episode:
Rate, Review, & Subscribe on Apple Podcasts
If you like what you hear on the podcast, please consider rating and reviewing my show! Woo Hoo! Click here, scroll to the bottom, tap to rate with five stars, and select "Write a Review." I would love to hear what episodes you enjoy the most! If you haven't done so already, please subscribe to the podcast. I'll be adding new content weekly, if you're not subscribed, there's a good chance you'll miss out. Subscribe now!